Plane Passenger Baffled to Find Seat Number Doesn't Exist, 'Standing Only'
A group of passengers were reportedly dumbfounded when they went to find their seats on a plane, only to discover the row didn't exist.
Daisy Barr shared the bizarre situation to her TikTok account, @daisybarr1, as she filmed herself and friends on board an EasyJet aircraft.
"When you're row 26 but row 26 doesn't exist anymore," she captioned the video.
Barr filmed the cabin highlighting row 26, where seats D, E and F should be, but instead the aisle was empty.
In the comment section, Barr added: "We obviously didn't stand up during the flight. We just went and found some empty seats, and no one helped us. Luckily there were some."
The clip, which can be seen here, has been seen 3 million times since being posted earlier this week.
After the initial video blew up, Barr shared a follow-up clip, confirming: "Easy jet saw our video and refunded us £41.93. ($51.42)"
EasyJet stressed there's no such thing as "standing room" on planes, and all passengers were provided with seats.
In a statement to Newsweek, EasyJet said: "There has been a change in seat configuration on some aircraft this summer for operational reasons and so we reallocated these customers new seats and they flew as planned."
They claimed on the "rare" occasion their new seat configuration impacts customers' seats, they re-allocate them to new seats.
People were still baffled by the cabin layout in Barr's video, as Tad wrote: "I'm no expert but that gotta be breaking many safety violations."
L joked: "The fact that how many people from the airline would have seen your seat number and they still let you on the plane."
"Omg did you stand the whole time haha ?" @pandpwrexham inquired.
"Is this them starting to test the standing only flights?" @notchofrund asked.
Kenna Clark replied: "Don't scare me like this, I've just booked my seats for the back 2 seats on the plane so a stranger doesn't have to sit next to us with a baby now."
Stacey_rodders said: "Was told they have taken back row out to be able to fly with less staff."
Callum Clausen thought the same, saying: "Happening a lot at the moment, it's so one less crew is needed for the flight... they just re-sit people after everyone else has taken there seats."
The Fulbushes joked: "You got the cheapest seat. So you get the floor."
Taco quipped: "They actually did it. Standing room only on flights now."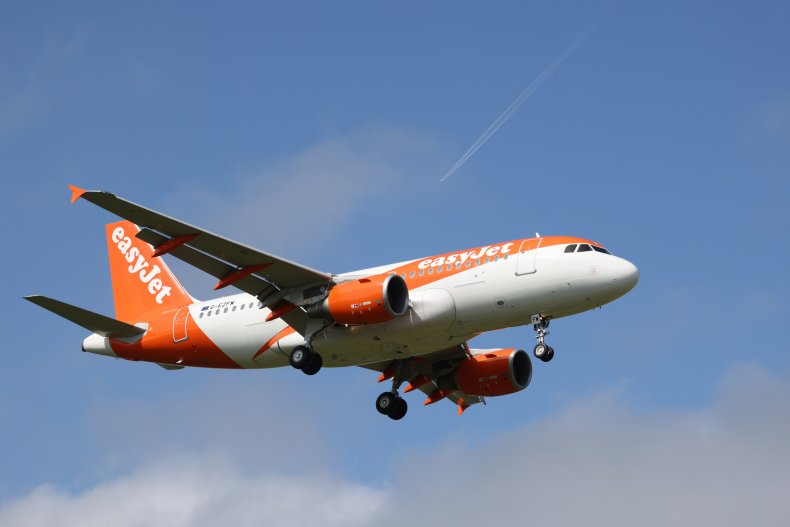 EasyJet, along with other airlines, has been forced to cancel numerous flights this year as the aviation industry in Europe faced numerous setbacks. Meanwhile, some airports, such as Heathrow in London, have been beleaguered by a backlog of baggage.
The low-cost airline recently announced it would be canceling more flights this summer, citing "air traffic control delays and staff shortages in ground handling and at airports" among factors.
Johan Lundgren, EasyJet chief executive, said: "The ongoing challenging operating environment has unfortunately continued to have an impact which has resulted in cancellations.
"Coupled with airport caps, we are taking pre-emptive actions to increase resilience over the balance of summer, including a range of further flight consolidations in the affected airports, giving advance notice to customers and we expect the vast majority to be rebooked on alternative flights within 24 hours."
Newsweek reached out to Barr for comment.