Planned Parenthood, the Best Provider of Reproductive Healthcare in the U.S, Could Lose Millions of Dollars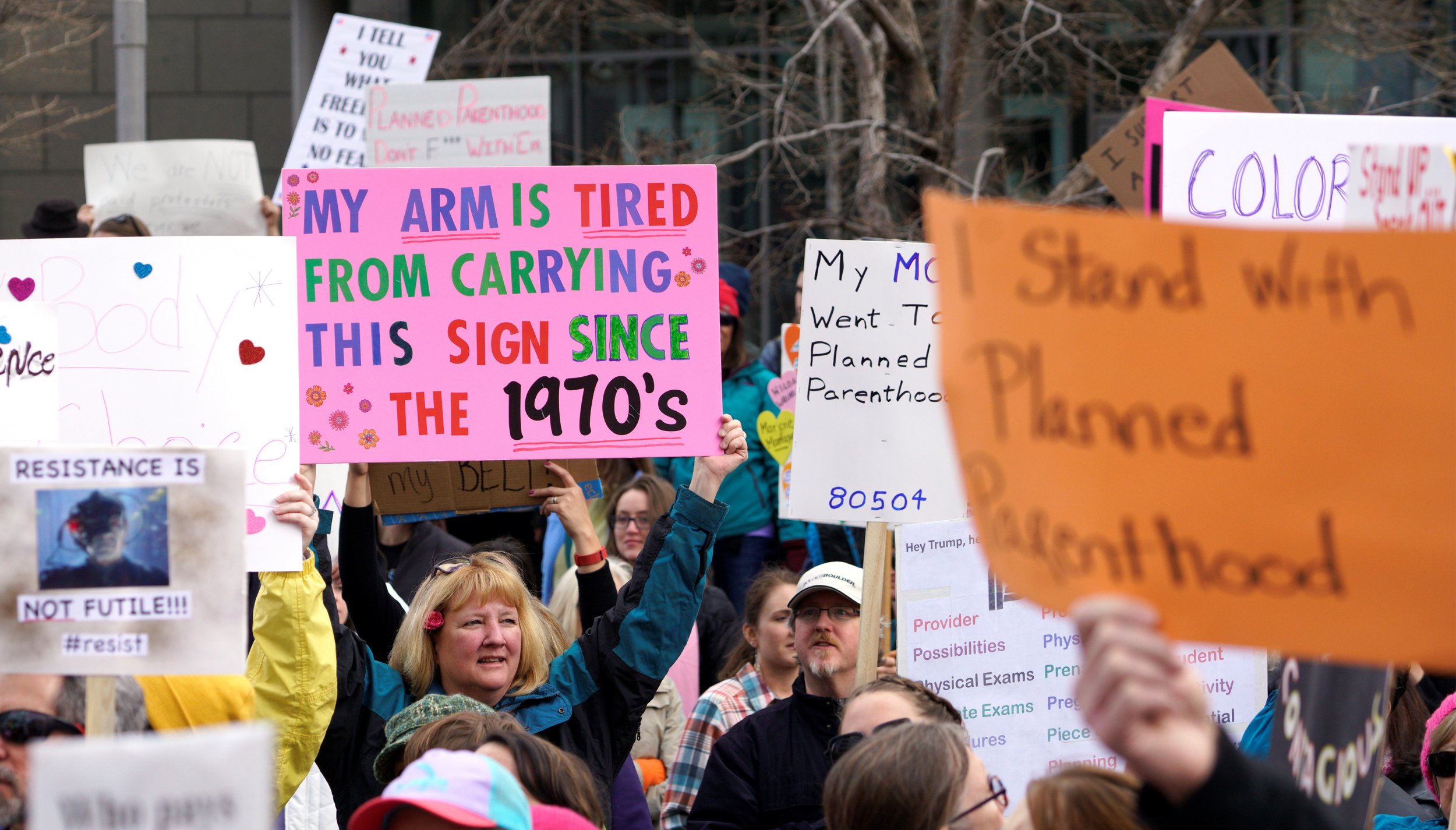 Updated | Planned Parenthood could lose millions of dollars in federal funding. On Thursday, President Donald Trump repealed an Obama administration measure that prevents states from defunding family planning organizations that provide abortions.
Here's how we got here. On December 14, in the waning days of his presidency, Barack Obama moved to protect women's reproductive rights. The Department of Health and Human Services (DHHS) issued an action that prohibited states from withholding federal family planning funding—known as Title X—from an organization "for reasons other than its ability to provide Title X services."
The ruling should have been unnecessary. Title X grants—which totalled $286.5 million in 2016, down from $317 million in 2011—are supposed to be awarded to the best family planning provider. According to the Guttmacher Institute, a research organization focused on reproductive healthcare, Planned Parenthood is often the best provider. Compared to health departments and other federally qualified health centers, Planned Parenthood provides faster care, offers a wider range of contraceptive options and treats more clients. It is also many women's only source of reproductive health care. Of the 491 counties with Planned Parenthood clinics, 103 have no other family planning provider.

Of the four million low-income people who benefit from Title X grants, 1.5 million are patients of Planned Parenthood. It provides them with contraception, STI tests and screenings for cervical and breast cancers. Put more simply, Planned Parenthood saves lives. It also prevents unplanned pregnancies, miscarriages and abortions. In 2014, according to the Guttmacher Institute, Title X grants stopped 904,000 unintended pregnancies, 439,000 unplanned births and 326,000 abortions.
Despite the data, many Republicans still want to see the organization decimated. Their gripe is that Planned Parenthood performs abortions, which runs counter to some Republicans' moral and religious stance. The thing is, not only does Planned Parenthood prevent abortions, it is forbidden from spending any Title X money on providing abortions. (Under the 1976 Hyde Amendment, Planned Parenthood can spend federal money through Medicaid on abortions arising from incest, rape or when the mother's life is in danger).
Prior to the DHHS' attempt in December to make sure Title X grants went to the best provider, 13 states had already taken Title X funding from Planned Parenthood. In Kansas, which voted in 2011 to only give Title X money to public organizations (Planned Parenthood is a private non-profit), the number of patients receiving treatment from Title X centers fell from 38,461 people in 2011 to 24,047 in 2015.
These 13 states may have had to reverse course, but then Republicans took power of the White House and Congress in January. GOP lawmakers—with the help of a little used piece of legislation called the Congressional Review Act—have the power to repeal recent Obama-era regulations, with just a majority vote in both the Senate and House and the approval of the president.
And that's what is happening now. On March 30, following a vote in the House of Representatives, the Senate agreed by a 51 to 50 majority to repeal the Title X protection, meaning that Trump can now sign its eradication.
It is not clear how much Planned Parenthood could lose. In the year 2014 to 2015, federal and state funding to Planned Parenthood amounted to $553 million or 40 percent of the organization's budget. Of the half a billion dollars or so, around 25 percent was Title X funding, the rest was Medicaid reimbursements.
If the Republicans really want to hurt Planned Parenthood, they'll need to go after the Medicaid reimbursements. And—spoiler alert—that's exactly what they're trying to do.
Medicaid reimbursements work as follows: Planned Parenthood provides family planning treatment to a low-income patient with Medicaid coverage. It submits a bill for this to the state Medicaid facility and is reimbursed. The state then submits its own claim to the federal government and in turn receives a 90 percent federal reimbursement.
If the federal government takes Planned Parenthood out of Medicaid, the organization's Medicaid patients have three options: Hope that their state sets up a program to continue funding Planned Parenthood (unlikely because of limited tax dollars); go to another provider (a hugely difficult feat in some, particularly rural, areas); or pay for their treatment themselves (often impossible for low-income people).
The Trump administration tried to defund Planned Parenthood on March 24. That day a vote was scheduled concerning the repeal and replacement of the Affordable Care Act, which covers Medicaid. The GOP's replacement act called for the one-year defunding of any non-profit family planning organization that provides abortions and receives in excess of $350 million a year from Medicaid. The nonpartisan Congressional Budget Office, which examined the bill said that, under these criteria, only Planned Parenthood would lose its funding.
It added that if Planned Parenthood was permanently defunded this " would increase direct spending by $130 million over the 2016-2025 period." The main reason for this increase: A rise in the number of births, which Medicaid would have to pay for, with those children likely also qualifying for federal assistance.
You only need to look at Texas to realise how damaging cuts to family planning can be. In 2011, the state hacked $73.6 million from its $111.5 million reproductive healthcare budget. More than 80 clinics were forced to close and by 2014, Texas had the highest maternal mortality rate in the developed world.
Thankfully for low-income women, the healthcare vote slated for March 24 never went ahead due to opposition, from across the aisles, to the replacement bill. But, that doesn't mean Planned Parenthood is safe.
By April 28, Congress must pass a spending bill to keep government operational. It is likely that conservative Republicans will push to defund Planned Parenthood through that. Even if they fail, they have until the mid-terms, or possibly until 2020, to try and gut the organization.
If they succeed, the consequences are terrifying. Millions of people will lose their access to reproductive healthcare and hundreds of lives could be lost.
The story and headline have been updated to reflect the fact that President Donald Trump repealed Thursday an Obama administration measure that prevents states from defunding family planning organizations that provide abortions.