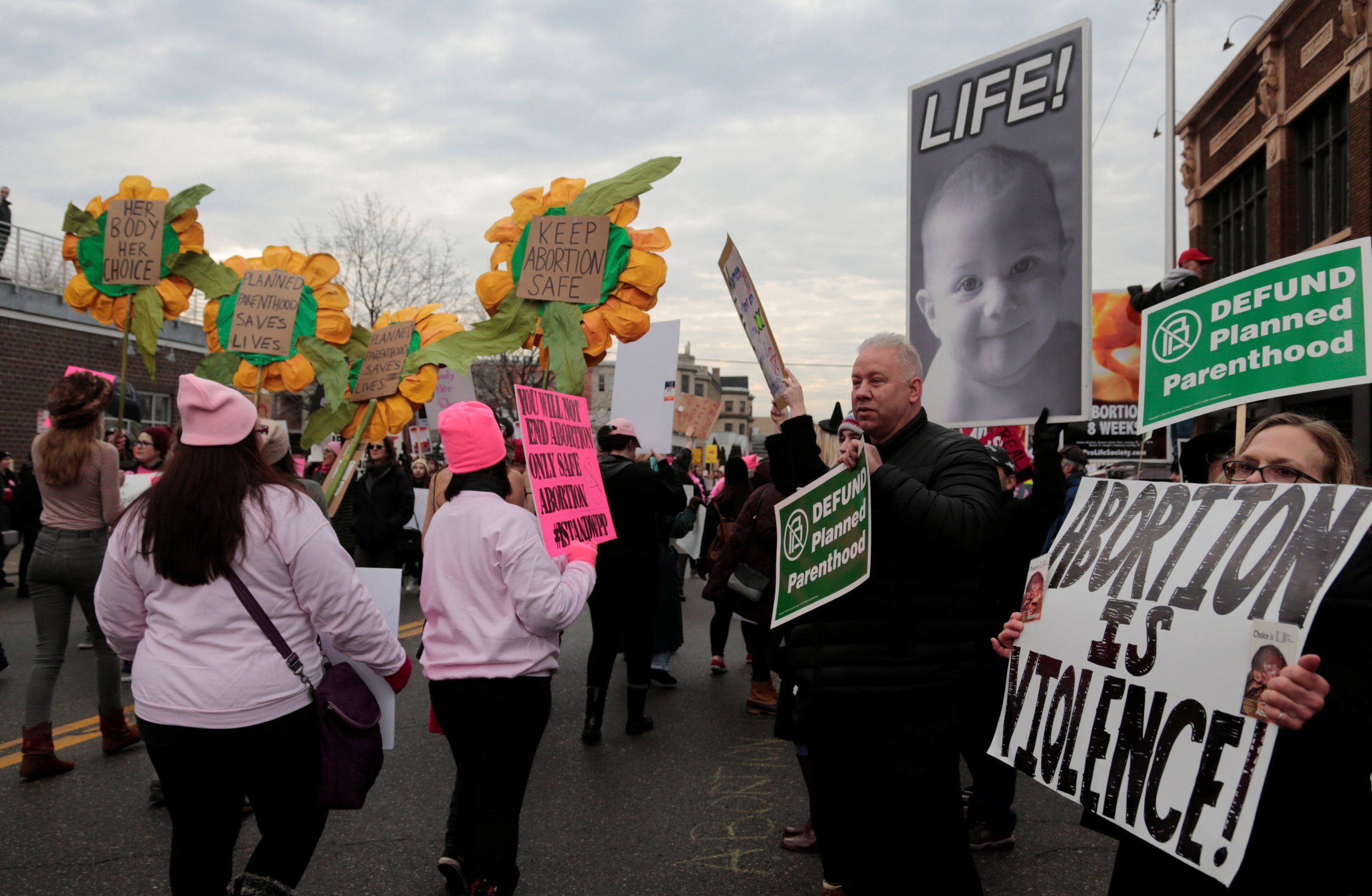 Advocates on both sides of the reproductive rights debate took to the streets and the internet Saturday, with pro-choice advocates countering planned demonstrations urging the defunding of Planned Parenthood.
RELATED: Anti-Planned Parenthood protests to be held across U.S.
Protest Planned Parenthood organizers expected public demonstrations at up to 225 clinics nationwide, prompting supporters to quickly organize at least 150 counter-demonstrations, Reuters reported. The fight spilled over on social media, with pro-choice advocates proclaiming #IStandWithPP, a trending hashtag appropriated by pro-life supporters to denounce abortion and Planned Parenthood services.
"Abortion, to me is the greatest evil of our time," Delia Tyagi, 36, of Virginia told Reuters at a rally in Washington, D.C. "Planned Parenthood has wronged women in a lot of ways. I feel like we have the momentum to finally defund them," she said, as demonstrators held a banner reading: "The butchering and selling of the parts of unborn babies by Planned Parenthood is a heinous sin." Margie Sznajder, a demonstrator at a defund-Planned Parenthood rally in Aurora, Illinois, was excited that, "we finally have someone in the White House who has the power and authority to save and defend lives."
Planned Parenthood supporters say the quickly organized counter-protests are a testament to advocates' strength. "Saturday, and every day, Planned Parenthood advocates and activists show that they refuse to be intimidated and they won't back down," said Kelley Robinson, a leader of Planned Parenthood Action Fund Support.
Online, thousands used the #IStandWithPP hashtag to register their feelings on the more than 40-year debate, with provocative statements accusing women of murder countered by defenses of a women's ability to control their reproductive health. One Twitter user wrote, "#StandWithPP is saying you #StandForMurder of the unborn. Kill your child on your own dime - and then pay the consequences." Another representative tweet questioned, "How many females has Planned Parenthood eliminated from society?" One woman reminded opponents that Planned Parenthood is more than abortion services. "After my rape, PP was the only place to give me compassionate healthcare and counseling," she wrote. Another stands with Planned Parenthood because, "There is no racial & economic justice without reproductive justice."
The abortion fight, while never far from the political forefront, has seen renewed interest on both sides of the aisle since the election of Donald Trump, who endorses the pro-life view, and Mike Pence, a Christian conservative who has been very vocal about his anti-abortion views. Reproductive rights was one of the issues that sparked the Women's Marches the day after Trump's inauguration, while pro-life demonstrators, seeing allies in the White House, welcomed Pence at the 44th March for Life on January 27.
The organizers of the defund-Planned Parenthood effort want, "Congress and President Trump to strip Planned Parenthood of all federal funding and reallocate those funds to health centers that help disadvantaged women without destroying human life through abortion" and call for "all current federal funding for Planned Parenthood…(to be) redirected to Federally Qualified Health Centers that do not perform abortions."
For more than 40 years, no federal funding has gone toward abortion in the U.S.—or, for that matter, abroad—except in cases of rape, incest or if the life of the woman is at risk, Newsweek's Lucy Westcott reports. According to its 2015 annual report, Planned Parenthood did perform 323,999 abortions that year, although the organization provides comprehensive health services for women, including cervical cancer screenings, contraception, breast exams, STD tests and more.
"The people who are protesting are really missing the point," Dr. Carrie Pierce, an abortion provider based in rural Oregon, told Newsweek. Closing Planned Parenthood would make an increase in abortions more likely, she says, because the organization also provides contraception and standard women's health care. "That is in no way good for health, that's in no way good for life," Pierce said.