Which Plant-Based Burgers are Actually Vegan? Burger King, Denny's, Dunkin', Carl's Jr, White Castle?
A vegan is suing Burger King because its plant-based burger is cooked alongside meat, meaning it is not vegan-friendly. While Burger King states that the Impossible Whopper is not suitable for vegans or vegetarians, the term "plant-based" has become synonymous with veganism, leading to some confusion.
The plaintiff accuses Burger King of "false advertising and benefiting monetarily from offering a vegan option that is not in fact vegan," as reported by CNN Business. Even if the food item does not contain animal products, many vegans and vegetarians will not eat otherwise suitable food contaminated with meat.
Therefore, with a range of new "plant-based" meat options entering fast-food restaurants like Burger King, Denny's and Dunkin Donuts, which plant-based burgers are actually vegan?
The meat alternatives used in these products are made by Impossible Foods and Beyond Meat, both of which are entirely vegan-friendly. However, when considering the toppings and cooking methods, not all "plant-based" burgers at fast-food restaurants are suitable for vegans.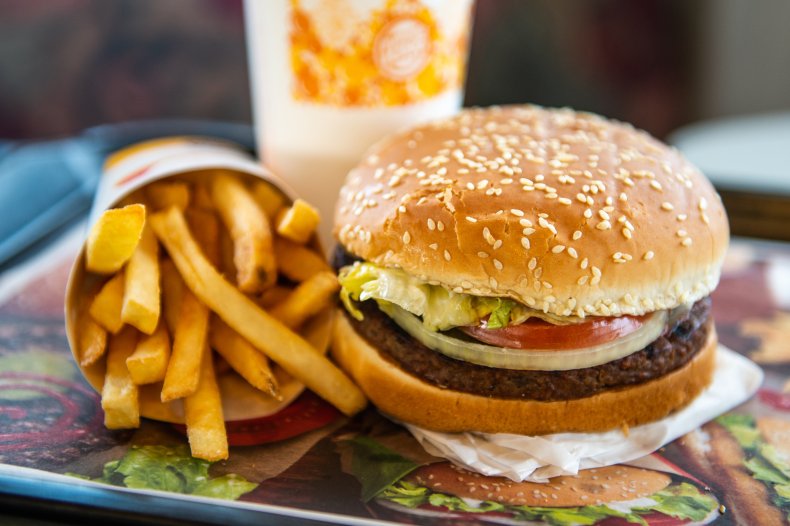 Burger King
The Impossible Whopper is the burger facing the lawsuit—so is it actually vegan? The plant-based patty made by Impossible Foods is 100 percent vegan. However, the problem arises from the toppings and cooking method.
The Impossible Whopper includes mayonnaise, which isn't vegan, although a customer could ask for the burger without mayo. However, the Impossible Whopper is typically cooked on the same broiler as meat patties. The Burger King website states: "For guests looking for a meat-free option, a non-broiler method of preparation is available upon request."
Cooking the plant-based patty separately would make the burger vegan-friendly, but the lawsuit suggests describing a burger as "plant-based" might not make it clear that a customer needs to request it be cooked specially in order to make it suitable for vegans.
Burger King recently launched three new plant-based burgers, which face the same problem as the Impossible Whopper. If requested for the burger to be cooked separately and to be prepared without mayo, the burgers can be considered vegan.
The Impossible Whopper Jr., is a smaller variant of the Impossible Whopper and The Impossible Burger is similar to Burger King's hamburger, coming with ketchup, mustard and pickles on a sesame seed bun. Finally, the Impossible Cheeseburger is the same as the Impossible Burger but with a slice of cheese, which could be considered vegetarian but not vegan.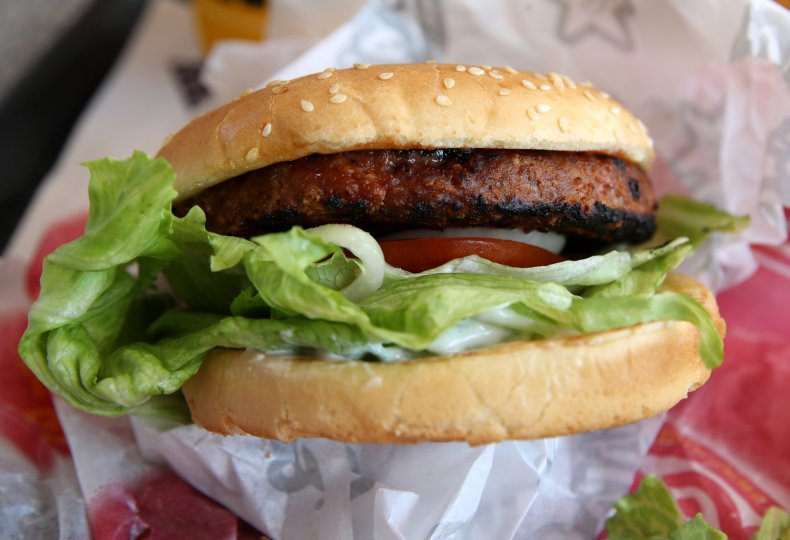 Carl's Jr
Carl's Jr has a few plant-based burgers made with a vegan patty by Beyond Meat. The "plant-based" options at Carl's Jr are the Beyond Famous Star burger, which comes with or without cheese, and the Beyond BBQ Cheeseburger.
If a customer were to order any of these burgers, they would not be vegan-friendly as they contain mayo, and two of them contain cheese. Ordering without the mayo and cheese would still not make them vegan unless the customer requested for the burger to be cooked separately.
However, unlike Burger King, Carl's Jr. does not say whether vegans can request for the burger to be cooked separately. Its website states: "All of our products are prepared in the same kitchen area." We have asked Carl's Jr. if it would cook the burger separately upon request but we have not received a response.
According to the Carl's Jr. website, its Beyond Burger is "a healthier option especially for those that do not want to sacrifice burgers but want to eat less meat," and the fast-food chain does not suggest it's intended for vegans or vegetarians.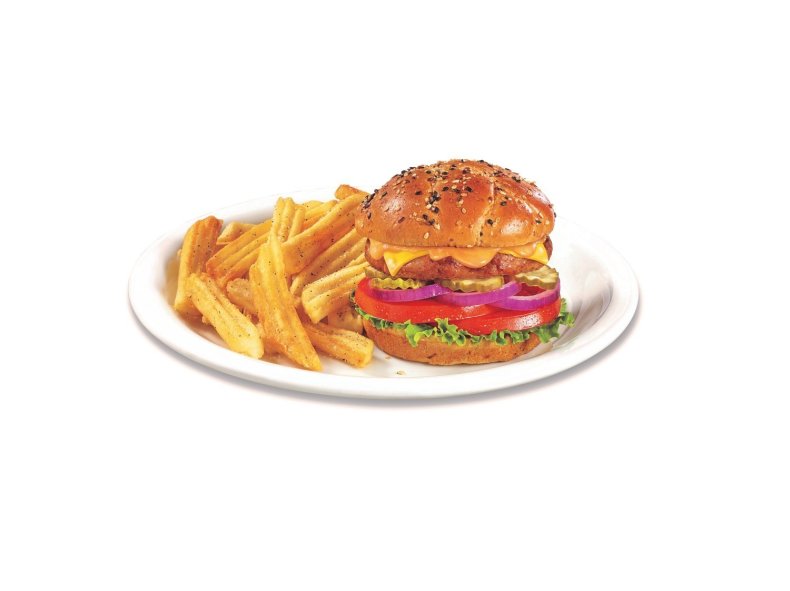 Denny's
Denny's began testing its "plant-based" burger in Los Angeles locations in October, ahead of a nationwide release in 2020. Denny's Beyond Burger is also made with a vegan patty by Beyond Meat. It is served with cheese, making it unsuitable for vegans unless the order is altered. However, Denny's said that the burger cannot be cooked separately from meat, making it not vegan-friendly.
Denny's told Newsweek: "Denny's partnered with Beyond Meat to offer our guests more delicious options in plant-based dining and flexitarian diets, but we did not create Denny's Beyond Burger specifically for vegan customers, as we are not able to cook it in a 100% meat-free environment."
In a statement about the release of Denny's Beyond Burger, Tim Smith, Beyond Meat's VP of North America Sales Foodservice, said: "Through our partnership with Denny's, we look forward to introducing more families to the nutritional and environmental benefits of consuming plant-based meat."
According to this statement, Denny's is catering towards people who want to eat less meat for health or environmental reasons, rather than vegans and vegetarians.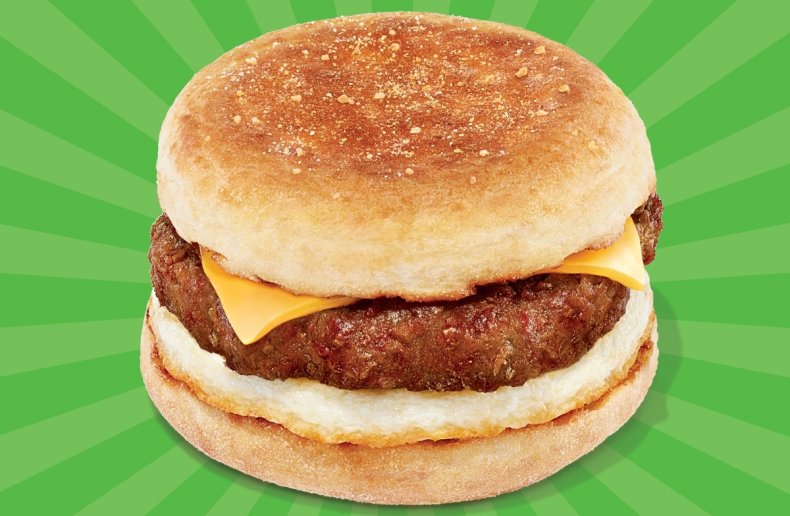 Dunkin'
Dunkin' launched its Beyond Sausage Sandwich in 9,000 locations across the U.S. this month. It's made with a plant-based meat alternative by Beyond Meat but served with egg and cheese, making it not suitable for vegans. It is unclear if customers can request that the Beyond Sausage Sandwich be cooked separately from meat products and Dunkin' has been contacted for comment.
If the meat alternative can be cooked separately and served without egg and cheese, the Beyond Sausage Sandwich could be considered vegan. The English Muffin it is served in is vegan-friendly.
According to Dunkin', the Beyond Sausage Sandwich is healthier than its Sausage, Egg and Cheese Breakfast Sandwich as it contains 29 percent less total fat, 33 percent less saturated fat and fewer calories, cholesterol and sodium. It would seem as though Dunkin' has targeted the new sandwich towards those who would like to eat healthier food rather than vegans or vegetarians.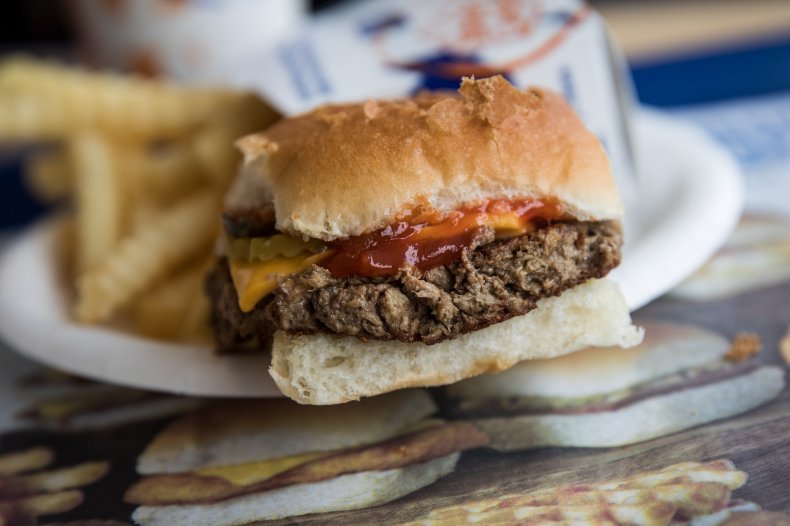 White Castle
White Castle has been serving a plant-based Impossible Slider since 2018, which is made from a patty by Impossible Foods and can be served with or without cheese. White Castle describes the burger as "a delicious patty made from plants for meat lovers."
However, White Castle states that if ordered without cheese, the Impossible Slider is always cooked separately from meat products. The restaurant chain does say it cannot be guaranteed that the burger is completely vegan as it is cooked in the same space as meat products, but it is not cooked on the same griddle as meat. White Castle also plans to introduce vegan cheese to its Impossible Slider.
Why are plant-based burgers not vegan?
While more plant-based options are being introduced to fast-food chain menus, there are not necessarily more options for vegans and vegetarians at mainstream restaurants. Many chains that have launched plant-based burgers cite health and the environment as reasons for introducing meat-free options, rather than targeting vegans and vegetarians.
It is important that vegans and vegetarians check the ingredient list and cooking methods for food products described as plant-based, as although the term has become synonymous with veganism, it isn't an exclusive description.