Plastic Entering Our Oceans Each Year Could Triple to 29 Million Tons by 2040
The annual flow of plastic into the oceans could nearly triple by 2040 without immediate and sustained action, according to a report published Thursday.
An International team of scientists found that unless action is taken to mitigate production and consumption, the amount of plastic waste entering the ocean will rise from a baseline of 11 million metric tons in 2016 to 29 million metric tons in twenty year's time—equivalent to 50 kilograms (110 pounds) of plastic for every meter (3.2 feet) of the world's coastlines.
Given that plastic remains in the ocean for hundreds of years and may never biodegrade completely, the cumulative amount of plastic in the ocean by 2040 could reach 600 million tons—nearly four times the estimated figure today. Six-hundred million tons is equivalent to the weight of more than three million blue whales.
However, the report, titled "Breaking the Plastic Wave: A Comprehensive Assessment of Pathways Towards Stopping Ocean Plastic Pollution," also outlines solutions that could reduce the volume of plastic flowing into the ocean by more than 80 percent by 2040. The authors warn that this can only happen though if large-scale systemic changes are made.
The report was developed by non-profit The Pew Charitable Trusts and "systems change" investment company SYSTEMIQ in collaboration with the University of Oxford, University of Leeds, the Ellen MacArthur Foundation, and Common Seas, as well as a panel of 17 global experts. It is published alongside a complementary scientific paper in the journal Science entitled "Evaluating Scenarios Toward Zero Plastic Pollution."
Both the report and Science paper are based on a first-of-its-kind model that is designed to calculate the flow of plastic through its entire lifecycle, from production to use, recycling and disposal. Looking at the flow of plastic between manufacturers, brand owners, retailers, waste collectors and recyclers, the team aimed to quantity all the plastic that is flowing through the system, and the amount that is leaking into the Earth's ecosystems, in particular, the ocean.
"The science paper and report introduces a new model designed to quantify key plastic flows and stocks in the global plastic system, estimate the quantity of ocean plastic pollution expected under six scenarios between 2016 and 2040, and assess the economic, environmental, and social impacts of the principal known solutions and technologies," Simon Reddy, director of Pew's International Environment program, told Newsweek.
The six scenarios tested range from "business-as-usual"—meaning no change in the projected rise in plastic flowing into the ocean—and a "systems change" scenario where the global plastic system is totally overhauled.
"The global plastic system is broken. This requires us to rethink the system," Yoni Shiran, Programme Director at SYSTEMIQ, and Martin Stuchtey, a professor at Innsbruck University and SYSTEMIQ founder, told Newsweek.
According to the Ellen MacArthur Foundation, only 14 percent of the plastic produced annually is collected for recycling, and only two percent is returned into comparable products.
Furthermore, more than 40 percent of plastic is escaping into ecosystems and more than 11 million tons is flowing into the ocean every year, according to the report. In addition, there are currently two billion people around the world who do not have access to collection services. And with the global population set to grow by two billion in the next 20 years, 500,000 people would need to be connected every day from now until 2040 to address the problem.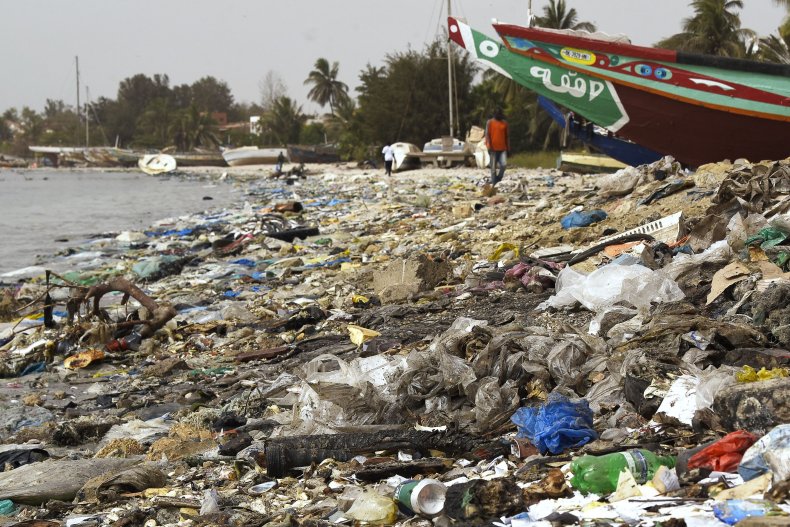 While some progress has been made in combating the global plastic crisis, the report concludes that current commitments by governments and industry will only curb the quantity of plastic flowing into the ocean by seven percent by 2040.
However, the report describes several measures that, when combined, could reduce the amount of plastic flowing into the ocean annually by around 80 percent by 2040 using technology and solutions that are available today.
These solutions include reducing growth in plastic production and consumption, substituting some plastics with alternatives such as paper and compostable materials, designing products and packaging for recycling, expanding waste collection rates—particularly in middle- and low-income countries—increasing recycling capacity, reducing plastic waste exports and implementing measures to address microplastic emissions.
"Although these changes are feasible, they are unlikely to materialize unless governments act to curb the forecast growth in plastic production and create significant incentives for more sustainable business models," Reddy said.
"Achieving an 80 percent reduction in plastic pollution flows will require major changes by businesses in the plastic sector, including eliminating avoidable, single-use, and hard-to-recycle plastic, and establishing business model innovations based on reuse and refill systems, whilst working with governments to help finance waste collection and sorting."
Nevertheless, the report found that the changes could create 700,000 jobs, generate $70 billion in savings for governments and reduce projected annual plastic-related greenhouse gas emissions by 25 per cent compared to the business-as-usual scenario by 2040.
"There's no easy way out way out: betting on landfills only, on recycling only, on substitution only, on reduction and a breakaway from plastic only will all just about stabilize pollution of plastic into the ocean," Shiran and Stuchtey said. "The system change scenario is economically viable for governments and consumers, but a major redirection of capital investment will be required."
"Addressing plastic leakage into the ocean under the system change scenario has many co-benefits for climate, health, jobs, working conditions, and the environment, thus contributing to many of the United Nations Sustainable Development Goals," they said.
But even in the systems change scenario where all these changes are implemented, there would still be more than five million tons of plastic flowing into the oceans every year by 2040.
"Going beyond the system change scenario to tackle the remaining five million metric tons per year of plastic leakage demands significant innovation across the entire plastics value chain," Shiran and Stuchtey said.
"The time is now: If we want to significantly reduce plastic leakage, we have the solutions at our fingertips. An implementation delay of five years would result in an additional 80 million metric tons of plastic going into the ocean by 2040."