'I am Platonic Co-Parenting With A Friend—Our Baby is Due in 2022'
I have always wanted to have children and I vividly recollect that it started at a curiously young age; before I was even 10. There were probably two things that informed my tiny mind. Firstly, I had a happy childhood in Cambridge, England, with my mom, dad and sister; my parents gave me a really great example of what being a family was. Secondly, I've always liked kids.
I have had serious relationships, but not long-term in comparison to people who have been together for 10 or 15 years. And, some of those relationships were when I was a lot younger, at which point I wasn't looking to settle down.
My last relationship was several years ago. It was a very serious relationship to me and it was the first time I had met someone where I seriously thought marriage was a possibility. This was complicated by the fact that we met in Morocco and it was a long distance relationship. Unfortunately, it ended after around a year.
My future hasn't panned out the way I thought it would, yet I've had countless conversations with female friends who say it's OK for me because I can have children whenever I want. I understand the biological imperative for women, but I have never felt that I could have children whenever I wanted. To me, that seems like quite an arrogant assumption that I can carry on getting older and women who are still able to have children would want to have children with me.
My friend Lindsay and I first met at a friend's potluck dinner party in the summer of 2014 and we have developed a close friendship over the past seven years. I would describe us as being similar and different. But we do have shared interests. For example, we are both into running, so it was convenient to go for training runs together and in 2016, we both ran the Marathon des châteaux du Médoc in France—a marathon in France that features wine tasting along the route. The pandemic and the wider events of the past 18 months did bring Lindsay and I closer together. A lot of my close friends are settled and were in their support bubbles, and Lindsay's three best female friends are all in relationships too. So out of circumstance, we became each other's support bubble; it is really fortunate that we were able to support each other.
Lindsay and I are both in our 40s now and as Lindsay also knew she wanted to have children, she was aware that time was against her. She had found a community called Solo Mothers By Choice that she found really helpful. My understanding is that there are a lot of women who want children and make the decision that they are happy to do so alone. Lindsay wasn't naive about that undertaking, but given she wasn't in a relationship there was no other option at the time. So, during the summer of 2020 we had been talking on and off about these plans and what she was going to need to do in order to have a child.
After these conversations, in September 2020, the idea of platonic co-parenting together popped into my head. It seemed like the perfect solution that would give both Lindsay and I what we had always wanted: a child. But the three weeks leading up to discussing the idea with her were absolutely awful.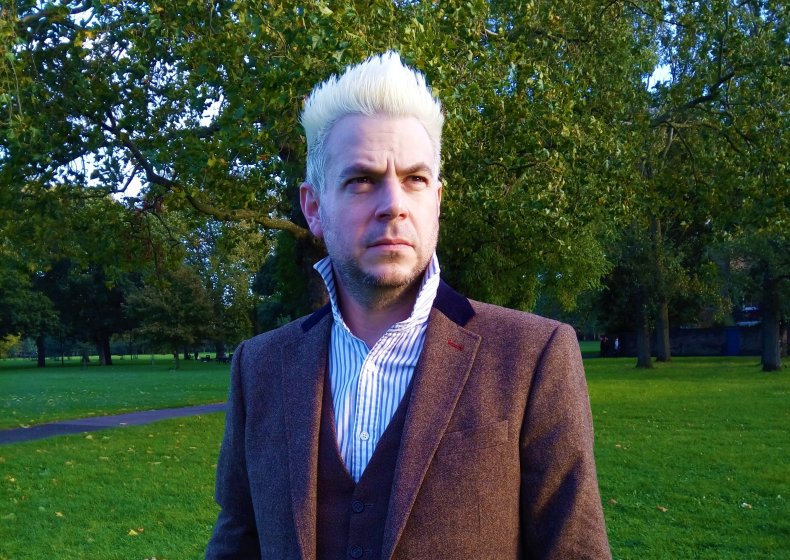 I was going to Lindsay's for dinner and at that point I was certain that I wanted to take the step of platonically co-parenting with her and decided I had to talk to her that evening. It was something a little different to nerves; it was the vulnerability of it. It was a "sliding doors" moment. My life could go in one direction or, Lindsay could say "no."
It took me about half an hour to spit the words out. I don't think Lindsay had ever heard me be so woefully inept at speaking. But to her credit, she did sit and wait for me to explain. Imagine my relief when she said "yes" immediately. However, she quickly pointed out she had actually mentioned the same idea to me before, but it had been in passing, several months prior.
We had an appointment with a fertility consultant on December 18, 2020, which fell before Lindsay's 42nd birthday, and during a scan we were told that Lindsay might be pregnant. It turned out she was, but a few days before Christmas, she miscarried. It was a rollercoaster that typically happens over several months, yet we experienced it over just a few days. It was very strange. We actually had three miscarriages before our current pregnancy. Our problem, it turned out, wasn't getting pregnant but staying pregnant. We conceived in the traditional way because it was the most straightforward way of getting pregnant, and we needed to try naturally before being eligible for IVF treatment through the National Health Service (NHS), so we were prepared to do that. But we are not, and have never been, romantically involved. Being friends works really well for us.
Though Lindsay had told her parents and some friends that we were planning to have a baby together and they had reacted positively, we hadn't told our friends and family we were pregnant at any point, for the fairly conventional reason that a lot of people wait until the 12 week scan.
I question that received wisdom now, because the majority of miscarriages happen in the first 12 weeks and it's traumatic. Consequently, if you're not telling people you're trying to get pregnant, then the woman especially is going through this terrible physical and emotional wrench and is suffering in silence as a result.
Now, Lindsay is 24 weeks pregnant. In our first three pregnancies, we hadn't gotten past 6 weeks, so every passing week we have reached beyond that feels more positive. Every day, every week and every scan the pregnancy progresses, but even now, I can't totally relax. We have had a lot of scans, partly because of age and previous miscarriages, and I have been to every hospital and doctor or midwife appointment with Lindsay. We still see each other a lot outside of that and are in touch every day.
I told my parents first and my sister and brother-in-law after that. I wanted to tell people in person and I don't regret that decision, but it's very time consuming. My parents were the people I was most nervous about telling. They are already grandparents and I knew they would be excited about that prospect, what I was less sure about was how they would understand the idea of platonic co-parenting. It was difficult for them to understand the idea to begin with, but everything is fine now. Lindsay and I have been friends for 7 years so they had met her before.
In general, my friends have also been really supportive. The response has been overwhelmingly positive. The most common reaction has been: "Oh, you're doing what you've always wanted to do; having a baby. That's great!" The most common second reaction is: "how?" Because they know I'm not in a relationship. When I explain that I am platonic co-parenting with Lindsay, a lot of people are unfazed and just say it makes perfect sense.
At the moment, we live separately but I'm under no illusions about the amount of work that will be involved, especially when the baby is first born. It would be unrealistic for Lindsay and I not to be in the same place. During the first six months, our baby will need to be with Lindsay, so if I'm not where they are, I can't see how I'm going to be able to co-parent. Obviously I take my responsibilities seriously, but also, I want to be there. I don't want to miss out on these things. So, the plan is to move into a bigger place together.
We don't know anyone before us who has had a baby as platonic co-parents and we certainly don't have a 10 year plan. But we know what the starting point is. We certainly think we will live together for at least the first two years, and perhaps beyond that. But it's impossible to second guess the future.
We are very aware that meeting other partners could happen. I don't want to speak for Lindsay, but I'm fairly certain she would agree that our priority is our imminent child. We need to look after their wellbeing first, and then work everything else out around that. At the moment, we're dealing with the "now" but I hope we haven't written off meeting partners because we are co-parenting. However, I am also well aware that saying that I have a child I am platonically co-parenting with a friend might put some people off!
Lindsay is a lovely, lovely person. We work really well as friends and I'm confident we will work really well as co parents. We are quite different in lots of ways. For example, we know that we don't always communicate as well as we could. But even that has its positives, because we are aware of it and we're always working on it.
Truthfully, I don't know if there is less pressure as parents because we don't have a romantic relationship. But a few people I know have wondered. Theoretically you could look at the thousands of couples who have been forced into co-parenting right now because of a breakdown in their romantic relationship. Whereas with platonic co-parenting or elective co-parenting, you have elected to parent this way, as opposed to couples who have split up or got divorced and co-parenting is a necessity. But I am not advocating for anyone else to do this—unless it is their choice.
Lindsay and I are both very happy and very comfortable with the decision we have made. I have not regretted it for a second. If everything works out, this will be the best idea I've ever had.
Ian Joliet lives and works in London. He is the founder of the Social Distancing Dance Party. Find out more on Facebook here. Joliet also runs Middle Aged Rave, details of which can be found here. You can follow him on Twitter @djprolix.
All views expressed in this article are the author's own.
As told to Jenny Haward.