Mom Jeans? 'Play-Doh for Grown Ups' Has New Scents Guaranteed to Tickle Your Inner Kid
Look: 2020 has been hard on everyone. There have been endless heated political conversations, natural disasters, and an ongoing pandemic that has left many grieving a lost family member, feeling isolated, or worried about loss of income. All of this resulted in many of us seeking the comforts of our youths, from binge-watching old sitcoms to devouring bag after bag of cookies. But Hasbro knows what you've been really missing, and that's Play-Doh. In a brilliant move of product development, the company recently announced a line of its moldable, squishy, putty that you don't need to sneak into the aisle of a children's store to buy.
Introducing Play-Doh for Grown Ups, which comes in very adult-specific scents. The line is made up of the following options: Overpriced Latte (which smells like coffee); Mom Jeans (clean denim); Grill King (smoked meats); Dad Sneakers (rubber); Spa Day (floral); and Lord of the Lawn (freshly cut grass). Yes, even the names for the scents cater to adults.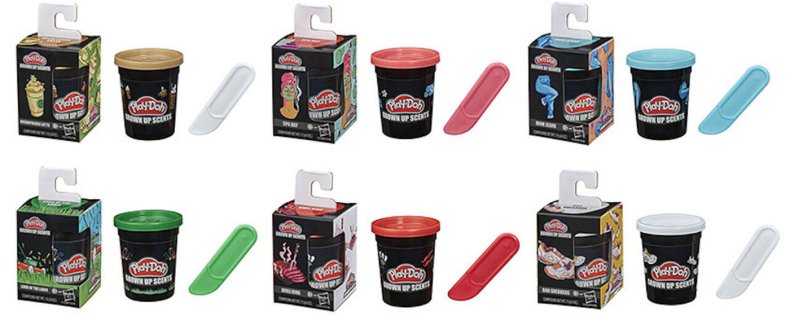 While the kids' options still come in the same, bright but bland colors as before, the Grown Ups line is available in packaging featuring humorous cartoons representing the various scents. Each container also comes with a small scoop, because getting the putty under your fingernails is for children, after all.
A six-pack of four-ounce cans on Amazon is available for $11.99. (It's also available from other retailers like WalMart.) Amazon's product page describes the line as such: "Smells like a funny gift or adult party favor. It won't solve your first world problems, but it's a great gift for men or women, fun white elephant gifts, stocking stuffers, fidget desk toys, gag gifts, etc."
A fun bit of Play-Doh trivia, the sculpting gooey substance was actually invented in the 1930s to remove soot and dirt from wallpapered walls before it was rebranded as a kids' modeling compound in the 1950s.
The company didn't release any details for the rationalization of releasing the product other than saying it was for people with a sense of humor, and nothing was mentioned about the timing of the product launch. But while it may be coming out in time to make a fun holiday gag gift, it could possibly facilitate a little bonding time. With the coronavirus making this a very challenging holiday season, many kids will be spending more time indoors with their parents during the cold winter months. This makes just as good as time as any to break out the Play-Doh, be it the candy-colored kiddie variety or a coffee-smelling vat for the adults.