'Playbill' Brings Broadway Into a New Era With COVID-19, Black Lives Matter Stories
If you've been to a Broadway show, you probably associate Playbill with the collectible magazines handed out at the door. Maybe you've saved them in a box, a binder or just a special place in your heart. But have you turned to Playbill as a trusted source of theater news?
As 2020 continues to wrestle with the sanity of entertainment lovers everywhere, Playbill has made a point to step up as a loud and stable voice surrounding not only Broadway news but the ever-changing social dynamics that loud American voices are pushing forward.
Playbill is making a statement on Black Lives Matter, COVID-19 and more, and it's all part of their plan to push the iconic theater staple into a new era.
The magazine was first printed in 1884, which makes the publication older than any of the Broadway theaters it occupies. Even New York's Lyceum, New Amsterdam and Hudson theaters, which are the oldest in the city, opened in 1903. So it's only natural Playbill's efforts continue to evolve in the shape of the culture it loves.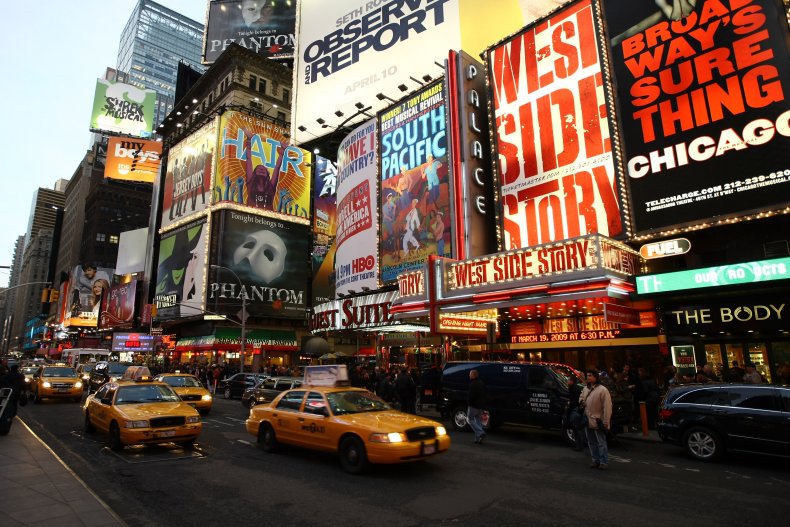 The general need for change at Playbill started when coronavirus pandemic struck. Theaters in New York shut down indefinitely in a decision that will now force all Broadway venues to remain closed through 2020. Alex Birsh, Playbill's vice president and chief digital officer, told Newsweek it began with an immediate push to cover the trending topics of COVID-19 closures digitally, both quickly and uniquely.
From then on, though, Playbill altered its content to reflect the state of the world, both under the influence of a pandemic and a giant racial justice movement. This is reflected on its website. Open Playbill's homepage, and you'll see breaking news about virtual entertainment options, theater industry news and even Black Lives Matter resources.
"The industry is doing a lot of learning right now, which is definitely needed on both planning for and dealing with a long work stoppage and fighting systemic racism and prejudice," Alex said. "Theater is our oldest form of entertainment, with Broadway being the highest caliber of it, and we as an industry need to take a leadership role in actively doing our part to set the standard for a better and more just entertainment industry."
In the name of Black Lives Matter, in particular, the Broadway industry is facing claims of racism within the system. As protests and voices raise internationally after the deaths of George Floyd and Breonna Taylor, Americans are demanding change. This did not exclude Black actors, who shared their own stories of injustice within the workplace. Vulture captured these claims in an article in June. It seems natural Playbill to report on the topic.
The theater lover, the constant consumer who is feeling loss with the closure of theaters nationally, is at the heart of these decisions. It extends past conversation and even into digital entertainment. "Through this time, we have done our very best to bring theater to people wherever they are; through stories, streamed musicals, video interview series and especially through streamed concerts that the community, including us, have put together for the enjoyment of theater fans everywhere," Alex said. "We are constantly looking at how to evolve and stay malleable in such unprecedented times, but one thing I'll say is that it has been an absolutely invigorating challenge."
Like many industries, Broadway will take a financial hit after nearly a full year of venue closure. According to The Wrap, this number could be around $565 million by the end of COVID restrictions. But Playbill CEO Phil Birsh explained the stability that comes with such a beloved entertainment staple.
"It is my belief that theater can be damaged but not destroyed," he told Newsweek. "People have been gathering for shared human experiences that try to entertain or make sense of the world since the first person built a large enough fire to gather a crowd and scare off the predators. Theater will be back as strong or stronger than ever. It is a critical part of many peoples' lives and they will demand its return and will welcome it back with open arms."
And the progressive steps in American society may help solidify the theater industry, too, Alex noted. "As for the types of stories told in the long term, and who helps tells them, I believe the incredible [Black Lives Matter] movement surrounding and within the Broadway sphere will push the industry to new heights by raising its game, developing projects that future generations of Broadway fans will love, further spreading the fandom wider than it ever has before."
So until the stage doors open again and the streets of New York are filled with song and dance, Playbill is providing support and information to those who miss their theater homes.