Playboi Carti and Iggy Azalea 'Whole Lotta Red' Twitter Drama Explained
"Whole Lotta Red," the brand new album by Playboi Carti featuring Kanye West, Kid Cudi, and Future, is taking over Twitter as the rapper dropped the highly anticipated project on Christmas Day.
Playboi Carti—whose real name is Jordan Terrell Carter—is making headlines today as the promotion for the album is overshadowed by criticism from his ex and mother of his child, Australian rapper Iggy Azalea, given name Amethyst Amelia Kelly.
Shortly after the album dropped, Azalea, 30, took to Twitter to condemn Carter, 24, for not spending Christmas with their six-month-old son, Onyx Carter.
Azalea, who was previously engaged to NFL athlete Nick Young, further slammed her ex for switching plans he had to go on a family vacation at the last minute to throw a release party for the album. The "Fancy" hitmaker also accused Carter of cheating on her with a woman he invited to the party.
"Too bad you got an album out but can't even come to Christmas with your own son," she began.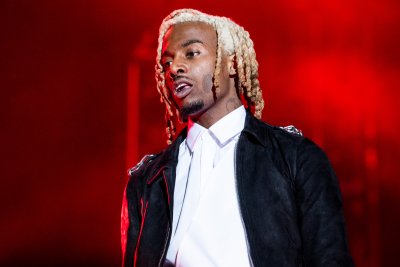 "Imagine not flying out your family on Christmas but you have the girl you cheated on my my entire pregnancy at your album party and magically me and my son can't come for Christmas any more?" she wrote in a series of tweets. "TRASH."
She continued: "This man had a whole family vacation to planned 48hrs ago & I hope this message gets to you girl. Although you hid in a whole closet from my house keeper so it's not like you have any dignity I guess."
Azalea explained she was publicly blasting Carter, not out of "bitterness" but to express how she feels about him not being there for their son.
"To clarify this man was literally at my house last night telling me he loves me," she wrote. "So this is very much NOT me being bitter, it's me not ducking with trifling ass shit that happens at the expense of my son."
She concluded her string of tweets with: "Everything not for the net, but at a certain point when someone just taking advantage like CRAZY airing it out is all you can do. Night."
The couple is reported to have started a relationship in 2018 before parting ways in October amid cheating accusations.
At the time, Us Weekly reported that Azalea posted a cryptic message on her Instagram Story, reading: "You lost a real 1," likely referring to Carter.
She also added: "People take loyalty for granted & that's why I'd rather be alone. One thing I'll never understand is how liars live with themselves. That s**t don't eat y'all up inside?"
She later confirmed the rumors with an Instagram story that read: "What I mean last night was that I'm raising my son alone & I'm not in a relationship."
Carter has yet to comment publicly about the relationship or the cheating accusations.
Newsweek has contacted a representative for Carter for comment.