Watch Playboy Hugh Hefner's Best TV Cameos On 'The Simpsons,' 'Curb Your Enthusiasm,' 'Sex and the City' and More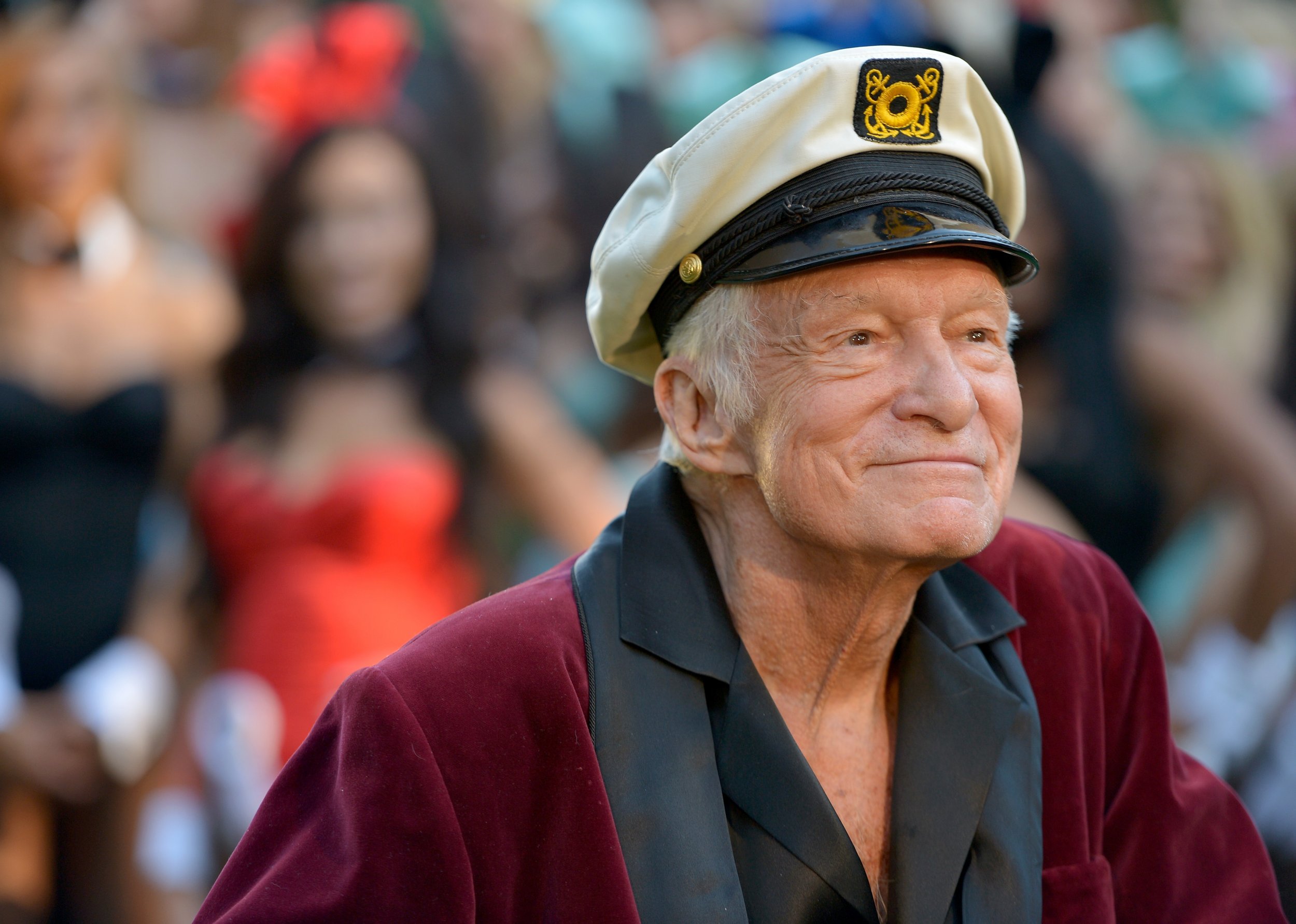 He always played himself.
Hugh Hefner, who died at 91, was known to most as an icon of sexual liberation, but he was also a regular presence on TV, always in character: a sexual libertine in a pair of pajamas.
Whether animated—as he was in two "Simpsons" episodes—or live action, Hefner perpetuated his living-the-dream wink at TV audiences from his first appearance in 1965 — playing a "bunny club" owner — until his last true cameo on "Shark" in 2008.
Here's a roundup of the favorite Hefner guest spots:
"Airport '07," Family Guy (2007): Quohog's resident Hefner-esque playboy, Quagmire, is down in the dumps and Hefner tries to cheer him up at a bar. The animated Hefner, wearing a sailor hat, tells Quagmire that John Holmes, "the greatest porn star who ever lived." once praised Quagmire's skill as a pilot, "right before he died a very painful, AIDS-related death from having unprotected sex with so many people." The story works, and Quagmire gets back to his job.
"Krusty Gets Kancelled," The Simpsons (1993): Hefner joked tongue-in-cheek about the reputation of his famed Playboy Mansion as a Simpsons character. The silver-haired character walked alongside Bart Simpson in one episode, each wearing a pajama robe. Hefner remarked that "a lot of people know about the grotto and the game room," to which Bart, smoking a pipe, chimed in, "of course" before Hefner continued, "but few know about the laboratory, the biosphere, the alternative energy research center." Hefner opens a door to show Playboy Bunnies at work in lab coats. "Smart bunnies, Hef," Bart said. "I can't call you Hef, can I?" Hefner quickly said no.
"The Smoking Jacket," Curb Your Enthusiasm (2005): Even surly Larry David was not immune to Hefner's charms. In this episode, David tags along with his agent to the Playboy Mansion and encounters Hefner (again, flanked by two attractive women) in a hallway. Over his pajamas, Hefner is wearing a smoking jacket — which David realizes is the same as his. They trade jackets.
"One for the Bunny," The Odd Couple: (1974): In this episode, Felix finally lands a dream job, taking photographs for a new magazine known as Playboy. But when he is commissioned to shoot a centerfold of his ex-wife Gloria, Felix refuses to give the photos over to the magazine's art director. Hef shows up and saves the day, allowing Felix to keep his sacred photos — but roommate Oscar gets the last laugh, having burned off a print before Felix secured them all.
"Sex and Another City," Sex and The City (2000): Samantha Jones meets the famed Hugh Hefner for a drink at the Playboy Mansion after getting her friends invited to a party in Los Angeles. The New York girls meet the playboy himself, with Samantha remarking to Hefner, "Drinking with three blondes, I guess that's just a regular day for you." Dressed in a suit, Hefner laughs and replies, "a slow one, yes."
"The House Bunny" (2008): Anna Farris stars as a Playboy bunny kicked out of the Playboy Mansion for being too old. The former Playboy finds herself at Zeta Alpha Zeta sorority where she becomes the "House Mom" and helps the girls find their way on the college campus. Hefner, of course, is shown poolside at the Playboy Mansion, telling Ferris that she is "looking good," with a cocktail in hand.
"History of the World, Part I" (1981): In Mel Brooks's classic comedy, Hefner plays an entrepreneur in ancient Rome, but he's really just playing Hefner. Standing with two attractive women outside a temple to the god Eros (naturally), Hefner tells Romans of his new business idea: "It's a new concept. It's called a 'centerfold,'" he says.