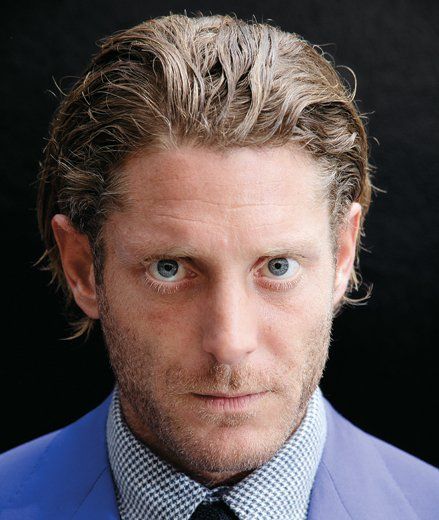 Sitting in his Milan studio at a sleek glass table made from the front half of a Fiat 500 car, Lapo Elkann is a bundle of harnessed energy. The raffish grandson of former Fiat chairman and style icon Gianni Agnelli, Elkann is the quintessential Italian playboy who has slalomed a fine line between his aristocratic lineage and his wild side (his untamable locks and boyish good looks landed him on GQ's list of the world's 25 Sexiest Men last year). Innately charming and surprisingly humble, he has what the Italians call sprezzatura, the art of making elegance and intelligence so natural they seem accidental.
At 34, the New York–born and Paris-bred Elkann has already reinvented himself several times over. Six years ago, the aspiring industrialist ended up on the front page of every Italian newspaper after nearly dying of a drug overdose. The incident involved a slew of unseemly characters—including a 54-year-old transvestite prostitute who ultimately saved Elkann's life by calling an ambulance. Elkann left Italy and cleaned himself up. He returned a year later with the primary goal of revamping his reputation. Now he wants to do the same for his country's reputation.
"Italy is at a turning point where we have to prove ourselves internationally. I think Italy has all the potential to do it if people can just put aside all the bullshit and stick to what's important for the nation," says Elkann, one of a new generation of Italians who want to change the image of their homeland from a European basket case, wedded to an outmoded "made in Italy" business model, to an innovative competitor in the global marketplace. "We need to hit 'reset.' There needs to be a generational change. I'm not speaking about age, but about vision. If we understand and accept who we are, we can do that."
Widely viewed as one of Italy's top creative-marketing talents, Elkann was the driving force behind the success-ful relaunch of the Fiat 500 in 2007 for the car's 50th anniversary. Now he is hoping to give the same boost to Ferrari, which is owned by Fiat SpA. Early in December, Elkann will join Ferrari president Luca Cordero di Montezemolo in inaugurating the Ferrari Tailor Made project, which will allow drivers to fully customize their quarter-million-dollar sports cars. "Status is boring," he says. "We want to sell uniqueness. We want to allow our customer to build the product with us. Real luxury is customization." Buyers will be able to choose whatever paint color, leather, and dashboard trim fits their fancy—so long as it adheres to the overall Ferrari style. "We protect the values of the DNA of the brand while letting our customers feel part of it," he says.
Elkann definitely has his grandfather's DNA. In 2002 he entered the family business as assistant to Fiat's institutional-relations director. He later honed his skills working in the marketing divisions of Ferrari and Maserati at the factories in Maranello and Modena, before going back to Turin and eventually taking charge of worldwide brand promotion for the Fiat Group fleet, which includes Fiat, Alfa Romeo, and Lancia. After the relaunch of the Fiat 500, Elkann left the family business, but he retains a majority stake in Fiat's parent company, Exor, together with his brother, John, and sister, Ginevra.
In 2007 Elkann created his first company, a lifestyle brand called Italia Independent. In addition to producing its own line of ready-to-wear fashion and eyewear—including a pair of spectacular specs designed for Lady Gaga—the firm teams up with other high-end brands to create limited-edition specialty products, like the Alfa Romeo Brera Italia Independent, an opaque-titanium-gray sports car with only 900 units produced for sale. Elkann likes to boast about his team's versatility, saying his handpicked designers can work with anything from a 60-cent Bic lighter to a $40 million luxury private jet. They are also adept at channeling his eclectic personality into the products, mixing Italy's noble traditions with quirky innovation. They push the limits of design, Elkann says, pairing materials like harsh nylon and carbon fiber with cashmere and linen. The company's signature sunglasses, for example, wrap sumptuous flocked velvet over a minimalist frame. "We don't break the rules like rebels," he says. "We break the rules understanding the best way to do so."
Since starting their venture, Elkann and his partners have added a number of new entities to the business, including a communications and advertising agency called Independent Ideas, which helps other Italian companies recast their images. In 2008, Elkann and Andrea Tessitore launched an umbrella group called LA Holding, which serves as a business incubator and consulting group for new ventures to be conceived, created, and styled in Italy. Just don't call them "made in Italy," a term Elkann hates. "'Made in Italy' is from the tycoons of the '80s, not me," he says. "It is people who represent an Italy which I don't belong to and I don't feel a part of."
Under LA Holding, Elkann's business interests run the gamut from I Spirit Vodka ("the first original Italian vodka") to Sound Identity, a communications firm that helps companies use music to define and enhance their brand image. LA Holding's portfolio will turn over €12 million in 2011—not bad for an enterprise that Tessitore and Elkann hatched on a scrap of paper over dinner in New York in 2006. "When you start a company during an economic crisis, you need to be strategic in everything you do," Tessitore says. "We have turned the crisis into an opportunity."
Elkann admits that he partly owes his current success to his past failures. "I've had my slips," he says. "I've had my ups and downs, and I don't deny them. I don't leave people indifferent. I have a personality—good or bad, you can like it or not, at least I'm straightforward. My destructive past both forced me and allowed me to reach who I want to be. My inner self is now at ease. I have many weaknesses, but I have one strength. When I do something, I do it 300 percent. I'm not a middle man."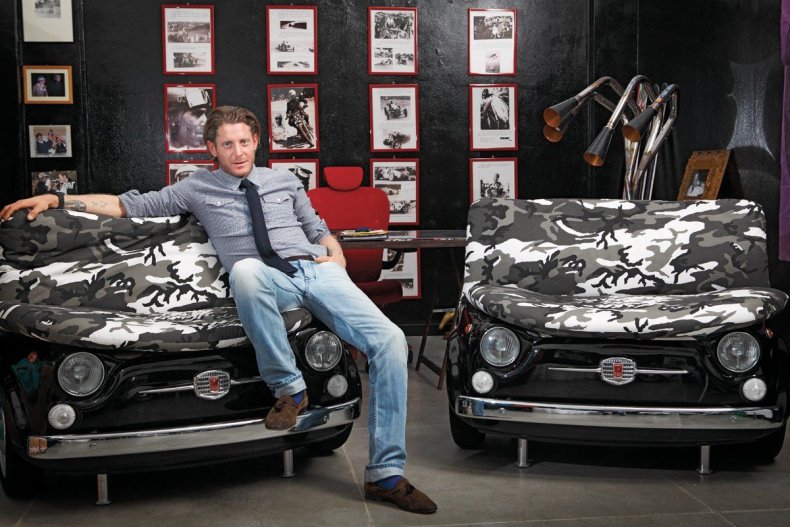 Elkann admires this all-or-nothing attitude in others as well. His first job was in the tough world of international diplomacy, as a personal assistant to former U.S. secretary of state Henry Kissinger, whom Elkann describes as "a driven man who has an intelligence few could dream of having." Elkann says the greatest lesson he learned from the elder statesman was how to read people. "I learned the most important thing in the world from him, which is understanding immediately who is sitting in front of you," he says. "That is key in whatever you do."
It's this tenet from Kissinger that inspires Elkann's almost obsessive drive to let customers get involved in designing his luxury products, as he is doing with Ferrari Tailor Made. (It's worth noting that each of his personal cars and motor-scooters is customized, from his Scottish-blue Ferrari California to his matte military-green Fiat 500.)
As part of the Agnelli clan, Elkann rubs shoulders comfortably with some of the world's biggest names. He's become something of a star in his own right—his sartorial flair has earned him a number of accolades, including Vanity Fair's 2009 Best Dressed Hall of Fame. He likes to pair his grandfather's classic tailored suits, which fit him perfectly, with T-shirts and sneakers from Italia Independent. He sees nothing wrong with extravagance, whether in bright hats or bold prints. His taste has been an inspiration to other designers, including Tom Ford. "Lapo is the most stylish man on the planet," Ford said recently. "I mean ... wow. He's got wacky-as-hell style, but never looks foolish."
Still, Elkann adamantly denies being a man of fashion. "I do not follow the rules of fashion, and I don't like to be considered a man of the world of fashion," he says. "I like to call it the style industry because we try to work on taste." He may be painstakingly stylish, but Elkann is also painfully human, which is part of his appeal. He wears his mistakes as badges of honor, and as reminders of the importance of perseverance. He thinks Italy can do the same with its current crisis. "A new vision for this country will help it overcome difficulty," he says. "I hold hope that Italy can get back on track." Take it from someone who knows.