'Playing Firewatch Changed My Life'
Even five years later, I don't really remember what made me want to play Firewatch for the first time in early 2016. I played story-based games, but nothing exactly like it before. The story develops over a single fire season, in the summer of 1989, where you play as Henry, a Colorado native who takes a position as a fire observer at a fire tower in the Shoshone National Forest. I'm a sucker for good writing and slow-building plots so I immediately fell in love with the setting and characters.
It's not that the experience of the game was so transcendent that I wanted to replicate it exactly, rather that before playing Firewatch I hadn't given the idea of being a fire observer or fire towers themselves any thought. So, the game was more of a catalyst.
There I was, suddenly enamored with fire towers at the age of 12. I liked the way they look— perhaps my love for them was (and still is, in some way) as simple as that.
The first fire tower I visited in real life was around 30 minutes away from where we live. At that point, I thought the furthest we would ever go to see fire towers would be an hour away, so that felt like a long journey (I was very, very wrong about this and we've driven more than six hours to a single tower since then).
When I think back to that first lookout, and how visiting it unravelled for me, there's a sense of excitement and wonder. I was, and still am, so excited to visit every lookout, but this was my very first and holds a special place in my heart. Most fire towers are steel, but this one in Shelburne, Massachusetts is built of stone, which is what drew my eye to it. There's a spiral staircase inside that leads all the way up to below the tower's "cab," which is where the observer actually looks out when on duty and where the firefinder and radio equipment are found.
In April of 2016 I joined the Forest Fire Lookout Association (FFLA) and became, at the time, their youngest member. FFLA members are typically much older, so as I started to make a name for myself (I immediately started emailing chapter directors and researching) there was a common misconception—which I did little to dissuade—that I was a middle-aged man with a career in fire prevention. When I first met people from the organization in person in September 2016 at a conference in New York State, they were understandably a little shocked to find out that I was actually 13. It was as crazy for me as it was for them. Additionally, as a fairly left-leaning gay young man incredibly active in the FFLA, I'm happy to add diversity to an organization that historically hasn't had a large amount of it.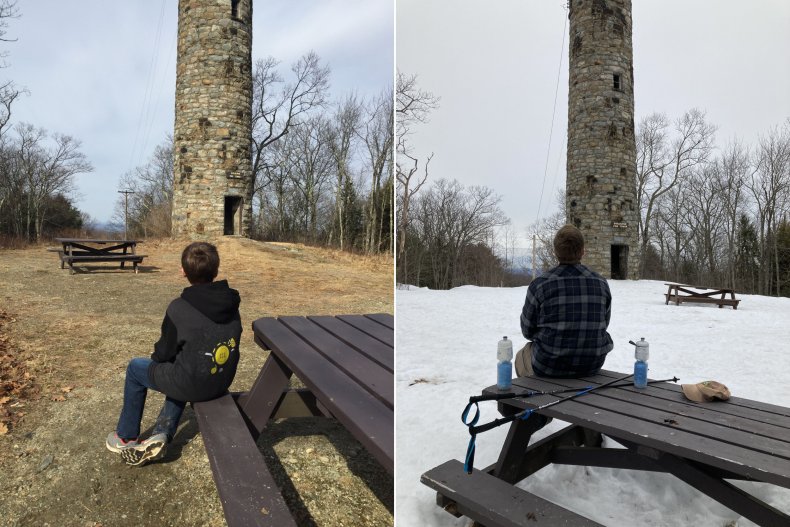 Now, five years in, I've visited 239 fire towers in 16 different U.S. states, but back in 2016 I didn't really give much thought to geography or the wider world. There was a sense of the world growing much larger, all these new places and possible experiences opening up out of nowhere. They'd been there the whole time, but I wasn't aware of them—and may not ever have been were it not for Firewatch.
As I visited more fire towers, I started to talk to more people who are active in fire prevention and conservation; another glimpse into a world I'd barely considered before. But what really made me appreciate conservation, to speak plainly, was simply being outside. The world is beautiful, and chasing fire lookouts has brought me to countless places I otherwise would've never seen: endless coastal blueberry fields in Maine near the border with New Brunswick, towns climbing the sides of steep hills in western Maryland, abandoned motels falling apart on Catskills highways and so, so much more. It's cliched to say but for me it's as much about the journey as the destination, and I want to protect the beauty of all those journeys so more people can enjoy them.
Forestry and conservation wasn't necessarily what I wanted to go into as a career before the pandemic, though. I had considered it pretty heavily in the first few years after Firewatch, but I was torn between that and a path in public health. Like everyone else, though, my world changed in March of 2020. Being in front of a screen for so long and then being able to return to nature really proved how much the outdoors means to me, and showed me that conservation is something I'll be really happy doing.
Another result of visiting fire towers has been a positive impact on my mental health. I have depression and anxiety, both of which can get pretty bad, but at the time I started visiting lookouts I was hiding all of that. It wasn't until 2018 that I opened up about the state of my mental health, but before then, fire lookouts were a way to escape: I could go hiking and forget about the other issues I was trying to work through. I honestly struggle to think about what I would have filled that void with if I hadn't played Firewatch and started on this journey. That's not to say I was purposeless or aimless, but it's been a big part of everything I've been through in the past five years and I get a sense of fulfillment out of it. I love all of it, a lot.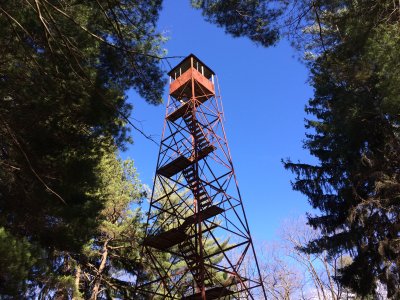 Firewatch changed my life. When you're 12 and going into middle school, you're in a time of immense change and there's still so much ahead of you. I played the game at that exact right time; when I had the freedom to start exploring interests and ideas without much restriction from school or work. My parents have also always been so incredibly supportive; my dad has spent so much time doing this with me.
Of course, Firewatch is far from the only game that I've ever loved. The difference with Firewatch, though, is that I can go out into the world and experience something related to it. If you feel a special connection with a game, let that inspire you. Write about it. Talk to people about it. There are ways to build a community and be social that go beyond just playing the game. And, of course, you can (and should!) reach out to people.
Playing Firewatch changed the course of everything that's going to happen to me. It's given me so many amazing experiences and memories, and I've met so many people and made so many connections. It's really just incredible.
Jack Kelley is 17 and lives in Massachusetts with his family. He is looking to study natural conservation after he graduates high school in 2021. You can follow him on Twitter @failuagain, or on Wordpress at www.northernloss.com.
All views expressed in this article are the author's own.
As told to Jenny Haward.