PS5 Restock Updates for Antonline, Target, Best Buy, Newegg and More
The PS5 might be this year's most in-demand-but-elusive Christmas gift, and with just three days until December 25, some gamers are still trying to get their hands on the next-gen Sony console.
Since its release last month, the PS5 has sold out each time it has been restocked, due to the massive demand combined with online-only orders leaving PlayStation fans competing with scalpers and bots.
However, while gamers may not be able to get the console ahead of Christmas Day, retailers are continuing to sell the PlayStation 5 throughout the holidays.
Newegg released consoles on Monday and retailer Antonline has confirmed that it will be selling the PS5 this week, though other retailers, like Target, Walmart and Best Buy, have not announced any new drops.
Find the latest on PS5 restocks at major retailers this holiday season below, as well as how to improve your chances of getting your hands on a console.
Antonline PS5 Restock
Antonline said that it would have small quantities of the PS5 console available throughout the week, which the retailer will list as they become available. Despite making this announcement on Twitter, Antonline said it would not be posting the PlayStation 5 drops on social media, but encouraged its followers to check its site often.
Though this announcement does not specify any dates or times, keep checking for the PS5 on Antonline through the rest of the week.
Newegg PS5 Restock
Newegg released more PS5 stock at around 8 p.m. ET on Monday evening, though the consoles and bundles have now sold out. Newegg shared the restock news on Twitter around 30 minutes before the drop, before Twitter user @Wario 64 retweeted the news to his followers.
To be ready as soon as retailers release more PlayStation 5 consoles, follow them across their social media channels and turn on notifications. Do the same for gaming Twitter accounts like @Wario64, and follow accounts dedicated to announcing PS5 restocks.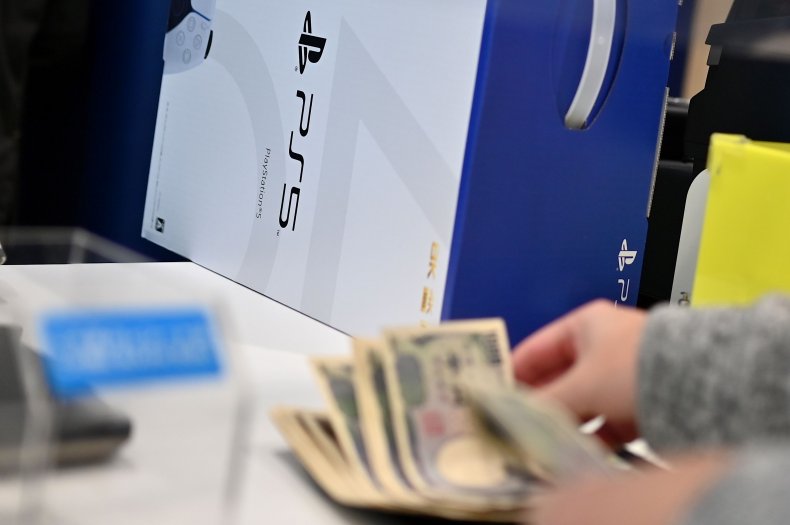 Best Buy PS5 Restock
Best Buy released more PS5 consoles late on Monday evening but it seems that they have now sold out. Head to the PlayStation 5 page on Best Buy's website to see if there are any consoles in stock at stores within a 250-mile radius.
Despite warning customers ahead of time before their restock last week, Best Buy did not give gamers a heads0-up before yesterday's drop.
Gamers who ordered the PS5 from Best Buy may have to wait a little longer to pick up their console as the storm has resulted in delays in deliveries for storms in the northeast.
Target PS5 Restock
Target's PS5 stock varies by location, so head to the Target website to see if there any consoles available at stores near you. You can also use inventory checkers like PopFindr and BrickSeek to check your local Target's stock.
Target may release more PS5 consoles in waves over the next couple of days, though the retailer does not warn customers ahead of time. Keep an eye on the Target website today and follow Twitter accounts sharing Target drops.
Walmart PS5 Restock
When searching for the PS5 at Walmart, customers are greeted with the following message: "Oops! This item is unavailable or on backorder." Walmart recently blocked bots from its website as they tried to buy up the in-demand consoles.
Last week, Walmart warned customers of a restock happening later the same day, so it would be worth keeping tabs on this retailer in case they announce more stock.
Newsweek has affiliate partnerships. If you make a purchase using our links, we may earn a share of the sale.