PlayStation State of Play: Start Time and How to Watch 'Ghost of Tsushima' Gameplay Online
A new episode of PlayStation's State of Play stream is almost here and this time gamers will get the best look at the upcoming title, Ghost of Tsushima.
Ghost of Tsushima is the highly-anticipated PlayStation exclusive from Sucker Punch Productions—the makers of the Sly Cooper and Infamous series—that's coming out this summer. Players will be able to play as the last samurai trying to fight back the tyranny of the Mongol empire.
Here's the Ghost of Tsushima synopsis:
"In the late 13th century, the Mongol empire has laid waste to entire nations along their campaign to conquer the East. Tsushima Island is all that stands between mainland Japan and a massive Mongol invasion fleet led by the ruthless and cunning general, Khotun Khan. As the island burns in the wake of the first wave of the Mongol assault, samurai warrior Jin Sakai stands as one of the last surviving members of his clan. He is resolved to do whatever it takes, at any cost, to protect his people and reclaim his home. He must set aside the traditions that have shaped him as a warrior to forge a new path, the path of the Ghost, and wage an unconventional war for the freedom of Tsushima."
This latest State of Play will feature the most gameplay of Ghost of Tsushima since the game was announced back in 2018. If you want to learn everything you can about this week's State of Play, head below.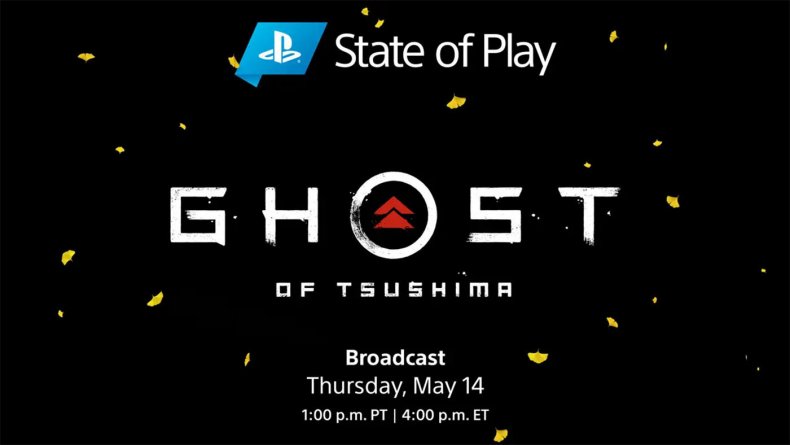 PLAYSTATION STATE OF PLAY START TIME
The latest State of Play will begin streaming Thursday, May 14, starting at 4 p.m. EDT.
PlayStation confirms that the presentation will be around 18 minutes.
HOW TO WATCH PLAYSTATION STATE OF PLAY ONLINE
The next State of Play episode can be viewed on PlayStation's various social media channels.
The PlayStation YouTube channel will stream the broadcast live and will likely have it uploaded for video-on-demand purposes. Fans can watch it anywhere via the YouTube app, and it can also be watched through gaming consoles like PS4, Xbox One and Nintendo Switch, as well as mobile devices.
The company's Twitter and Facebook social media accounts will also stream State of Play when it goes live on Thursday.
Our watching method of choice is Twitch, which you can watch below.
WHAT TO EXPECT
The official PlayStation blog confirmed this week that the entire episode of State of Play will be focused on Ghost of Tsushima. There will be an extended look at new gameplay footage, including what exploration and combat will look like.
PlayStation also confirmed that there will be no news or updates on the PS5. Earlier this week, Sony had to deny an October release date for the next-gen console that was mistakenly posted on a job site.
Ghost of Tsushima is scheduled to be released on July 17 for PlayStation 4.
Are you excited for this latest PlayStation State of Play? What do you hope to see from Ghost of Tsushima? Let us know in the comments section.