A video has gone viral after a teen posted footage of her two non-responsive hamsters posing the request: "someone tell me if they're dead or hibernating."
In the video, which has now been viewed over 17 million times, TikToker @emily.dooley9 is seen picking up the hamsters and caressing them before laying them back on a towel.
"[I] have them on heat pads they're not stiff but cold to the touch," she wrote over the footage.
The comment section was filled with people questioning if they themselves had thought their own hamsters were dead when in fact they were just hibernating—an often unknown habit of the small animals.
"Did I just bury my two hibernating hamsters please tell me this is a joke," one commenter wrote.
"[T]he fact that people might've[sic] thrown their alive hamsters away makes me so upset," another added.
Dr. Jane Tyson, Royal Society for the Prevention of Cruelty to Animals (RSPCA) rodent expert, told Newsweek in December that "[a]lthough they may seem cold and still, a hibernating hamster will wake up quite quickly once they warm up so if owners want to check if they are OK, they could try moving them to a warmer part of the house."
As previously reported by Newsweek, the common hamster can hibernate between October and April.
Simon Hein, a conservationist at the German Wildlife Foundation in Hamburg, told Newsweek that the scientific word for these hibernations is "torpor" and can last anywhere from several days to a maximum of two weeks—but never the whole winter.
"If an owner is unsure they should contact their vet for advice. Keeping them warm during the winter will help prevent pet hamsters from going into hibernation," Tyson said.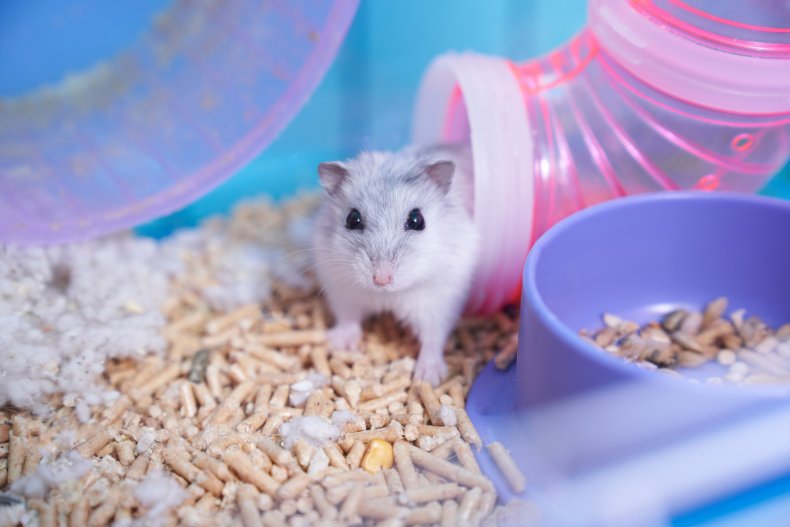 In a follow up video, @emily.dooley9 said that she had to take them off of the heating pad, and after returning from work, her pets were still unresponsive.
"[Back on heating pad now waiting," she wrote. "[V]et said give it a couple days there's not rly[sic] any way to tell."
After another day or so she shared with her followers that her hamsters, Hammy and Gravy, "didn't make it."
"[G]uys they turned blue, nail beds had black spots nothing was waking them up it's been 2 days they're gone..." she wrote in a comment on her last follow-up video, with a broken heart emoji.
Newsweek reached out to @emily.dooley9 for comment.