Please Virtually Hug This Sad Dog Named Big Poppa Right Now
A bulldog named Big Poppa won over the hearts of the internet on Wednesday after going viral for posing in the saddest photo of all time. In the shot, Big Poppa is heartbroken because he misses the kids in his neighborhood during lockdown. And now we're heartbroken, too.
The bulldog's owner, Rae Elle, posted a photo on his Instagram and Twitter that shows the sweet dog sulking while sitting on a balcony. According to Rae Elle, Big Poppa is looking at the kids he loves playing below. This time, though, because of social distancing, he can't join them.
"Big Poppa has been so sad today, I think he miss playing with the kids in the building. He just watches them from the patio," wrote the owner on Twitter.
The tweet had nearly 700,000 likes at the time of publishing. Users flooded the comments with well-wishes for the pooch, and tons of digital hugs. Rae Elle responded and said she has been trying to comfort the dog, but it doesn't seem to be working.
"I've been trying but he loves children more than anything and not being able to play with them daily but he can see them... I think its taking a toll on him," she wrote.
Twitter commenters had a few ideas on how to help Big Poppa find happiness again. "The day all this ends I would like to sign my name on the waiting list to play with Big Poppa," wrote @socialdistancc.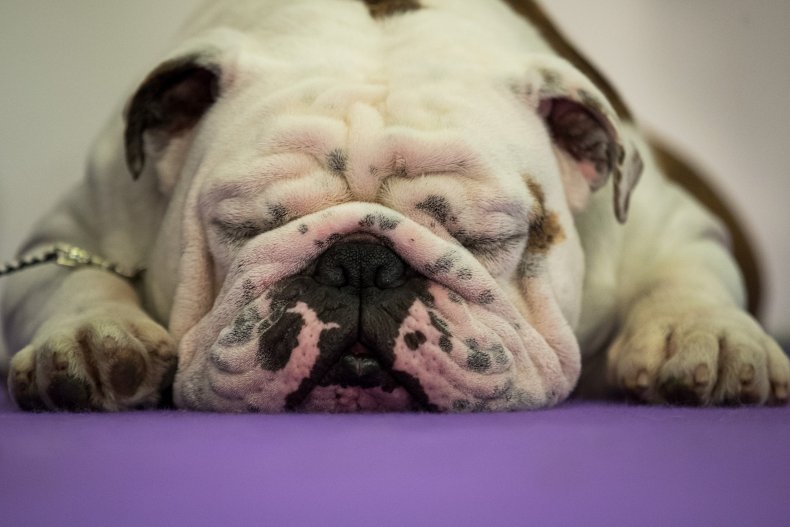 Another made a bigger commitment. "OMG, I didn't even wanna have kids but I'll have them so Big Poppa can play with them," said @nikkigarcia_es.
Others fashioned memes out of their quick-hitting love for the dog.
Even BarkBox, the well-known dog toy and subscription box brand asked Big Poppa if they could send him a gift. Their social media team seemed heartbroken, too. "HONEY CAN WE PLEASE SEND YOU SOME TOYS?" they questioned with a sobbing emoji.
Instagram commenters had some good suggestions, too, like throwing a kid's balcony party for Big Poppa. One commenter also claimed they live in the same building and offered to babysit Big Poppa for a change of scenery. (You know what, we'd gladly babysit him too!)
Maybe the most adorable part of Big Poppa's viral fame, though, was the number of other pups, bulldogs and other breeds, shared in the Twitter feed. It seems Covid-19 is taking a toll on dogs around the world, not just Big Poppa.
Hopefully, Big Poppa's story will inspire dog owners globally to take a little extra time to do something to make their furry friends feel special today, even in the discomfort of social distancing.