When photographer Shadi K. Best pitched his idea of documenting the Brooklyn motorcycle club the Forbidden Ones, one member of the collective carefully explained to him the potential ramifications of any bad publicity: "If I go to jail because of something that you did, I'm going to blow your fucking dick off."
With that advisory seared into his brain, Best spent four years with the Forbidden Ones, accumulating over 1,000 photographs, 100 hours of video and a dozen hours of audio for a project tentatively titled "The Forbidden Ones MC." (So far, the work has been publicly exhibited only at a 2014 weeklong exhibition.)
Founded in 1992, the Forbidden Ones are ostensibly a social club for motorcycle enthusiasts, with members paying dues to maintain and stock the group's clubhouse in Brooklyn's Bushwick neighborhood, as well as provide emergency relief for "FOs" in need. But the group's members are also connected by history: Most are Puerto Rican, related by blood, marriage or childhood friendship. The vast majority of them grew up in the 1980s in Bushwick, then considered one of New York City's most dangerous neighborhoods.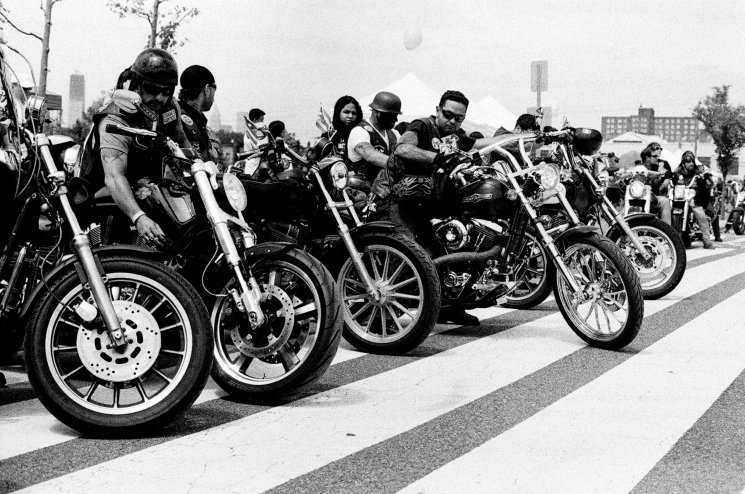 In 2011, Best—a freelance photographer who had recently arrived in Bushwick from San Francisco—wanted to document the bikers he saw riding around his neighborhood. When he eventually made his way to the Forbidden Ones' clubhouse, he realized that anything he captured on film would also serve as a historical document: The urban blight and poverty that once defined Bushwick was quickly being gentrified away, displacing many locals (including FOs). He also hoped his work would be a testament to a culture that flourished for almost two decades, in spite of the neighborhood's poverty and high crime rate.
The FOs were less misty-eyed about Best's project. "We didn't know if he was an informant, if he was a cop or whatever the case was," says the club's vice president, Rafael "Tito" Martinez. That helps explain why Best decided to let the FOs get used to him rather than jumping right into his project. He began visiting the clubhouse regularly to play pool and drink, trying to earn the group's trust. Within a month, he was allowed to photograph some of the club's 80 members. More came around over time.
Best recalls being particularly drawn to one member, nicknamed Eightball. The FOs had met Eightball in the early 2000s through the owner of a local tattoo parlor, where he'd gone looking for a job after being released from prison on drug charges. The club thought Eightball was entertaining, considerate and loyal, and took him in.
With Eightball as his primary subject, Best spent the rest of 2011 and most of 2012 following the FOs, both at their clubhouse and to parties and other social events. He eventually bought a motorcycle and started accompanying them on rides around New York. The realities of life in a motorcycle club surprised him. Sure, the classic tropes were present—petty drug use, simmering feuds, wild parties and an occasional firearm—but Best felt that training his lens on just those parts of the club would be disingenuous.
"I went in there looking for the Hells Angels, or the Sons of Anarchy," he tells Newsweek. "And then, for the first year, all we did was basically sit around drinking day and night, getting stoned, going for rides, having barbecues and birthday parties. Like, 1-year-old birthday parties." The club's familial aspects surprised and intrigued him, and he tried to capture that softer side of the Forbidden Ones.
But not everyone saw that sweet side of the group. In the predawn hours of October 16, 2012, as Best was two years into his work on "The Forbidden Ones MC," a joint task force of New York's police and the Bureau of Alcohol, Tobacco, Firearms and Explosives (ATF) simultaneously raided 15 locations associated with the FOs, including their clubhouse, a repair shop, a tattoo parlor and the homes of members and known associates. Martinez, the vice president, was found with seven firearms in his apartment and was arrested with seven other members of the FOs and two other motorcycle clubs.
In total, the sting yielded 61 unregistered firearms, seven improvised explosive devices, thousands of rounds of ammunition and even a .50-caliber cannon. Best found out about the raid in that morning's New York Times . It came out that law enforcement had been working with an informant, whom club members were able to finger based on his sudden disappearance: Eightball.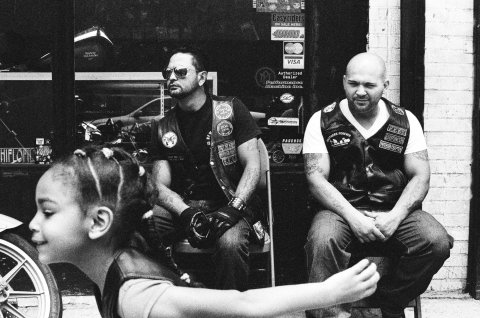 "It was like my world was flipped upside down, because Eightball was my closest subject," says Best. "We talked about his relationship to prison, the woman he was dating, life, being happy—things guys don't normally talk about. And to hear that he was the snitch blew my mind."
Best's relationship with Eightball came under scrutiny from the FOs, who eyed the photographer more and more suspiciously every time he came around. Eventually, Best had to stop visiting the club. Worried that his project—at that point nearly 700 photographs—could be subpoenaed, he hid all his negatives.
On the outs with his subjects and feeling as though he had lost years of work, Best turned to other projects. He began working on a film called Vamp Bikers —a satire he describes as "a horrible, horrible movie." Months into work on the film, the casting called for a group of bikers. Apprehensively, Best reached out to the FOs, who agreed to come down to the set. It was Best's chance to finally demonstrate through his work that he was the artsy guy he'd claimed to be all along, not an informant, and the club members' suspicions gradually subsided. Reconnected with the FOs and hating his work on Vamp Bikers , Best left the movie and went back to documenting the club.
The criminal charges stemming from the NYPD-ATF raids turned out to be relatively light. Of the 61 firearms recovered, 41 had been sold to law enforcement by the informant, whom the FOs claim had been running weapons up from Florida. Martinez still had to go to court for his weapons charges—a legal battle that, at publication time, was ongoing—and the club's PR suffered some serious injury from the incident.
In an effort to put a better face on the organization, Best worked with the FOs to convert the dilapidated apartment above the clubhouse into a gallery space, in time for 2014's Bushwick Open Studios (BOS), a weeklong showcase of the neighborhood's artists. The exhibit displayed Best's work: black-and-white shots of rowdy, tattooed, mean-mugged bikers, alongside color studio portraits of those same men embracing their parents, wives and children. Best filmed the gallery's opening, working with Martinez's son, a filmmaker.
The BOS exhibit was the pinnacle of the relationship between Best and the FOs. Martinez and Best later had a falling out and have not spoken since, which made Best an unwelcome presence at the clubhouse. He hasn't gone back.
Not that there's much left there to document. Since the raid in 2012, membership in the FOs has dwindled, and the club's survival is in question if Martinez goes to jail on the weapons charges. Given those concerns—coupled with the rapid proliferation of luxury apartment buildings, coffee shops and dive bars, which is driving up rents and forcing out many longtime Bushwick residents—Best wonders how long the FOs can stay together. He fears his original proposition for "The Forbidden Ones MC"—that his project would serve as a testament to a fading way of life—may come to pass sooner than expected.