'Plough and the Stars' Tops Off Irish Repertory's Sean O'Casey Ambitious Season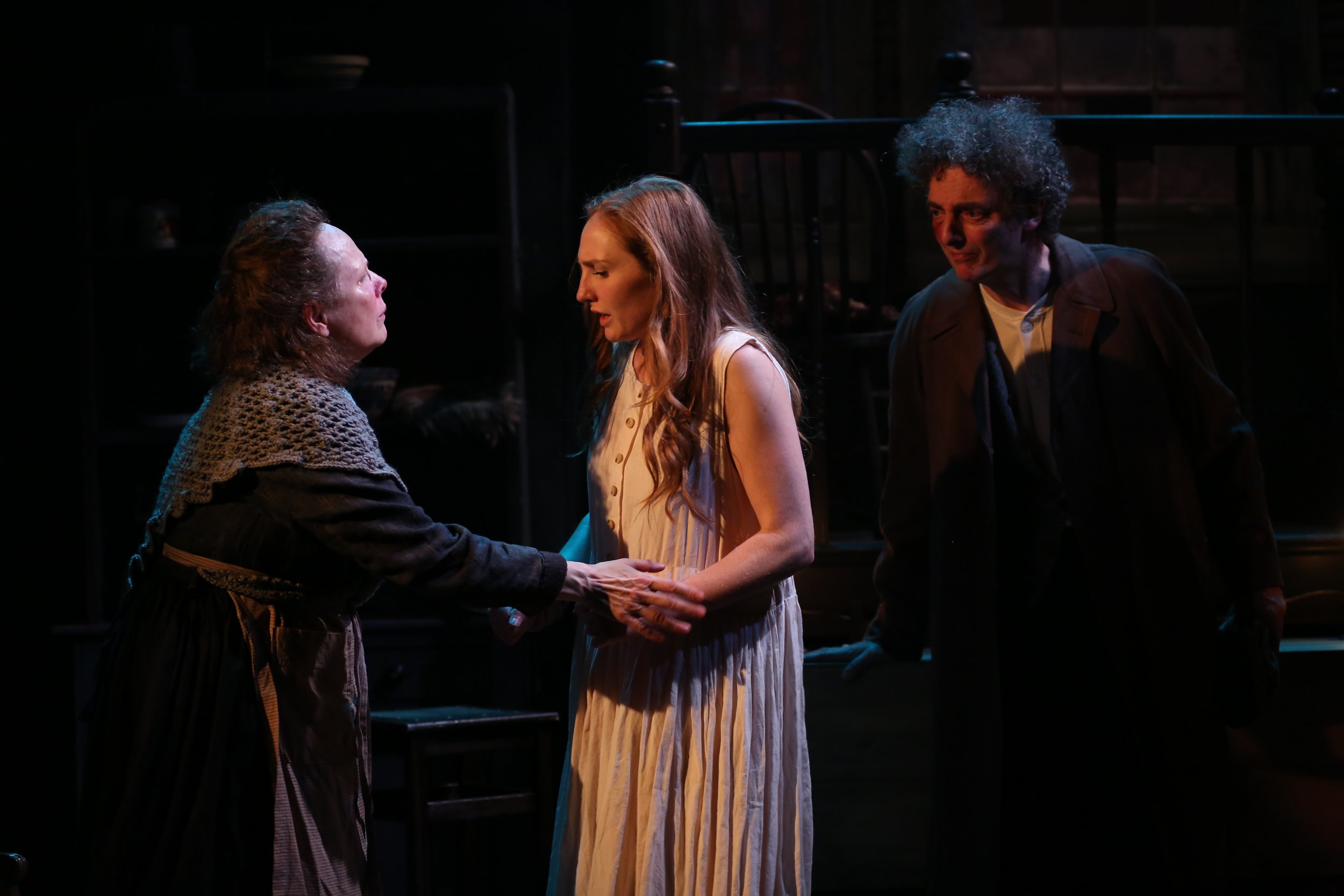 The Irish Repertory Theatre has capped off its ambitious season dedicated to the works of Sean O'Casey with a riveting production of The Plough and the Stars directed by Charlotte Moore. The third installment in his Dublin Trilogy—the others, being The Shadow of a Gunman and Juno and the Paycock—Plough tells the story of people living in a tenement house during the lead-up to Ireland's Easter Uprising, in 1916. The title refers to the flag used by laborers but co-opted by the Irish Citizen Army. You don't need to do much brushing up on your Irish history. If you don't have time, Irish Rep's program has sufficient notes to keep you well enough informed. Anyway, this is a play about people, not a history lesson.
And Plough has its funny moments, most of them in Act 1. O'Casey had a fondness for dark humor. He populated the play with undereducated barflies from the lower depths who wax philosophical and political, the kind Eugene O'Neill would love. They are funny in a sad way, an Irish way.
In fact, overall, the men in Plough are pretty much a fatuous lot. They are so caught up in ideology or in love with their own bluster that they are blinded to the realities and consequences of the battle ahead of them. Peter Flynn (Robert Langdon Lloyd) seems more prepared to fight a windmill than a British soldier. And the Young Covey (James Russell) is better suited to fight his battles in a university classroom than on a Dublin street.
The women have the lion's share of common sense here, and none more than Nora Clitheroe (Clare O'Malley). Nora is a newlywed who works hard to plan a normal life. She seems to know more about what a battle really is than her husband, Jack—a recently minted commandant in the Irish Citizen Army—who gets caught up in the excitement of the impending fight.
Even Bessie Burgess (Maryann Plunkett), a borderline-insane radical-right British loyalist, has her moments of lucidity. Plunkett, who played the down-to-earth Juno Boyle, again stands out as Bessie. As crazed as Bessie is, Plunkett has moments when she brings out her soft and caring side in language that is often touching and poetic. Plunkett, who usually plays more low-key characters, really gets to stretch her wings here. Bessie's character is so well-drawn and well-played that her story is surprisingly heartbreaking.
Plough is no agitprop play, but it is antiwar. It is not about the British or the Irish Republican Army as much as it is about collateral damage, and no one is left unscathed. Innocent victims are everywhere. When Nora's child is stillborn, she becomes delirious and wanders about, rambling like one of Tennessee Williams' damaged heroines. Even the young Mollster (Meg Hennessy) dies, a victim of consumption—and by extension the poverty of the tenements.
Related: Irish Rep's O'Casey Season Continues With Rarely Performed Stage Readings
Plough is emotionally and at times physically violent, but part of O'Casey's genius lies in his talent for depicting tragedy in situations that could simply be melodramatic. When someone gets killed—and many do in these plays—there is almost always an ironic aspect to it. No glory is attached, no divine meaning. Lives are not just ended, they are wasted.
Finally, special mention should be given to Charlie Corcoran's scenic design. He does so much with a small space, making the Dublin tenements lived in, without being livable.
The Plough and the Stars specifically and the O'Casey season, in general, are what serious drama fans imagine New York City theater to be all the time: wall-to-wall top-level productions of classic plays.
The Plough and the Stars plays in repertory with Juno and the Paycock and The Shadow of a Gunman through June 22 at the Irish Repertory Theatre. For more information, go to IrishRep.org/OCasey.