Plow Driver's Video of Spraying Snow Onto Orthodox Jews Spurs Hate Crime Probe
A snowplow driver posted a now-deleted video of himself spraying two Orthodox Jews with snow while they walked to religious services on Saturday evening. The driver may face hate crime charges for targeting the Jews because of their religion.
A snowplow operator named Donny Klarmann posted the video of the incident on his Facebook page. The video shows two Orthodox Jews, wearing signature black overcoats and wide-brimmed hats, walking on a snowy road in New Jersey's Lakewood township.
Klarmann then drops his vehicle's plow down as he drives past the individuals, spraying them with a large wave of snow. Klarmann and an unidentified passenger in the vehicle laugh as it happens.
For the video's caption, Klarmann wrote, "This one's for you JC." JC is most likely an abbreviation for Jesus Christ. Some anti-semitic Christians blame Jews for crucifying Jesus. The idea that Jews are "Christ-killers" has formed the basis for violence, massacres, expulsions and other actions against the Jewish people for centuries.
Lakewood Mayor Ray Coles said that watching the video left him with little doubt that what occurred was a hate crime, News 12 New Jersey reported. Coles added that the two individuals targeted could have been seriously injured or killed by ice rocks sent flying by Klarmann's plow.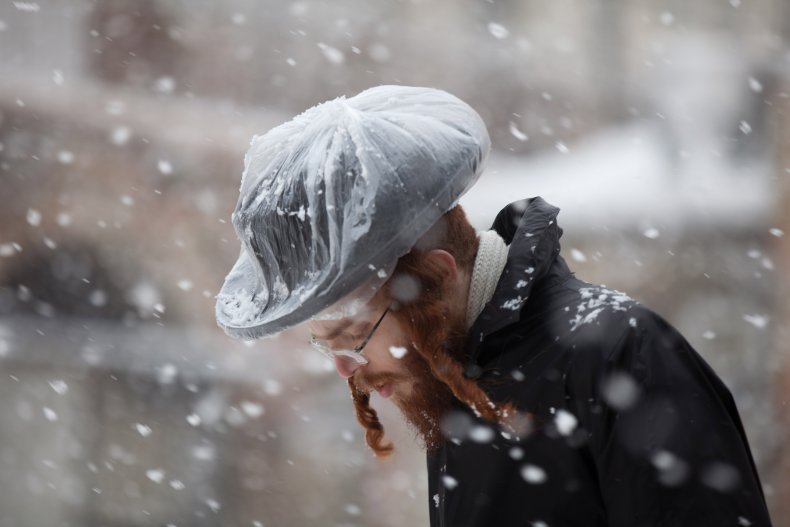 "We are absolutely disgusted by this video footage which appears to show a snowplow operator intentionally and callously targeting two Orthodox Jewish men," the Anti-Defamation League of New York and New Jersey wrote in response to the video.
"This conduct is as dangerous as it is disturbing," the group's statement continued, "and we urge the victims to file a report with the Lakewood Police Department."
Klarmann's employer, Waste Management—a nationwide company with the largest vehicle fleet in the waste industry—has said that he wasn't working on duty when the incident occurred.
"The hateful conduct depicted in this video is unacceptable and does not reflect the values of inclusion and diversity we hold as a company," Waste Management wrote in a statement.
"The employee is suspended while we investigate the incident, but we can confirm that this behavior will not be tolerated from any WM employee and we will not employ those who act in this way," the statement concluded.
The Lakewood Police as well as the Ocean County Prosecutor's Office are investigating. The men targeted in the video have been identified and are pressing charges.
Jews were targeted most for religious-based hate crimes in 2020, according to the FBI. U.S. Jews only make up less than 2 percent of the U.S. population but were targeted in 54.9 percent of all religious bias crimes in 2020, the American Jewish Council said of the FBI data.