Plurality of Americans Support Impeaching Trump and Removing Him From Office: Poll
A plurality of Americans support Congress impeaching President Donald Trump and removing him from office, according to a new poll from USA Today/Ipsos.
The survey found that 45 percent of U.S. adults support the House of Representatives voting to impeach Trump, compared to 38 percent who disapprove of the chamber's efforts to remove the president.
When it came to a Senate vote on the issue, 44 percent of those polled said the chamber should find Trump guilty and remove him from office. Thirty-five percent of respondents didn't support ousting the president.
The poll also showed a large partisan divide, with 74 percent of Democrats backing impeachment proceedings while just 17 percent of Republicans supported removing Trump. But 30 percent of Republicans polled said that Trump asking a foreign leader to investigate his political rival, former Vice President Joe Biden, would be an abuse of power.
USA Today/Ipsos polled 1,006 adults on Tuesday and Wednesday, just a week after the House of Representatives launched an official impeachment inquiry against Trump.
The inquiry began amid reports that Trump tried to pressure a Ukrainian President Volodymyr Zelensky to investigate Biden and his son Hunter. The communication was first detailed in a complaint filed with the inspector general for the intelligence community by a whistleblower who expressed concern that Trump was "using the power of his office to solicit interference from a foreign country in the 2020 U.S. election."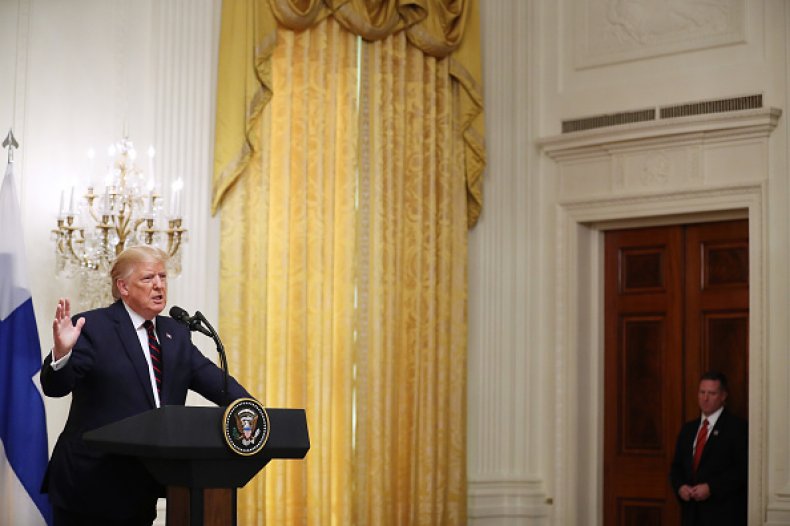 Trump acknowledged that he and Zelensky discussed the Bidens, but has denied any wrongdoing. A rough transcript of their July 25 phone call released by the White House does not show an explicit quid pro quo agreement between the two leaders.
But congressional Democrats say they are moving full steam ahead with the impeachment process and have already issued several subpoenas for more information about the call and Trump's alleged attempts to cover it up. Secretary of State Mike Pompeo and Trump's personal attorney Rudy Giuliani have both been subpoenaed.
The House has also threatened to subpoena the White House if it did not comply by Friday with requests for documents tied to the Ukraine controversy. Representative Elijah Cummings, the chairman of the Oversight and Reform Committee, said the White House has so far "refused to engage with—or even respond to—the committees."
Trump slammed House leaders Wednesday over the process, claiming that House Speaker Nancy Pelosi was handing out subpoenas "like cookies." He also railed on Twitter that Democrats are wasting their time and money on "BULLSHIT."