A Plurality of New Hampshire Democratic Primary Voters Expect Bernie Sanders To Be The Nominee
Most New Hampshire voters who plan on voting in their state's Democratic primary expect Vermont Senator Bernie Sanders to eventually become the party's nominee, according to the results of a poll released Thursday.
Emerson College, a private college in Boston, conducted the poll in conjunction with 7 News. The college is conducting a continuous poll of New Hampshire voters in the eight days leading up to the state's primary election on Tuesday, February 11.
Poll respondents were asked, "Regardless of who you're going to vote for, who do you think is going to be the Democratic nominee?"
About 40.5 percent of New Hampshire voters polled said that they believed Sanders would be given the Democratic Party nomination and go on to face President Donald Trump in the November general election. Former Vice President Joe Biden came in second for this question—26.1 percent of respondents said they thought he would secure the nomination. In third was former South Bend, Indiana, mayor Pete Buttigieg, whom 19.2 percent of voters said they believed would be the eventual nominee.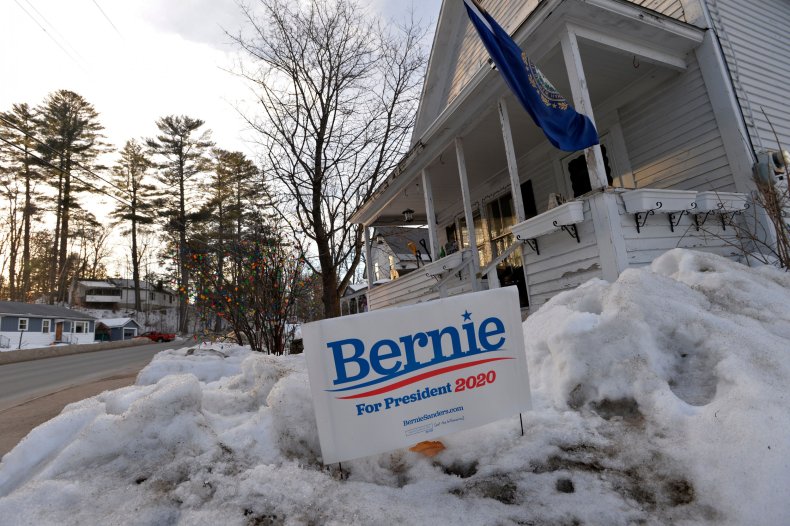 "Since yesterday, Biden has decreased 6 points on this question, and Buttigieg has increased 9 points," according to Emerson College's summary of the results.
Respondents were also asked which of the Democratic presidential candidates they would be "most likely to support." Sanders again came out on top for this question, with 31.4 percent of New Hampshire voters saying that they would most likely vote for him. Buttigieg had 21.4 percent support and Biden had 12.3 percent support.
Buttigieg is the apparent winner of the first step of the official Democratic primaries, the Iowa caucus, which took place on Monday. The release of that caucus' results were marred by a faulty app that the Iowa Democratic Party used to calculate them, but according to a live update from The New York Times, Buttigieg holds a narrow lead over Sanders with 97 percent of the precincts reporting.
As of press time, the former mayor has won 26.2 percent of the vote and 550 state delegate equivalents. Sanders holds 26.1 percent of the vote and 547 state delegate equivalents.
The most recent portion of the Emerson College poll was conducted between February 3 and February 5, among 500 registered Independent and Democratic voters. A slim majority (56 percent) were female. Of those voters, 315 were reached via landlines, 73 via cellphone, and 112 by "online panels provided by MTurk." Its "credibility interval," an interval comparable to a margin of error, was plus or minus 4.3 percentage points.