Plurality of New York Voters Think Andrew Cuomo Committed Sexual Harassment: Poll
A plurality of New York voters think Governor Andrew Cuomo has committed sexual harassment, according to a new poll released Monday.
The Siena College Research Institute found that 44 percent of registered voters in the Empire State think Cuomo has committed sexual harassment, while 22 percent think he hasn't. Roughly one-third of voters said they didn't know or had no opinion.
The findings come as Cuomo faces several allegations that he sexually harassed or behaved inappropriately toward women whom he either worked with or met elsewhere.
Lindsey Boylan, a former aide to the Democratic governor, was the first to accuse him of sexual harassment in December of last year in a series of tweets. She later said Cuomo kissed her on the lips without warning as she was leaving a one-on-one meeting in his office and suggested playing strip poker on a state plane.
Charlotte Bennett, another former Cuomo aide, alleged the governor asked her about her love life and whether she ever had sex with older men. She was the second woman to accuse Cuomo of inappropriate workplace behavior and shared her story with the New York Times.
The Times also reported that Cuomo made unwanted advances toward Anna Ruch at a wedding in 2019. According to Ruch, Cuomo placed his hands on her cheeks and asked to kiss her. She also shared a photo of the alleged incident with the newspaper.
In his first public remarks after the first three accusations, Cuomo insisted that he never "touched anyone inappropriately" and said that no one ever told him at the time that he was making them uncomfortable.
"I now understand that I acted in a way that made people feel uncomfortable," Cuomo said during an appearance at the State Capitol on March 3. "It was unintentional and I truly and deeply apologize for it. I feel awful about it and frankly, I'm embarrassed by it, and that's not easy to say. But that's the truth."
Since then, at least five other women have made allegations against Cuomo. The governor has denied all allegations of inappropriate touching and has apologized if his behavior offended anyone.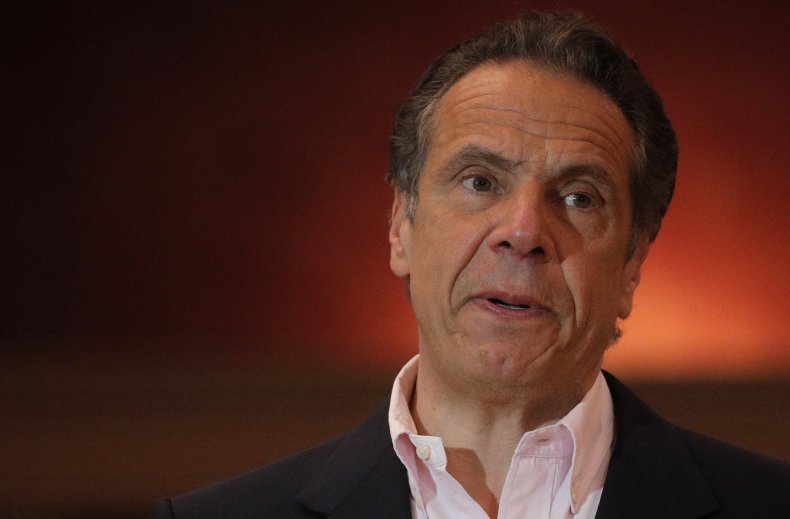 New York Attorney General Letitia James has opened an investigation into the accusations of sexual harassment, and many lawmakers, both Republican and Democrat, have called on Cuomo to resign. The governor has repeatedly said he will not leave office.
While the Siena poll found Cuomo's approval ratings have hit their lowest point ever— more than half of New York voters view him unfavorably—most voters still don't want to see him resign.
Fifty-one percent of those polled want Cuomo to stay in office, while 37 percent think he should go. In March, 50 percent of voters said he should remain governor compared to 35 percent who wanted him to leave office.
The Siena College Research Institute surveyed 801 registered voters between April 11 and April 15. The poll has a margin of error of plus or minus 4.3 points.