Former PM Slams 'Squalid' and 'Deceitful' Brexit Campaign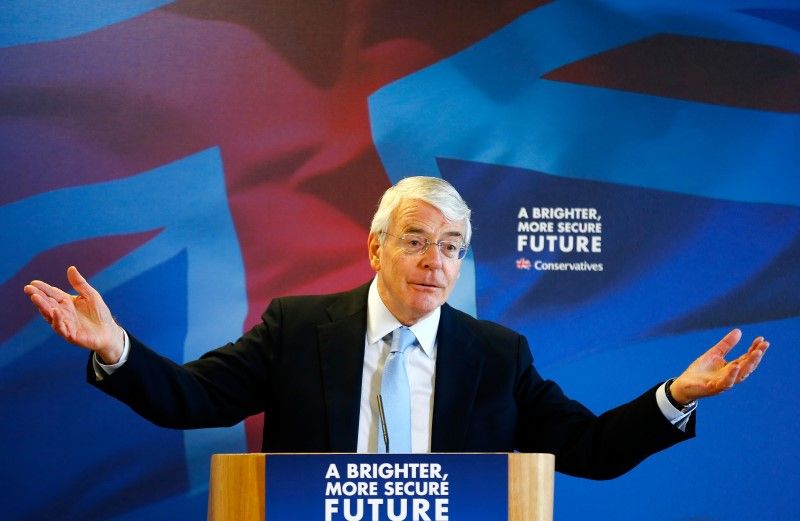 Former prime minister John Major on Sunday accused the campaign for Britain to leave the European Union of fatuous and squalid claims on immigration and the cost of membership to dupe the public into voting out at this month's referendum.
Exposing the deep rifts caused by the vote, Major urged Britons to question the facts coming from the "court jester" Boris Johnson, a champion of the Out campaign and himself a possible future leader of Major's Conservative party.
"What they have done... is feed out to the British people a whole galaxy of inaccurate and frankly untrue information," he told the BBC, less than three weeks before the vote on June 23. "I think their campaign is verging on the squalid."
Major was the last Conservative prime minister before current incumbent David Cameron, who wants Britain to remain in the EU.
His 1990-1997 premiership was plagued by disputes within his party over Europe, including Britain's ignominious withdrawal from the European Exchange Rate Mechanism, the predecessor to the single currency, in 1992.
He said Leave campaigners were misleading voters by saying Britain paid 350 million pounds ($510 million) a week to Brussels, when two thirds of that came back in subsidies and a rebate. Johnson dismissed his comments.
Out supporters have said the money could be better spent on schools and hospitals in Britain, but Major said "these promises of expenditure on the National Health Service or elsewhere are frankly fatuous."
"If they can't be straightforward and honest on a clear cut matter of fact like that upon what else can we trust them," he said, in his most outspoken intervention on the campaign.
"I think this is a deceitful campaign and in terms of what they're saying about immigration, a really depressing and awful campaign, they are misleading people to an extraordinary extent."
Johnson, appearing on the same program, said Brexit would enable Britain "to take back control" over money it sent to Brussels, its borders and other parts of its economic future.
"It's a question of democracy," he said. "I would like a situation where the government can fulfill its pledges to the people."
Johnson said 350 million pounds was a "reasonable" figure to cite, arguing that although some of it was returned by the EU, it was not money Britain controlled.