Nicki Minaj, Cardi B, and More Pay Tribute to PnB Rock After Rapper is Shot Dead
Philadelphia rapper PnB Rock has been fatally shot in Los Angeles.
PnB Rock, whose real name is Rakim Hasheem Allen, rose to fame following the release of his 2016 hit "Selfish". He was killed during a robbery at the Roscoe's House of Chicken & Waffles Restaurant in South Los Angeles on Monday, September 12.
According to TMZ and other reports, his girlfriend had shared their location on an Instagram stories post of their meal, which has now been deleted.
Los Angeles police Captain Kelly Muniz confirmed during a press conference on Monday the shooting had taken place at the restaurant at 1:15 p.m. PT but did not identify the victim who was found with multiple gunshot wounds.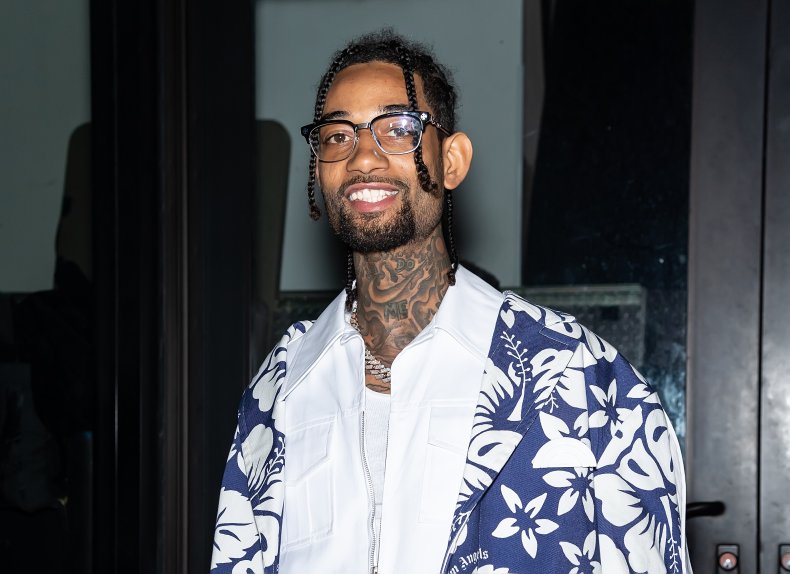 A suspect had brandished a firearm inside the eatery, demanding items from the victim, according to the police report.
Speaking to the media, Muniz said: "The victim was sitting at a table eating with a female witness when he was approached by the suspect.
"The suspect then brandished a firearm and demanded his property...The suspect then fired multiple rounds and then appears to remove some property, to what extent we don't know at this time."
The suspect was able to flee the crime scene and remains at large.
The Los Angeles Times reports law enforcement sources have named the victim as PnB Rock and he was targeted for his jewelry.
He leaves behind two young daughters, reports Complex.
His death is one of many to occur in the hip-hop community, including in more recent years the murders of Pop Smoke and Nipsey Hussle. Lil Tjay was shot repeatedly during an attempted robbery in New Jersey in June but survived.
Famous fans of PnB Rock have begun paying tribute to the star, including Nicki Minaj and Cardi B.
Minaj, who worked with PnB Rock on the 2019 track "Fendi" wrote on Twitter: "After Pop Smoke, there's no way we as rappers or our loved ones are still posting locations to our whereabouts. To show waffles & some fried chicken????! He was such a pleasure to work with. Condolences to his mom & family. This makes me feel so sick."
Grammy-winning rapper Cardi B also took to Twitter to share her thoughts on his location being shared online shortly before his death, arguing it may have had nothing to do with what happened.
She commented: "He was in a bad location and people stay outside plotting. It's very irresponsible and inconsiderate to blame her for something so tragic. We should be sending nothing but love to her and his family at this time."
Rapper Juicy J also paid tribute to the late rapper, writing: "R.I.P. PNB ROCK damn mane this is so sad."
Youtuber turned fighter Jake Paul wrote: "Senseless murders. Pop Smoke and now PnB Rock. RIP."
British boxer Chris Eubank Jr added: "Its so crazy how we're living in a society where its normal for young black artists to die every year all year round. This doesn't happen in any other culture!! White, Asian, Indian, Latin... no other culture has established artists getting killed like this!! WHY US?? RIP PnB Rock."
PnB Rock released two albums between 2017 and 2019, Catch These Vibes and TrapStar Turnt Popstar. Some of his biggest hits include "Selfish", "I Like Girls", and "Middle Child."
He also collaborated with fellow rapper YFN Lucci in 2017 and Meek Mill and singer Jeremih in 2018.
PnB Rock also worked with Layton Greene and rappers Lil Baby and the City Girls on "Leave Em Alone," as well as with Chance the Rapper and Ed Sheeran on "Cross Me" in 2019.
He released his most recent single, "Luv Me Again" on September 2, 2022.