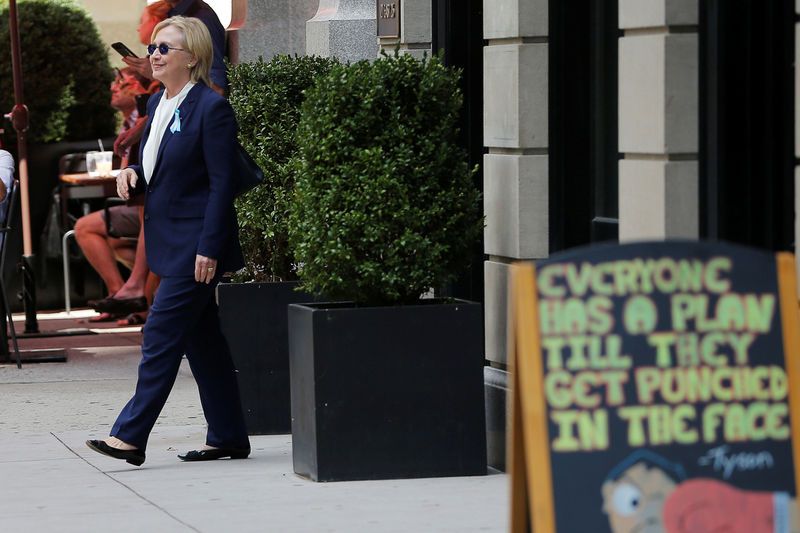 Pneumonia and dehydration are to blame for an "overheated" Hillary Clinton leaving a 9/11 memorial ceremony in New York City early on Sunday, according to a statement from her doctor.
"Secretary Clinton has been experiencing a cough related to allergies. On Friday, during follow up evaluation of her prolonged cough, she was diagnosed with pneumonia," said Dr. Lisa Bardack. "She was put on antibiotics and advised to rest and modify her schedule. While at this morning's event, she became overheated and dehydrated. I have just examined her, and she is now re-hydrated and recovering nicely."
Clinton attended the memorial service in Lower Manhattan for little more than an hour Sunday, leaving at 9:30 a.m. She "felt overheated," during the ceremony, according to spokesman Nick Merrill, and departed for her daughter Chelsea's apartment in the Flatiron neighborhood of Manhattan. Her absence was initially noted by press who noticed Clinton was no longer in attendance, but the campaign waited more than an hour to respond to requests concerning her whereabouts.
Amateur video circulating on social media purportedly shows Clinton being helped by Secret Service agents into a waiting van when she left the 9/11 memorial. Her knees appear to buckle as she is steadied on either side by agents.
Clinton emerged from Chelsea's apartment roughly 90 minutes after arrival to a crowd of reporters, who she told she was feeling "great." The Democratic nominee for president then went to the Clintons' home in Chappaqua, N.Y., where she was examined by Bardack.
Critics and Donald Trump reporters who have repeatedly questioned Clinton's health immediately seized upon the episode. The hashtag #HillarysHealth trended on Twitter, with many accusing the Clinton camp of covering up far more serious illnesses. Her health has long been a campaign issue, although Clinton has released more medical information as compared to Trump, who disseminated a note from a doctor that's been pilloried for Trump-like adjectives and a lack of information.
Clinton did suffer a concussion and blood clot in late 2012, and FBI documents show her citing the concussion to explain that she could not remember every protocol briefing she received while serving as secretary of state. She also has suffered public coughing fits, which the campaign has blamed on allergies that Clinton treats with antihistamines. However, the effort to paint her as unwell has traded in a variety of wild rumors, with Trump surrogates openly speculating about varied maladies they think Clinton could be dealing with.
Trump himself was uncharacteristically muted on the subject when asked about Clinton's health later Sunday. "I don't know anything about it," he told a reporter.
Still, the Sunday episode is sure to continue fueling the narrative pitched by critics of Clinton's supposed generally ill health. One strategist says Clinton needs to address the issue more directly. "The bottom line is the Clinton campaign is going to have to be completely forthright about Clinton's health," Bud Jackson, a Virginia-based Democratic strategist, told Reuters. He said "it would not be a bad move" for the campaign to release further medical information.