During Last Male Northern White Rhino's Funeral Official Says Poachers Should be 'Jailed For Life'
The death of Sudan, the world's last male northern white rhinoceros, has sparked a Kenyan government official to call for stricter punishments for those caught poaching.
"We are going to change our laws so that anyone caught with ivory will be jailed for life," Najib Balala, Kenya's tourism minister, said during Sudan's memorial service on Saturday, Reuters reports.
There's big money in the poaching industry. Horns from this species go for $50,000 per kilo, according to Reuters. Although those who are found guilty of the illegal practice face a life sentence, they could potentially go to prison for as few as five years.
Poachers caused the rhino population to rapidly decline. In 2011, the northern white rhino species in the wild was declared "Critically Endangered (Possibly Extinct in the Wild)" by International Union for Conservation of Nature.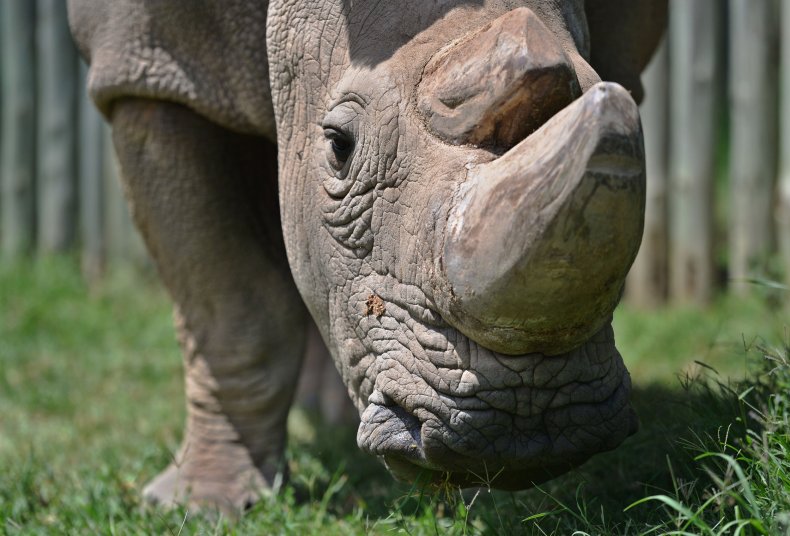 During Sudan's funeral, he was honored with a large plaque (pictured below) inscribed with his name, species, birth and death date. The small ceremony even had carrots, his favorite food, according to National Geographic.
The 45-year-old rhino's health began to deteriorate in early 2018. He went on to develop an infection on his leg that led him unable to stand. Therefore, wildlife officials at Ol Pejeta decided it was them to put him down. He died on March 19.
"Fare thee well Sudan," the Ol Pejeta Conservancy wrote in a Facebook post. "You have done your work to highlight the plight of rhino species across the world; now the onus is on us to ensure that rhino populations thrive across our planet."
He's survived by only two females of his species: Najin, his 27-year-old daughter and Fatu, his 14-year-old granddaughter. In order to prevent the species from going extinct, in-vitro fertilization from preserved sperm is the last hope.