Donald Trump vs. Elizabeth Warren: Here are all the Times Trump has Mocked Warren
Democratic Senator Elizabeth Warren formally announced her 2020 presidential campaign on Saturday morning and in the process slammed President Donald Trump, who has criticized her most infamously with the nickname "Pocahontas."
From Lawrence, Massachusetts, her home state, Warren called the Trump administration the "most corrupt in living memory" and accused it of lacking "a conscience" with respect to immigration policies.
"It won't be enough to just undo the terrible acts of this administration. We can't afford to just tinker around the edges–a tax credit here, a regulation there. Our fight is for big, structural change," Warren said in her speech. "This is the fight of our lives. The fight to build an America where dreams are possible, an America that works for everyone. I am in that fight all the way."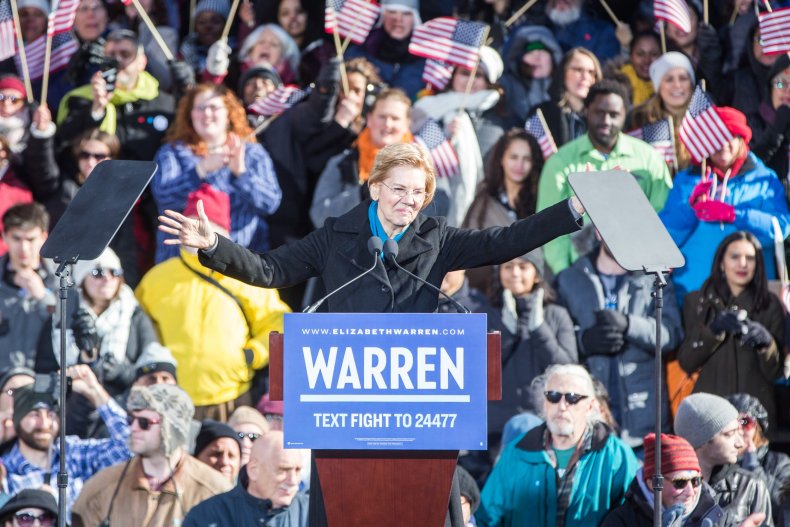 Warren entered a crowded Democratic field despite Trump claiming he has ruined her chances primarily through what transpired with a DNA test Warren took to prove she has Cherokee heritage but ended up apologizing for after the Native American community deemed the "strong evidence" result useless.
Here are various times Trump has launched the Pocahontas attack on Warren:
Warren did end up taking a DNA test, which estimated that she was 1/64th to 1/1024th Native American. The results were released in a video in fall 2018 and included comment from a geneticist.
The senator faced immediate scrutiny over the results, including from the Native American community, which called DNA tests "useless."
On Thursday night Warren offered an apology to the Cherokee Nation for her decision to take the DNA test to prove her heritage.
Here are various times Trump has launched the Pocahontas attack on Warren:
January 31, 2019: Trump in an interview with The New York Times said: "I do think Elizabeth Warren's been hurt very badly with the Pocahontas trap. I think she's been hurt badly. I may be wrong, but I think that was a big part of her credibility, and now all of a sudden it's gone."
January 13, 2019: Trump tweeted a video of Warren on New Year's Eve informally announcing her 2020 bid from her kitchen and wrote, "If Elizabeth Warren, often referred to by me as Pocahontas, did this commercial from Bighorn or Wounded Knee instead of her kitchen, with her husband dressed in full Indian garb, it would have been a smash!"
Last October: After Warren took the DNA test that estimated she was 1/64th to 1/1024th Native American, Trump reportedly told a man at a rally in Illinois, "We can't use Pocahontas anymore, she's got no Indian blood! I have more than she does and I have none, so I can't call her Pocahontas anymore but I think I will anyway, do you mind?"
November 2017: Trump at an event honoring Navajo Code Talkers said, "You were here long before any of us were here, although we have a representative in Congress who they say was here a long time ago. They call her Pocahontas."
Trump had not commented on Warren on Saturday as of mid-afternoon.
"Elizabeth Warren has already been exposed as a fraud by the Native Americans she impersonated and disrespected to advance her professional career, and the people of Massachusetts she deceived to get elected," Parscale stated, adding that "the American people will reject her dishonest campaign."