Pod Of Dolphins Escorts Cruise Ship Along Scotland's Coast in Amazing Video
A pod of dolphins was captured swimming alongside a cruise ship near the U.K. mainland's most westerly point.
The scene was filmed near Ardnamurchan Point, Scotland, by skipper Neil White, 46, on the MV Glen Shiel cruise ship.
He shared the clip on social media with the message: "On our way from Isle of Muck to Lunga on board The Majestic Line's Glen Shiel, we came across a pod of common dolphins that escorted us for about 20 minutes."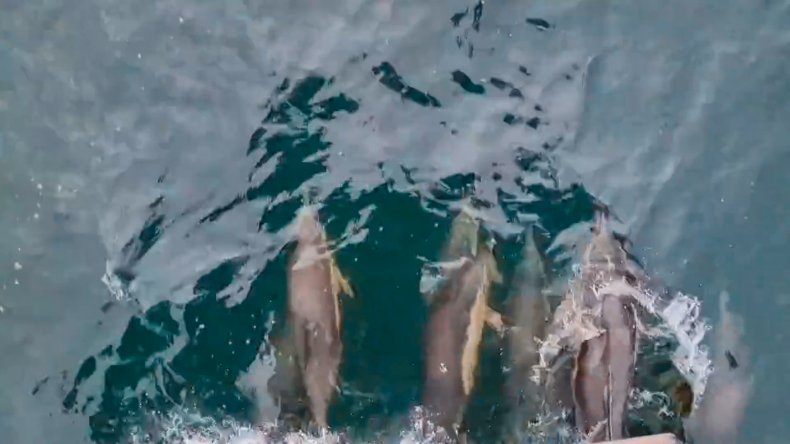 White, who runs Saltire Marine Services (Scotland) Ltd, providing support and services to other marine companies, said he filmed the encounter about three miles from Ardnamurchan Point.
White, whose main role is acting as a skipper on vessels around the U.K., told Zenger News that the video was filmed on April 27.
He said: "During the season, we encounter dolphins, whales, porpoise, basking sharks, sunfish, and a wide variety of sea birds including puffins and gannets.
"There were guests on board the day I filmed the dolphins and they loved it.
"Guests always enjoy watching the dolphins swim and interact with the boat."
Neil told Zenger News: "I am privileged to skipper small cruise vessels for The Majestic Line, work for a passenger vessel operator, and carry out boat deliveries, crew training, and paperwork for marine companies.
"My responsibilities are firstly for the safety of the guests, crew, and vessel that I am skipper on, then itinerary planning, crew management, and guest relations. I also liaise with the shoreside team for support as necessary."
He added: "I provide a skipper service to both commercial and private clients on a wide range of motor vessels."
Ardnamurchan Point is a peninsula in Scotland and is known for the local Ardnamurchan Lighthouse, which includes an exhibition area with displays on the biology and geology of the area, and the history of the lighthouse.
The area is one of the boundary points of the U.K.'s Inshore coastal areas and is mentioned in the regular Shipping Forecast broadcast by BBC Radio 4 from the Maritime and Coastguard Agency.
Not only is it the most westerly point of the British mainland, but it is also a great place to spot marine animals including porpoises, dolphins, whales, and sharks.
There are also other animals including otters and a large range of coastal birds. Visitors can also enjoy a diverse maritime flora, making it a great place for a picnic and a location to enjoy the wildlife.
This story was provided to Newsweek by Zenger News.