Part 'Spaceballs,' Part UCB Improv, Audioboom Podcasters Are on a 'Mission to Zyxx'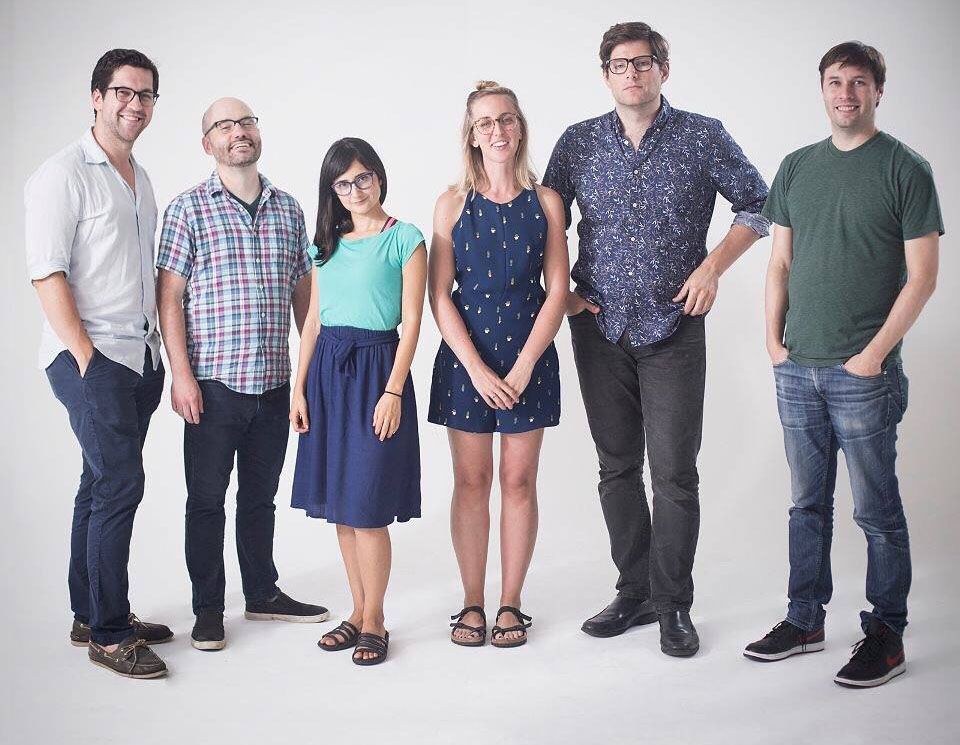 Four stories above Greenpoint, Brooklyn, in a rundown industrial building that briefly housed tenants, six improv comedians are complaining about Space Jesus.
"We've been trying really hard not to say 'Jesus' on the show," explains one of them, Jeremy Bent. "But we keep saying it on accident."
"We tried 'Space Jesus' once," adds Winston Noel. "That didn't really catch on."
They're not talking about a cultish religious sermon—and no, they're not performing a bit about one, either. They're discussing, in earnest, a podcast called Mission to Zyxx, which all six of them star in. Produced by Alden Ford and Seth Lind, Mission to Zyxx fuses two genres—narrative science-fiction and unscripted, longform improv—that, while well-established in a general sense, are still in the experimental stages within the burgeoning podcast format. How, and how much, the comedy will inform the show's sci-fi worldbuilding is still up in the air.
"Every funny choice you make is continuously true for the whole life of the show, which is something that you can't always get when you're live with an audience," Ford tells me later over the phone. He's talking about plot continuity; in live improv, even in longform shows where performers can act out singular bits for well more than an hour, the story dissipates as soon as the show ends and the audience goes home. In Mission to Zyxx, on the other hand, the actors have to maintain the same core cast of characters, the same story arcs and the same worldbuilding elements (alien species, space physics, made-up profanity) throughout the course of a 18-episode season. For instance: in the world of Zyxx, the Bible doesn't exist, but "there's no such thing as a free smunch" is a common figure of speech—all because one actor came up with it on the spot in an episode.
Luckily for the cast, and for listeners of the show, which will premiere on September 6 on the Audioboom platform, there's no shortage of familiarity in its premise. An "opening crawl," delivered in booming voiceover, explains that a "period of civil war" has ended, a group of rebels have "overthrown the evil Galactic Monarchy," and that a "just and benevolent Federated Alliance" has been established in its place. Mission to Zyxx follows three ambassadors, sent by the Alliance to the farthest reaches of the galaxy for diplomatic purposes. Their plucky team consists of a young farmboy named Pleck Decksetter (Ford), an ambassador droid named C-53 (Bent), a nonbinary alien security guard named Dar (Allie Kokesh), and a sentient spaceship named Bargie (Moujan Zolfaghari), with frequent radio relays from their overbearing superior officer Nermut Bundaloy (Lind) and encounters with a race of clone soldiers known as the CLINTs (Noel). Someone with a passing knowledge of Star Wars, Star Trek or Spaceballs could recognize these archetypes, but that works to the actors' benefit; they don't have to waste time explaining their jokes.
Before a recent recording session—for the "eighth or ninth" episode—at the Greenpoint studio, I watch as the cast shoots a few promo photos in front of a stark white backdrop. Unintentionally, all six of them showed up wearing hues of blue and green. "Earth tones!" shouts Zolfaghari. She squats in front of the other cast members. "For the next photo, we should all be looking in different directions." Almost instantly, each performer strikes a pose, gazing self-seriously at different spots around the room while their publicist snaps photos. It's easy to see that all of these comedians, as alums of the Upright Citizens Brigade, have been performing improv for years. (Bent and Lind are both members of the New York-based improv team Thank You, Robot; Ford, Kokesh, Noel, and Zolfaghari are members of separate in-house teams.)
Each half-hour episode follows a similar format: the core characters encounter an alien or some other stranger, played by the guest star. They interact. Hijinks ensue.Sometimes a member of the cast—usually Noel—steps in to play one or more side characters; if they need to, Ford, Lind and sound designer Shane O'Connell can modify the actors' voices while editing the audio file to differentiate between roles.
"One of the coolest things about making Mission to Zyxx is realizing how far a little production design goes," Ford says. "The first moment we turned on the filters for Jeremy's mic, and he instantly sounded like a droid, we all went nuts. It sounds cliche, but having a ship motor or blaster fire sound effects puts you in the world so instantaneously it's like a shortcut to a multimillion dollar production, and it gives you a platform to your story you could never have in a live performance of any kind, let alone improv." It's those mnemonic moments of sci-fi tropes, Ford says, that allow both the performers and the audience to become fully engrossed in the podcast's auditory world, without the assistance of visuals.
Granted, Mission to Zyxx is not the first podcast to use this method; Ford himself says he was inspired by Hello from the Magic Tavern, a Chicago-based improv podcast set in a Narnia/Middle-Earth-like fantasy realm. And in a more general sense, the long-running Comedy Bang! Bang! has popularized the podcast format for comedy producers, particularly sketch writers and improv performers. But when it comes to straight sci-fi, there's been a much smaller groundswell of support within the budding industry, in large part due to logistical challenges. It's much harder to build an entirely unique fantasy or sci-fi universe without visuals to help back it up. Even shows like Magic Tavern or the immensely popular Welcome to Night Vale largely keep their characters contained in a few set locations, so less time has to be devoted to expository dialogue on the show's setting, and more time can be devoted to jokes or character building.
Mission to Zyxx, by its very nature, has to location-hop frequently to follow its space-ambassador protagonists. In live improv shows, both shortform and longform, there are a few tried and true methods of getting around this obstacle. In shortform, once the "yes, and" dynamic of a bit has run out of steam, an actor will yell "aaaaand SCENE!" or some other grand gesture before taking another audience suggestion and setting up the next bit. For longform improv—which can follow the format of everything from a half-hour sitcom to a Shakespeare play—there might be one performer designated as the "director" of sorts, steering the audience (and fellow performers) from scene to scene with carefully-placed "cut to…" or other vocal cues. Alternatively, the actors might choose to just stay in one location for the entire narrative.
Ford and Lind tell me that while the show's pilot is more polished than the rest—the better to establish the core players and story arc from the get-go—the edits on future episodes will be relaxed. "In the edit, we're really careful not to edit out too many digressions, too many 'ums' and 'ahs' and stuff like that," says Ford, adding that while they want to stick to their core story—space ambassadors trying to promote peace amongst ambivalent-to-hostile aliens—they're trying their best not to "cherry-pick" worldbuilding details or strictly follow an "agenda" in their storytelling.
What they actively try to achieve, however, is keeping up a feeling of unpredictability, in that every single detail—the throwaway characters, the weaponry, a spaceship's raucous video collection—could be a Chekhov's gun. In an earlier episode, it was established that C-53's power source comes from a cube within his breastplate. In Episode 8 (or 9), that throwaway line becomes a main source of conflict.
"Do you want me to take out my cube?" drawls C-53, misinterpreting a command from Superior Officer Bundaloy.
"No, no-no-no-no-no-"
"Taking out the cube!" the droid says cheerfully, powering himself off.
Ideally, the cast wants these callbacks and references to generate a discussion around the podcast even when fans aren't actively listening to it, like with massive Peak TV series such as Game of Thrones or Westworld.
"The thing that I've always wanted to do is to make a show that is as compelling and satisfying for people who like improv as it is for people who like sci-fi," says Ford. "Obviously, our core audience base is going to be people who are into both…[But] the idea that we would make something that was interesting enough on a sci-fi level that it would actually justify those kinds of conversations—that was something that was really exciting to us."
Correction: A previous version of the story mistakingly said Bent was a producer of the show; that its first season was 12 episodes, not 18; and that Thank You, Robot was an official UCB team.