Best Podcasts to Listen to After '2 Dope Queens': 7 Shows Hosted by Women and People of Color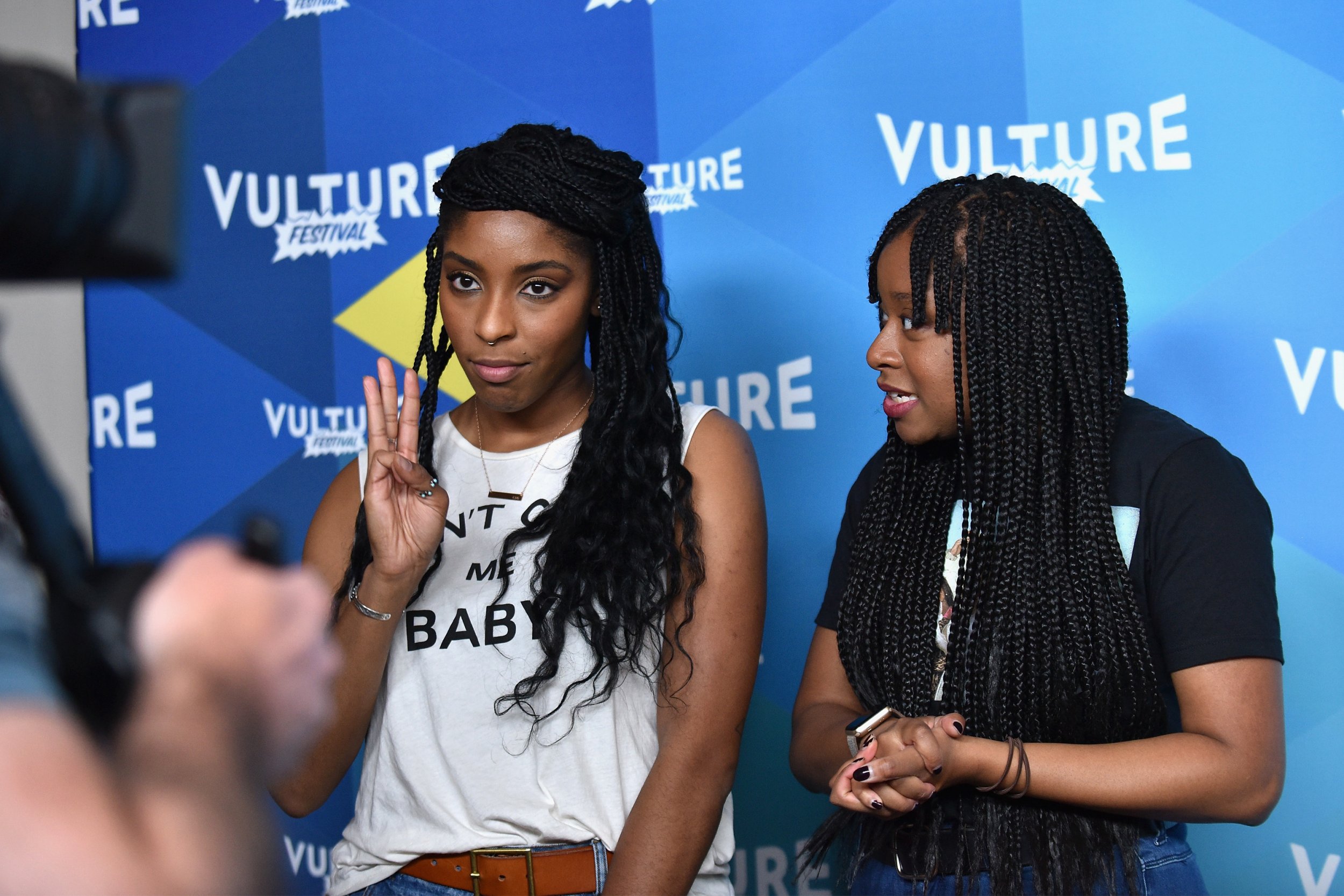 HBO announced yesterday that it will be adapting 2 Dope Queens, the popular comedy podcast hosted by Phoebe Robinson (Broad City, I Love Dick) and Jessica Williams (The Daily Show, The Incredible Jessica James), into four hour-long comedy specials for the network. For longtime fans of the show, the news feels like 2 Dope Queens coming full circle: The podcast began as Blaria LIVE!, a live monthly stand-up show in Brooklyn that often played host to less represented groups in the comedy community, particularly women and people of color. When Robinson and Williams ventured into the audio format with WNYC Studios in 2016, the show became an instant hit.
2 Dope Queens is hardly the first podcast to be adapted into a visual format. Audio dramas like The Bright Sessions and Gimlet Media's Homecoming are currently being adapted for television, and comedy radio/podcast mainstay Comedy Bang! Bang! moved onto the silver screen back in 2012. But 2 Dope Queens is the first of these series to have a pointed focus on female comedians and comedians of color, as well as those in the LGBT community. While the podcasting medium has grown exponentially in recent years and is now associated with glossy studios like WNYC and Gimlet, it still maintains a DIY ethos, and one of its greatest strengths is its ability to showcase comedians, performers, writers and artists who might not (at the time of launch) have the means to produce their own TV show.
Keeping in the vein of 2 Dope Queens, here are just a few of the myriad podcasts out there that showcase more diverse voices than your average comedy special.
The Read (Loud Speakers Network)
The Read began as a weekly one-hour podcast in 2013; the show's format has since grown into two- to three-hour dissections of current events, celebrity gossip, Love & Hip-Hop breakdowns and the occasional guest appearance from "black excellence" such as Issa Rae and LeVar Burton. The best episodes are the ones where hosts Kid Fury and Crissle are able to distill a confusing news cycle (Beyoncé dropping a new album, Trump going off on Twitter, Kanye doing whatever Kanye is doing) into an infinite riff of back-and-forth insults and spilling tea, all of which comes across as cathartic, honest opinion.
Best episodes: "BEYmergency: Formation" (aired right after the one-two punch of Beyoncé's Super Bowl performance and the release of "Formation"); "This Some B******t" (aired right after the election); any of the live episodes.
Nancy (WNYC Studios)
Launched just this past April, Nancy highlights "provocative stories and frank conversations about the LGBTQ experience today." Hosted by two Asian-Americans, Kathy Tu and Tobin Low, it's a warm storytelling podcast that still manages to tread uncharted waters in the world of podcasting. If you're familiar with the Thanksgiving episode of Master of None, the first episode of Nancy plays out almost like a real-life version, demonstrating how the process of "coming out" to a family member isn't always as simple as a sit-down in the living room. Other times, this unorthodox view of queer life comes in the form of a cerebral conversation on The Golden Girls with BuzzFeed's Saeed Jones, or a dive into the conflict of wanting to present as "more queer" but not wanting to appear "too butch." While Nancy's bubbly tone doesn't always mesh with the heartfelt, complex conversations it wants to have, it's a welcome, nuanced switch-up in the traditional storytelling genre.
Best episodes: "#2: Like Two Ken Dolls Being Smashed Together"; "#7: Fear of Being Butch"; "#9: Thank You for Being a Friend."
Mogul: The Life and Death of Chris Lighty (Gimlet Media)
A limited six-episode series, Mogul tells the story of Chris Lighty, a legendary music executive whose Violator record/management label took artists such as Nas, Missy Elliott and LL Cool J under its wing. Lighty's death, an apparent suicide, in 2012 shocked the music industry and sparked a bigger discussion surrounding mental health in black communities. Mogul's narrator, Reggie Osse, has been heavily involved in the industry himself (he worked as an attorney and executive for hip-hop artists), and the podcast balances out his general narration of hip-hop history with the very specific narrative of Lighty's story, and how the two are so tightly woven.
Best episodes: This series works best if you listen to the six main episodes straight through; there are plenty of bonus episodes to check out afterward.
Another Round (BuzzFeed)
Hosted by BuzzFeed writers Tracy Clayton and Heben Nigatu, Another Round delves into topics of race, gender and pop culture, with the occasionally jokey segment. They frequently host such high-profile guests as Roxane Gay, Jordan Peele and even Hillary Clinton.
Best episodes: "Another Read" (feat. Crissle of The Read); "Was That a Microaggression of Just Tuesday?" (feat. NPR's Audie Cornish); "What's on Your Reparations Tab?" (feat. The Atlantic's Ta-Nehisi Coates).
Denzel Washington Is the Greatest Actor of All Time Period/Politically Re-Active (Earwolf)
Comedian and host W. Kamau Bell runs a pair of podcasts that are both excellent. The first (with comedian Kevin Avery), Denzel Washington Is the Greatest Actor of All Time Period, is—what else?—a breakdown of all of Denzel Washington's movies. Politically Re-Active, meanwhile, is a political discussion podcast co-hosted with comedian Hari Kondabolu. Both shows feature Bell's sharp wip and rich arguments, whether it be over political ideologies or what films belong in the "Black Film Canon."
Best episodes: The two-part interview with Spike Lee (Denzel Washington); "Roxane Gay on Anger After the Election" (Politically Re-Active).
Girl Friday (CAFE Media Network)
Advertised as "a podcast for and by women in the media," Girl Friday brings on female journalists, writers, editors and comedians to discuss what working in media is like as a woman in the age of Trump. Hosted by The Daily Beast's Erin Gloria Ryan (who previously worked at Jezebel), each 45-minute episode is a bit like the Longform podcast if it were recorded at a Friday happy hour; the hilarious, honest discussions of what constitutes the world of media in 2017 always end with a "Men Displeased" segment, in which the guests read bits of unwanted advice or criticism delivered to them by men via email or on an internet comments section.
Best episodes: "#6: Reductress Co-creator Beth Newell"; "#9: Teen Vogue's Lauren Duca"; "#22: Rachel Bloom, Co-creator and Star of the CW's Crazy Ex-Girlfriend."
Still Processing (The New York Times/Pineapple Street Media)
New York Times culture writers Wesley Morris and Jenna Wortham step inside their "pop culture confession booth" every Thursday to discuss TV, movies, music and art from both a black and a queer perspective. While these discussions can occasionally turn grim (the first part of their election episode is just Morris and Wortham crying together and sharing their visceral thoughts), they never lose their ability to parse through the madness and come up with a satisfying takeaway, if not a clear-cut answer to the complexities.
Best episodes: "A Journey to the Blacksonian"; "We Go to S-Town"; "We Celebrate Gay Pride—The Highs and Lows."