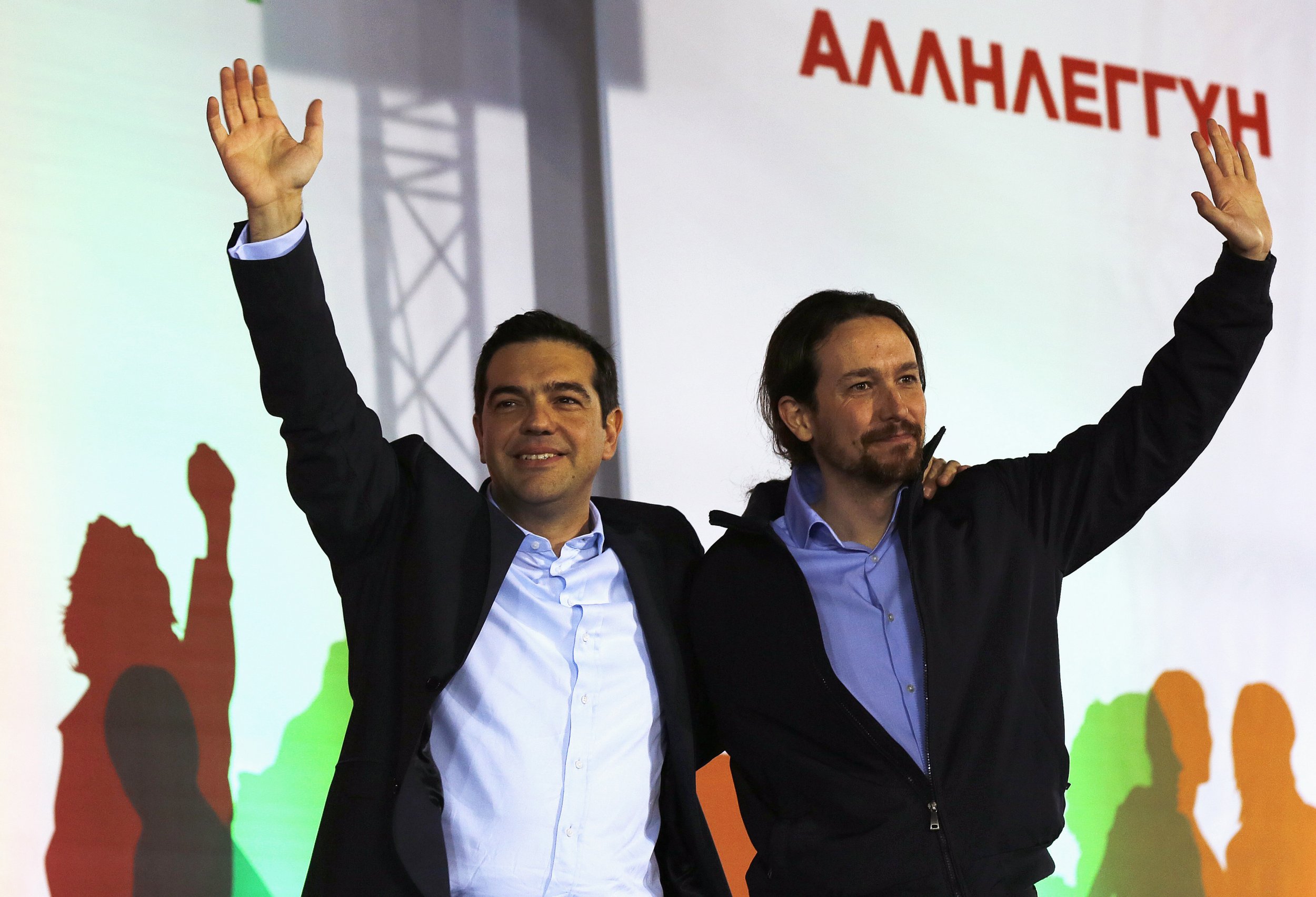 Podemos, the far-left, anti-austerity movement which has swiftly become Spain's most popular political party, marked the election victory of their Greek 'sister party' Syriza by staging its first ever rally entitled 'The Time is Now' last night, as its leader Pablo Iglesias declared today: "The sun of hope rose over Greece".
Iglesias, a former politics professor who is now the leader of Podemos, urged Spain to follow Greece's example and vote against austerity as he spoke in front of a 9,000-strong crowd in the Pabellón Municipal Fuente San Luis arena in Valencia.
As Syriza stormed to victory Iglesias told supporters: "Hope has begun, fear is over, Podemos, Syriza, we can do it." Speaking to Spanish TV channel La Sexta after his speech yesterday, Iglesias said: "The year of change in Spain is 2015, just like in Greece."
Syriza, which is a Greek acronym for Coalition of the Radical Left, won 149 seats in Greece's parliamentary election on Sunday, only two short of an absolute majority. The party's leader Alexis Tsipras was sworn in as prime minister this morning.
Jaime Paulino who is leader of Podemos in the Valencia region where last night's rally was hosted, also spoke out about Syriza's triumph saying: "Today can be a very important day in the process towards real change. Today can be a day in which the peoples of southern Europe begin reconquering their sovereignty," the former philosophy professor said.
Syriza's victory was also a talking point at the Partido Popular (PP) party conference which was held in Seville today. However, whereas Podemos celebrated the success, Spain's current prime minister Mariano Rajoy urged the country not to follow Greece's example and risk "playing Russian roulette" with the Spain's future.
Rajoy called into question Iglesias's competence and pointed out his lack of political experience,
emphasising that only PP could retain stability in Spain. "Some confuse politics with the sermon on the mount," Rajoy said, "They do not bring anything but confusion, intrigue and squabbling."
Meanwhile Pedro Sanchez the leader of Spain's PSOE Socialist party and traditionally the left wing alternative to PP, prior to Podemos' emergence, tried to diffuse talk of parallels between the two countries' elections: "We respect the result of the Greek polls but what Spanish politicians, minister Rajoy in particular, cannot afford to do is import Greek politics into Spain," Sanchez told Spanish newspaper Info Libre.
Sanchez said that comparisons between Syriza and Podemos were "irresponsible," urging his political rivals to "exercise their responsibility" when talking in public. "Fortunately for us, Spain is not Greece," he added.
Iglesias appeared on the campaign trail with Syriza leader Alexis Tsipras last week, where he voiced his support for Syriza. Many have pointed out the similarity of the two leaders due to their anti-austerity rhetoric and the rapid surge of support each have received in their respective countries over the last year.
A poll published by Spain's daily national newspaper El Pais in November saw Podemos lead the polls for the first time despite the fact that the party had been created less than a year before.