Podemos Leader Challenges 'Useless' Spanish PM to TV Debate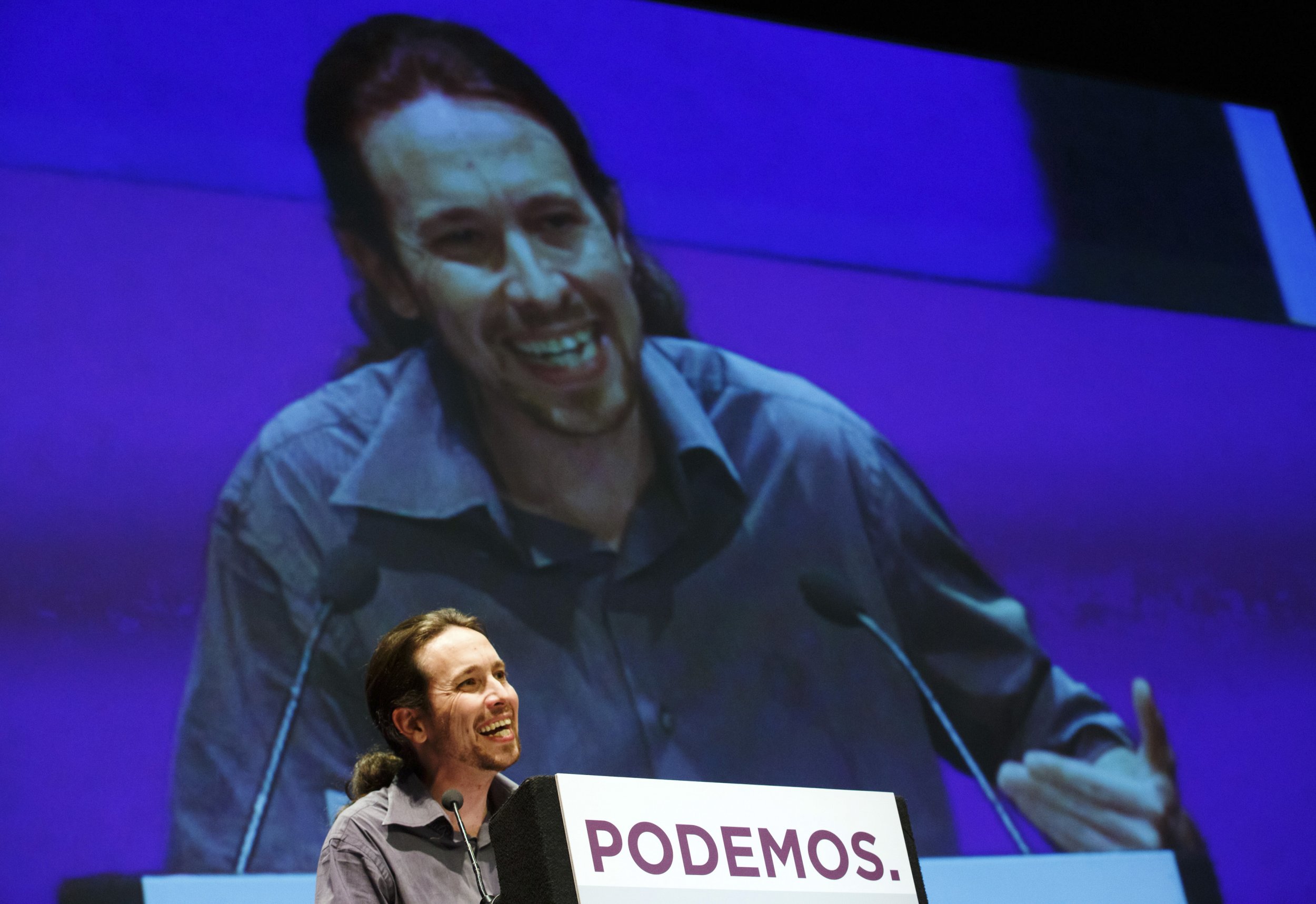 Pablo Iglesias, leader of Spain's grassroots far-left party Podemos, has challenged the country's prime minister Mariano Rajoy to a televised debate "wherever and whenever" Rajoy prefers.
The Podemos leader, whose party has topped recent opinion polls ahead of this year's parliamentary election, despite only having been formed in early 2014, addressed the People Party's leader in an 'alternative state of the nation address' yesterday.
A visibly riled Iglesias attacked claims which Rajoy had made in parliament on Tuesday that Spain's economic "nightmare was over", after the country's economy grew this year for the first time since the 2008 crash.
Rajoy spoke in front of parliament in what was his first face-to-face debate with Pedro Sánchez, leader of the traditional left-wing opposition party PSOE. Iglesias's Podemos were not in attendance, having never stood for parliamentary elections, which is why the ponytailed Marxist delivered his own "state of the nation" speech the next day.
"According to the tax office, there are nearly 7.7 million workers who earn less or much less than a €1,000 a month. There are many families who struggle to make do with a €1,000 a month," Iglesias said. "Is this leaving the nightmare behind? No! The nightmare, Mr Rajoy, is the reality of our country."
The Podemos leader then called Rajoy's government "useless" and challenged the prime minister to debate him "face-to-face" in a place and time of his choosing. Rajoy has not yet responded to the challenge.
His conservative PP party has been under pressure to step up their offensive against Podemos as the municipal elections are due in March and the parliamentary election is to be scheduled before the the end of the year.
"Having studiously ignored Podemos for months, the PP has recently gone onto the attack against Iglesias and co. in an attempt to scare the electorate as regards their radical ideas, and alleged connections to Venezuela," says James Badcock, Newsweek's Spanish correspondent,
Notably Mariano Rajoy made a rare reference to Podemos's surging popularity last month, criticising the party for offering nothing except "confusion, quirky ideas and internal fighting" and highlighting that Spaniards "cannot play Russian roulette with our future".
"I would not expect Rajoy to agree. He is not comfortable when he is not reading from prepared notes or in the choreographed format of Congress debates," Badcock says.
"Podemos is trying to frame the election as a stark choice between PP austerity and Podemos as the sole alternative," Badcock adds, explaining why Iglesias's challenge was made solely to Rajoy while Pedro Sánchez was left out.
Sánchez has already said he would be willing to take part in a televised debate with Iglesias and would also be interested in debating Rajoy as well as Catalan leader Artur Mas, Spanish TV channel La Sexta reported last December. A three or four-way debate between the politicians are yet to materialise.