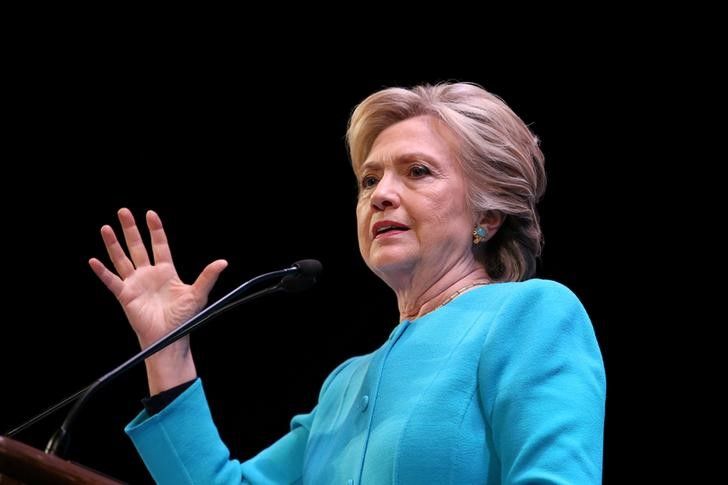 The latest WikiLeaks release of John Podesta's emails showed some surprising potential choices to be Hillary Clinton's running mate, including Microsoft's Bill Gates and Apple's Tim Cook.
Published on Tuesday, this round of leaked emails from campaign chairman Podesta contains a lengthy list of "first cut" picks compiled by Podesta and other top Clinton advisers. Podesta organized 39 people into "rough food groups," with categories for black politicians, women, white men, Hispanic politicians, members of the military and businesspeople.
WikiLeaks, the anti-secrecy organization founded by Julian Assange in 2006, has been publishing Podesta's emails, believed by some to have been hacked by the Russian government, in regular installments. The email containing the vice presidential possibilities was sent to Clinton on March 17, soon after she won primaries in Florida, Ohio, Illinois and Missouri.
"Ok, I can breathe again!" Podesta wrote in a hacked email after Clinton won a string of primaries. "Congrats on a fabulous night. I am feeling like it's possible to get back to the longer term again." Podesta also asked Clinton: "Let me know if there are people you would like to see added or removed before we begin the process" of choosing a running mate.
Also among the business leaders considered by the Clinton camp Gates's wife, Melinda Gates, who is also a businesswoman and philanthropist; Mary Barra, CEO of General Motors; Ursula Burns, CEO of Xerox; Muhtar Kent, CEO of Coca-Cola; former New York Mayor Michael Bloomberg; Howard Schultz, CEO of Starbucks; and Judith Rodin, a philanthropist.
The black politicians listed included New Jersey Senator Cory Booker; Atlanta Mayor Kasim Reed; former Massachusetts Governor Deval Patrick; Columbia, South Carolina Mayor Steve Benjamin; Tallahassee Mayor Andrew Gillum; Transportation Secretary Anthony Foxx; and former Attorney General Eric Holder.
Massachusetts Senator Elizabeth Warren; Michigan Senator Debbie Stabenow; Missouri Senator Claire McCaskill; Wisconsin Senator Tammy Baldwin; New York Senator Kirsten Gillibrand; New Hampshire Senator Jeanne Shaheen; and Minnesota Senator Amy Klobuchar made up the list of women.
On the list of Hispanic politicians were Julian Castro; Ken Salazar; Tom Perez; Xavier Becerra; and L.A. Mayor Eric Garcetti, who is Jewish, Italian and Mexican. General John Allen (ret.); former Joint Chiefs Chairman Admiral Mike Mullen (ret.); and Admiral Bill McRaven (ret.) were included on the list candidates with military experience.
Virginia Senator Tim Kaine, who was eventually chosen as Clinton's running mate, is on the list of white men. That "food group" also included Virginia Governor Terry McAuliffe; Agriculture Secretary (and former Iowa governor) Tom Vilsack; Colorado Senator Michael Bennett; Ohio Senator Sherrod Brown; New Mexico Senator Martin Heinrich and Connecticut Senator Chris Murphy.
Senator Bernie Sanders, who was Clinton's rival at the time the email was sent, was last on the list, and was in a category of his own.
The Clinton campaign has not commented on the list or confirmed its veracity.