Podesta Quashes Rumors Hillary Clinton is Considering 2020 White House Bid
John Podesta, Hillary Clinton's former presidential campaign chairman, has denied rumours she is considering running for the White House again in 2020.
In an interview with CNN's Erin Burnett Tuesday afternoon, Podesta described the rumours as "media catnip," said that the former Democratic presidential nominee was instead focused on her charitable work with the Clinton Foundation.
"Look, first of all, I love her, I wish she was president, she got three million more votes than Donald Trump did, she would have been a great president. But she says she's not running for president," said Podesta.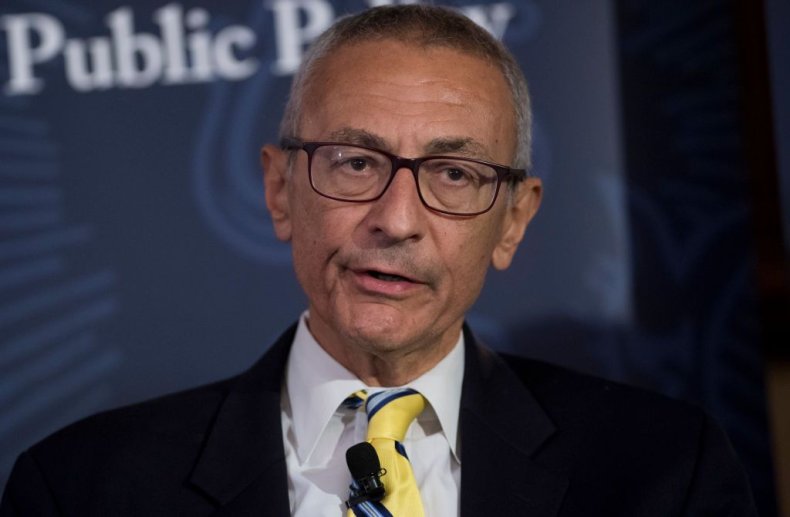 He added that the Democratic party had "a lot of great candidates out there right now, and I think the Democratic primary is going to be a spirited one with a lot of great ideas coming forward."
He said Clinton was currently in Puerto Rico, "trying to help the people that Donald Trump has abandoned—through the Clinton foundation, trying to bring some relief."
CNN's Jeff Zeleny had reported on Sunday that three people close to Clinton had told him that she was considering another run for the White House.
In an appearance on Inside Politics, Zeleny said of Clinton that "she talked to several people, saying 'look, I'm not closing the doors to this,'" but added that another Clinton friend told him it was unlikely she would actually decide to run.
Clinton became the first woman in U.S. history to be nominated for the presidency by a major political party in 2016, and was narrowly defeated by Republican Donald Trump, who, though losing the popular vote, claimed a 306 to 232 vote win in the electoral college.
It was her second campaign for the presidency, having been defeated for the Democratic nomination in 2008 by Barack Obama.
Former secretary of state Clinton has continued be a vocal critic of Trump since the election, and has published a memoir of her presidential campaign, titled What Happened.
Former Clinton adviser Mark Penn sparked rumours that she could be mulling another presidential bid, when he claimed in a Wall Street Journal column in November that she would "come out swinging" to defeat other Democrats and win the 2020 party nomination.