Joe Biden's inauguration on Wednesday was celebrated with musical performances and a moving poem from Amanda Gorman, the first-ever National Youth Poet Laureate, and at 22 years old, she is the youngest poet to perform at a presidential inauguration. The Los Angeles native and Harvard University graduate read her original poem, "The Hill We Climb," toward the end of the inauguration ceremony.
As of 12:34 this afternoon, she had 189,000 followers on Twitter. As of publishing, however, her followers jumped by over 300,000 to over 515,000, and her account became verified by the social media platform. Her followers include Seth Rogen, New York representative Alexandria Ocasio-Cortez, Chris Evans and Julia Louis-Dreyfus.
"I think there is a real history of orators who have had to struggle, a type of imposed voicelessness, you know, having that stage at inauguration," Gorman told NPR on Monday ahead of her recitation. "So it's really special for me."
Gorman joins the ranks of poets who have performed at presidential inaugurations, such as Robert Frost, Maya Angelou, Miller Williams, Elizabeth Alexander and Richard Blanco, according to The New York Times.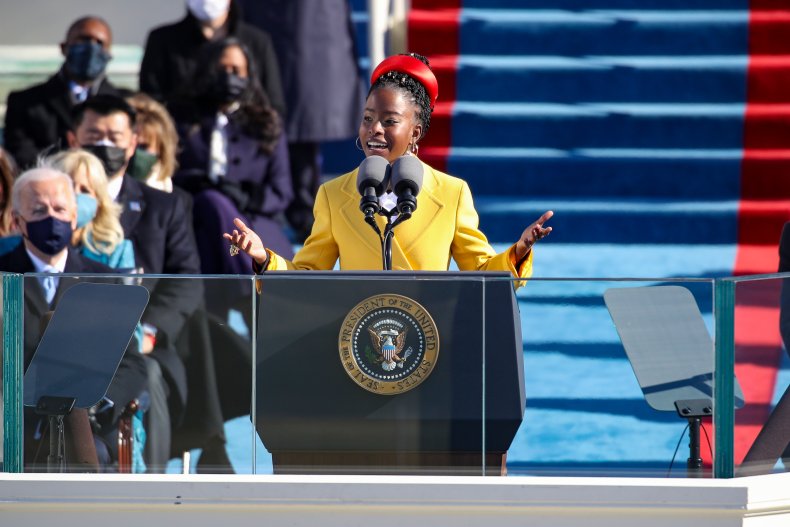 Gorman wanted her poem to inspire hope and foster a sense of unity across the country, especially in the wake of the coronavirus pandemic and only two weeks after the Capitol insurrection on January 6. "In my poem, I'm not going to in any way gloss over what we've seen over the past few weeks and, dare I say, the past few years. But what I really aspire to do in the poem is to be able to use my words to envision a way in which our country can still come together and can still heal," she told the Times. "It's doing that in a way that is not erasing or neglecting the harsh truths I think America needs to reconcile with."
"We've seen a force that would shatter our nation rather than share it," the poem reads, as per NPR.
"Would destroy our country if it meant delaying democracy.
And this effort very nearly succeeded.
But while democracy can be periodically delayed,
It can never be permanently defeated.
In this truth, in this faith we trust.
For while we have our eyes on the future,
History has its eyes on us."
Gorman says that she felt that the United States needs an inaugural poem now more than ever, The New York Times noted. "Poetry is typically the touchstone that we go back to when we have to remind ourselves of the history that we stand on, and the future that we stand for," she said.