Poet Maya Angelou on Leadership, Politics and Race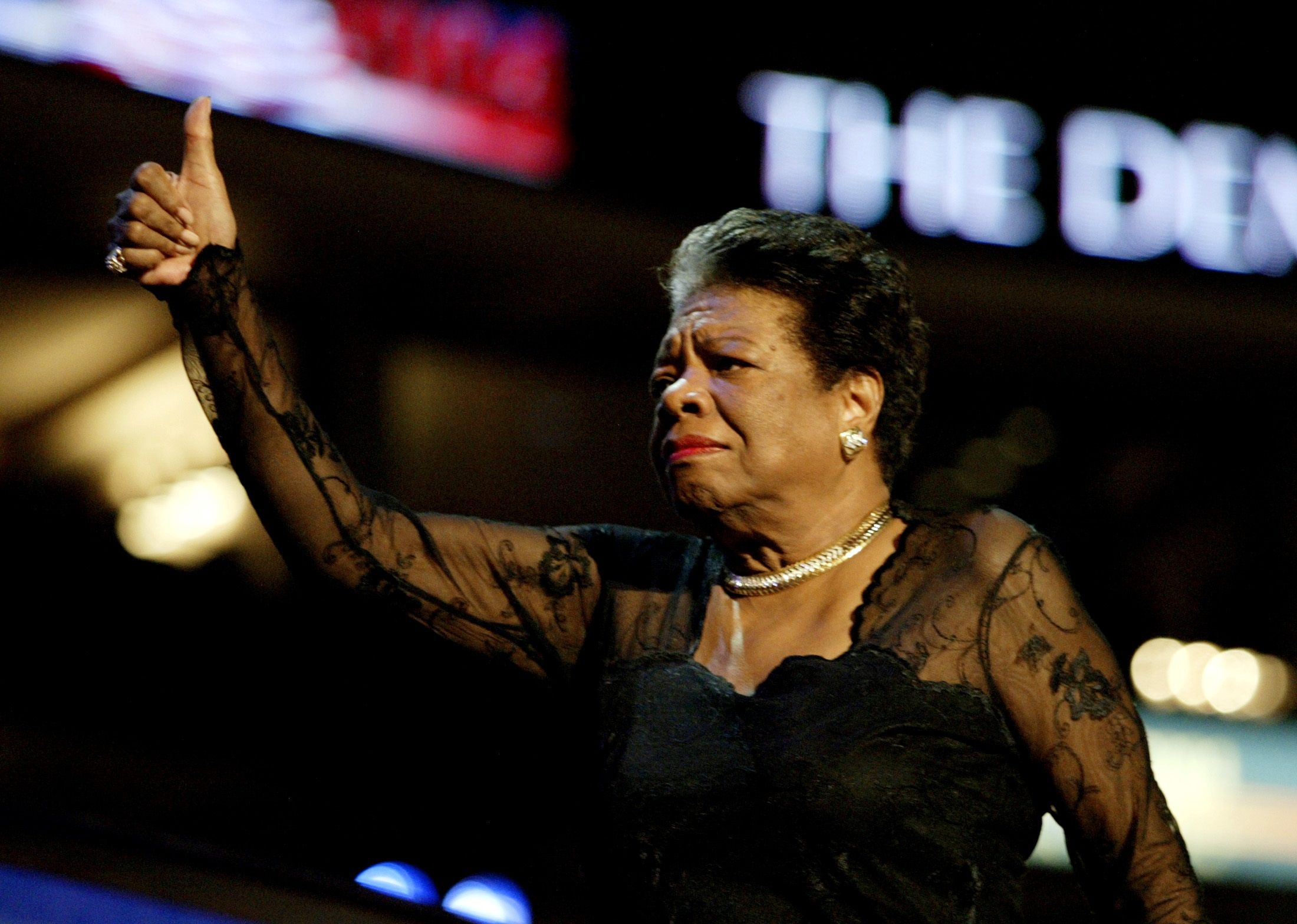 Perhaps the nation's best-known poet, Maya Angelou passed away today at the age of 86. She wrote for presidents, was interviewed by Oprah, was spoofed on Saturday Night Live, and was sampled by the rapper Common. Newsweek's likely first mention of her was a 1970 review of her autobiography, I Know Why the Caged Bird Sings—a work of literature now ubiquitous in English classrooms across the country. In the past decade, Newsweek checked in with her on several occasions, asking her about her feelings on politics and race before the 2004 presidential election, after President Barack Obama was elected in 2008, and later in 2013 about the George Zimmerman verdict.
Angelou stood on the national stage in January 1993 and read the poem "On the Pulse of the Morning" at Bill Clinton's inauguration. Over a decade later, before the 2004 presidential election, when George W. Bush beat John Kerry and won a second term, Newsweek spoke with Angelou and asked her how she felt about the forthcoming election. She told Karen Fragala:
I'm hopeful that the best person is elected. I would ask whoever is voted in to keep in mind that he is the president of the Latinos, of the poor whites in West Virginia and wherever else, of the blacks, of the Jews, of the growing Arab community. He is our president, whether we voted for him or not. The moment he is voted in, he becomes president of all America. And that means, just as all Americans are responsible to him, he is responsible to all Americans. I would love to see an end to the polarization, the "they and the we." I would love to see that.
Then, in January 2009, for a special edition of Newsweek commemorating Obama's inauguration (she had supported Hillary Clinton in the primary election, saying "I made up my mind 15 years ago that if she ever ran for office I'd be on her wagon") we asked Angelou her thoughts on his election:
To African Americans, his election validates the belief of the slaves that we'll be better by-and-by. During slavery, people used to sing, "By-and-by, I'm going to lay down this heavy load." And they really believed it. At a time when people had the right to sell them and buy them, kill them and rape them, they believed that one day they'd be free. For America, it's an indication that we may at last be growing up, growing beyond racism, sexism, ageism and all those other ignorances. This is why we see faces radiating with hope. They wanted this burden of guilt and stupidity off of us. This is a wonderful thing.
In a 2013 cover story, Newsweek explored the aftermath of Zimmerman's acquittal. In a soulful, searching feature, Joshua DuBois spoke with people who, in his words, "have spent lifetimes building bridges and breaking down walls." He "asked them what on earth black and white Americans could do to seek and find justice in our country and heal ourselves in the process." Angelou, he writes, "made clear that her heart was broken for Trayvon Martin. Yet—and I did not expect this—it also brimmed with hope." He continues:
"Look at the people who are protesting!" she told me. "Look at the people who are standing up for their rights." In their faces she saw a glimpse of the American future. "These aren't just black people or white people—these are right people," she said. "These crowds, some of them are 50, 60 percent white." Angelou compared it with the days of marching with King, when Christians, Muslims, and Jews stood side by side, and Northern students joined Southern sharecroppers to demand ever-greater liberty.

For Angelou, this is the key: the fact that an increasing percentage of white Americans now deeply identify with the struggles of black folks. In the wake of Trayvon's death, "it is not just African-Americans who feel belittled and injured," she told me. "No, the desire to understand what happened, to comprehend, to inform, to ingest what we know to be right has finally spread to people of all different backgrounds and beliefs."