'Point Blank' Netflix Movie Sees Captain America and Crossbones Actors Team Up for Some Cop Killing
The new Netflix action movie Point Blank teams Anthony Mackie and Frank Grillo, who have previously appeared together in the Avengers and Captain America movies, including Civil War andThe Winter Soldier.
In Point Blank, Mackie is Paul, a soon-to-be father whose job at a local hospital puts him in a tight spot with some dangerous criminals. When his wife's kidnappers force Paul to break Abe (Grillo) out of his hospital confinement, Abe has violence on his mind, enlisting Paul in a revenge mission against the "dirty cops" holding his wife hostage. "I'm going to kill them," Abe says in the trailer for Point Blank, "all of them."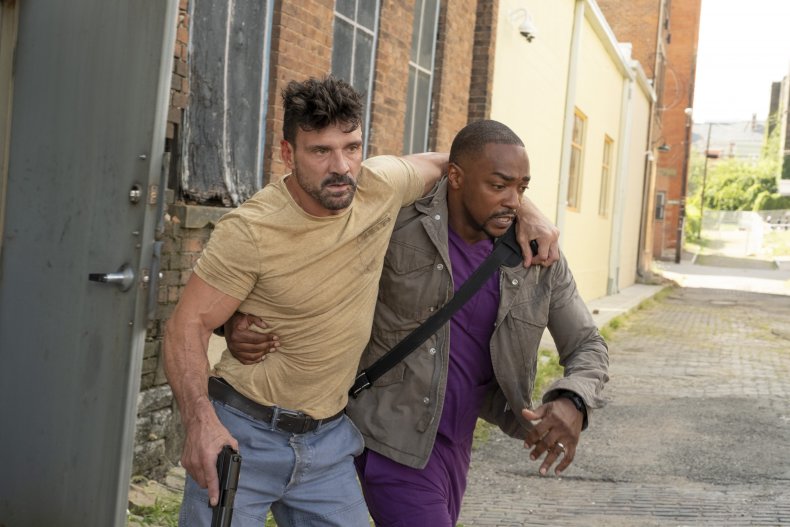 "In a corrupt city, they're all they've got," the trailer adds.
Newsweek subscription offers >
The odd couple pairing plays up the same dichotomy as their characters in the Marvel movies, with Mackie as the principled one, reluctant to use violence, and Grillo as the gleefully destructive killer.
The duo are unlikely to reunite in any future Marvel movies. While Mackie took on the Captain America mantle—picking up Cap's shield at the end of Avengers: Endgame—Grillo's Brock Rumlow, a.k.a. Crossbones, blew himself up at the beginning of Captain America: Civil War, but makes a cameo appearance in the time-hopping Endgame.
Here's Netflix's official synopsis for Point Blank:
"When his pregnant wife is kidnapped and held as collateral, Paul, an ER nurse, must team with the badly injured career criminal and murder suspect under his charge in order to save the lives of his wife and unborn child. Pitted against rival gangs and a deadly ring of corrupt cops, the unlikely duo find a way to survive together in the fight of their lives."
Newsweek subscription offers >
This is far from Mackie's first appearance in a Netflix original, with the actor also included in the cast of both Netflix's Black Mirror and the original series Altered Carbon. Grillo has made recent appearances in The Purge: Election Year, Beyond Skyline and the Chinese action hit Wolf Warrior 2.
Unconnected to the 1967 John Boorman directed crime classic Point Blank starring Lee Marvin, Netflix's Point Blank is instead a remake of a 2010 French movie, which also bears the same title. The 2010 Point Blank was previously remade in South Korea in 2014.
The latest iteration of Point Blank is directed by Joe Lynch (Mayhem, Everly) from a script by Adam G. Simon.
Point Blank is now available for streaming on Netflix.
'Point Blank' Netflix Movie Sees Captain America and Crossbones Actors Team Up for Some Cop Killing | Culture