'Poisoned' Man Shot Dead in Sheriff's Office After Stabbing Deputy
Updated | A man who entered the Douglas County Sheriff's Office in Georgia seeking shelter later claimed he was "poisoned" before stabbing two deputies in the leg. The man was then shot dead at the scene by one of the injured deputies.
The man entered the lobby of the sheriff's office at around 10:30 p.m. on April 17 looking for temporary shelter. At around 2:00 a.m. he used a bathroom, from which he called 911 to claim he had been "poisoned and was in need of assistance," police said.
"Deputies responded to the restroom and made contact with the individual," Douglas County Sheriff's Sgt. Jesse Hambrick said in a statement provided to Newsweek.
"At this time he became combative and the responding deputy attempted to utilize his Taser on the individual to subdue him. The individual was able to assault the deputy stabbing him with a knife. It was at this time the deputy was forced to discharge his firearm and the individual is deceased."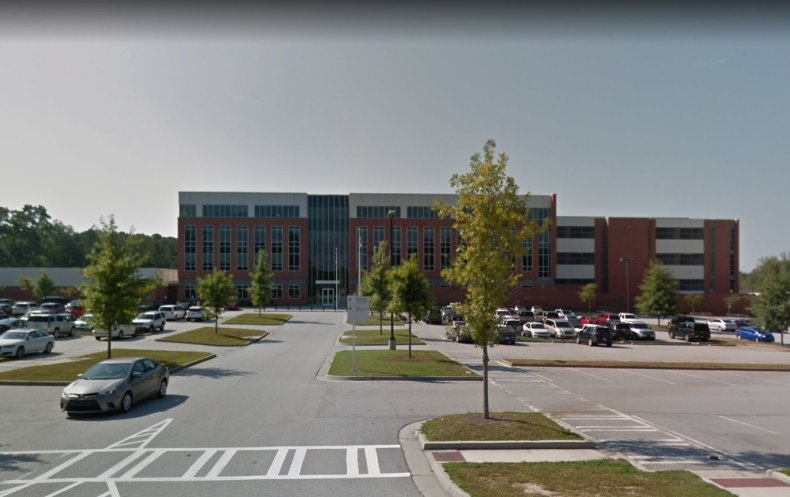 In an early morning press conference, Douglas County Sheriff Tim Pounds gave further details. "He drove here," Pounds said of the man. "He weren't looking for no sheriff."
Pounds said two of his officers "tussled" with the knifeman and the deputy who opened fire "did what he is trained to do, but he still got stabbed twice."
Two deputies were stabbed in the incident, he said, and both were released from hospital and doing well. Pounds said he reviewed the bodycam footage of the incident.
"I looked at the video," he said. "Slowed it down. Looked at it frame by frame. They done what they had to do and didn't have a choice...They tased him first. Tased him. He went down. And he got up."
The Georgia Bureau of Investigation (GBI) is at the scene and has closed off the lobby of the sheriff's office. The GBI did not respond to a request for comment.
The name of the dead man has not been released.
This article was updated to include further details about the incident from Sheriff Tim Pounds.