New 'Pokémon Go' Festival and Safari Zones Announced for First Half of 2020
If you're a fan of the live events for Pokémon Go then you're in luck. Niantic announced Wednesday that there will be more live events for fans of its popular AR mobile games to enjoy.
The first half of 2020 will bring four new Pokémon Go live events around the world. Here are when and where trainers can attend these festivals and Safari Zones:
Taiwan Lantern Festival in Taichung - February 6-9
Pokémon GOSafari Zone St. Louis - March 27-29

o Tickets will go live starting January 24 at 9:00 AM EST

Pokémon GOSafari Zone Liverpool - April 17-19

o Tickets will go on sale starting January 31 at 3:00 AM EST

Pokémon GOSafari Zone Philadelphia - May 8-10

o More information about tickets will be announced soon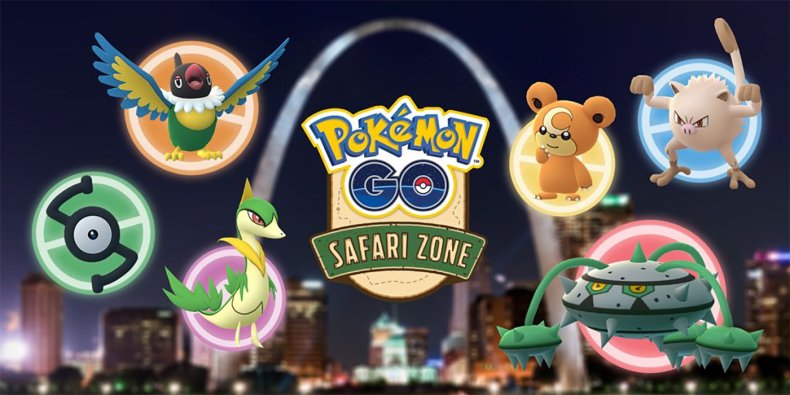 "Over the last seven years, live, real-world events have been central to Niantic's goal in leveraging technology to create interactive experiences that foster exploration and discovery, active and healthy lifestyles and lasting friendships," said Michael Steranka, Senior Manager, Live Events at Niantic in a press release. "Niantic's large-scale real-world events have had a true and clear positive economic impact on tourism, bringing people from around the world together for a weekend of adventure. We were incredibly impressed by the number and quality of entries in the #NianticLive2020 program and, as a result, are excited to announce the addition of Liverpool, Philadelphia, and St. Louis to our live events schedule in 2020."
These live events have been a great way for Pokémon Go players to congregate and catch exclusive Pokémon. There are often special research tasks that offer access to new Legendary Pokémon yet to be released in the popular mobile game.
Other times, Shiny Pokémon make their debuts during these live events. Some region-exclusive Pokémon can also appear as well, giving trainers a rare chance to catch them without having to hop on a plane.
The St. Louis Safari Zone, for example, has Chatot as one of its banner Pokémon. Chatot is exclusive to regions in the Southern Hemisphere, so those in North America can finally add one to their PokeDex.
These Pokémon Go live events have not only been a way for Niantic to increase awareness of its product, but it has also had a positive economic impact on the cities that host them. An estimated $249 million in tourism revenue was accrued from live events in Chicago, Montreal, and Dortmund in 2019.
Here are more stats from the individual 2019 Pokémon Go events:
Pokémon GOFest 2019 Chicago

o $120M in estimated expenditures from attending players in and around the city of Chicago
o 64,000+ trainers attended the four-day event, with triple the participation from the 2018 event
o Attendees walked 290,000 km, catching more than 15 million Pokémon

Pokémon GOFest 2019 Dortmund

o $56M in estimated expenditures from attending players in the city of Dortmund and surrounding Ruhr Region
o 86,000+ Trainers attended the four-day event walking more than 400,000 km
o More than 200,000 Trainers played in the region of Dortmund during the event

Pokémon GOSafari Zone Montréal

o $71M in estimated expenditures from attending players in and around the city of Montréal
o 39,000+ Trainers from all around the world attended the three-day event walking 166,000 km
o Players traveled from 60 countries and all six permanently inhabited continents to attend
What do you think of the announced 2020 Pokémon Go live events? Are you planning to attend any of them? Let us know in the comments section.