'Pokémon Go' April Fool's Day Event: Start Time, Shiny Croagunk & More
April starts off with a bang in Pokémon Go, with a new event featuring the debut of a Pokémon from Unova and two more Shiny forms.
Pokémon Go's April Fools' Day event focuses on the Pokémon that are "jokesters," meaning those Pokémon you'd normally find in the main games disguised as something else or ones that like to play tricks on trainers.
Some of the Pokémon that will see an increase in wild spawns include: Gastly, Haunter, Voltorb, Ditto, Sudowoodo, Aipom, Croagunk, Foongus and Stunfisk.
Stunfisk is making its long-awaited debut in so the Ground-and-Electric type will be available in various ways during the event. Not only will it appear in the wild more frequently, but it'll also hatch from 5km Eggs - along with Croagunk, Aipom, Wynaut and Bonsly.
To learn everything there is about the 2020 Pokémon Go April Fool's Event, including its start time, keep on reading.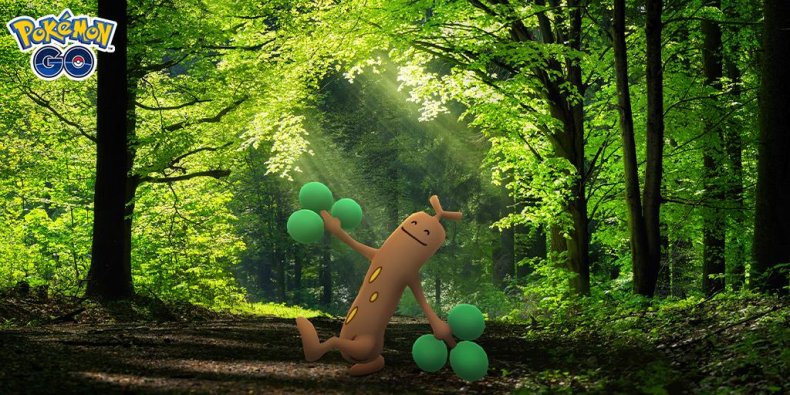 POKEMON GO APRIL FOOL'S EVENT START & END TIME
The 2020 Pokémon Go April Fool's Event starts Wednesday, April 1, at 8 a.m. and runs through Tuesday, April 7, at 10 p.m. local time.
SHINY CROAGUNK
The new Shiny Pokémon debuting during this event is Croagunk. Like other Shiny Pokémon in the popular mobile game, trainers will need to encounter it before finding out if they've found this rare form.
Croagunk will appear more frequently in the wild, hatching more frequently from 5km Eggs, and will appear in Level 1 Raids.
There are also two new Pokémon that will appear when using Go Snapshot. Aipom is one, while the other is Croagunk. The new Shiny can also be found in a Research Task - more on that below - which makes the Poison and Fighting-type Pokémon obtainable five different ways during the event.
POKEMON GO APRIL FOOL'S EVENT RESEARCH TASKS
There are four new Research Tasks that trainers can accomplish during this event. Three of them include Pokémon encounters with Croagunk, Sudowoodo and the debuting Stunfisk as prizes.
Here's a list of new Research Tasks:
Catch three Ditto - Croagunk
Give your Buddy Pokémon a treat - Sudowoodo
Earn three candy walking with your Buddy Pokémon - Stunfisk
Catch three Voltorb - Poke Ball (x3)
POKEMON GO APRIL FOOL'S EVENT RAID UPDATE
The latest Raid update in Pokémon Go brings more of those "trickster" Pokémon into Boss Battles alongside various Ghost types.
Here's the full list of Raid Bosses in the latest event:
Level 1
Level 2
Sudowoodo
Misdreavus
Sableye
Level 3
Level 4
What do you think of this latest Pokémon Go event? Let us know in the comments section.