'Pokémon Go' Community Day: Shiny Magmar, Start Time, Research and More
Two Community Day events in two weeks will make any Pokémon Go player happy, especially when they spotlight one of the Kanto region Pokémon.
Last week, trainers saw Electabuzz get the Community Day treatment and now this weekend its counterpart, Magmar, will begin appearing more frequently for a limited time.
The Magmar Community Day event will be the perfect time for Pokémon Go trainers to catch as many of the Fire-type Pokémon as possible, evolve it into its powerful evolution Magmortar, learn an exclusive move and much more. And, of course, this special event will be the best chance to catch a Shiny Magmar.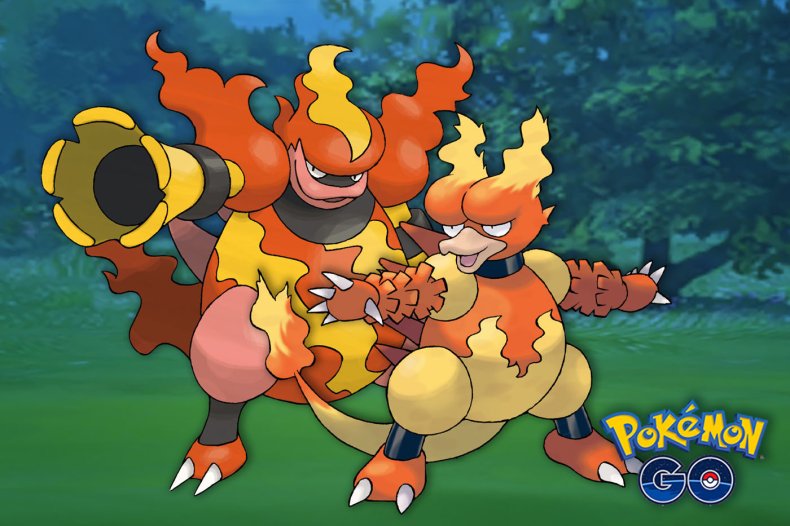 POKEMON GO MAGMAR COMMUNITY DAY START TIME
The Magmar Community Day event in Pokémon Go begins Saturday, November 21, from 11 a.m. to 5 p.m. local time
TIMED RESEARCH
As trainers saw with the Electabuzz Community Day event, another timed research mission will start when the event does.
This timed research will likely reward Magmar encounters, and Sinnoh Stones, the item needed to evolve Magmar into Magmortar. There will also be special field research when spinning PokéStops during the six-hour event that will also reward encounters with Magmar.
There is also a Special Research story that trainers can access for $1 in the in-game shop.
Until the event begins we won't know the contents of either research, but will update this section once it does.
SHINY MAGMAR
Shiny Magmar will be appearing more frequently in Pokémon Go this Saturday. Lucky trainers may encounter one in the wild,
Magmar, in its original coloring, appears as red and yellow. Its Shiny variant changes to a red and pink, so it is very noticeable. Magby, the baby form of Magmar, will hatch from 2km eggs during the event, and the chance of it being Shiny will also be increased.
THUNDERBOLT
Evolving your Magmar into a Magmortar from 11 a.m. to 7 p.m. local time this Saturday will have the Fire-type learn an exclusive move.
Magmortar will learn Thunderbolt, a powerful Electric-type attack that will give the Pokémon much-needed coverage against Water-type Pokémon. And don't forget, Magmar caught before the event can still learn this exclusive attack as long as trainers evolve it during the event hours.
IN-GAME BONUSES
Other in-game bonuses during Magmar Community Day include the following:
A special one-time-purchase Magmar Community Day Box available for 1,280 PokéCoins, featuring an Elite Charged TM, three Super Incubators, three Lucky Eggs, and 30 Ultra Balls.
1/4 Hatch Distance for Eggs placed in Incubators during the event.
Incense activated during the event will last for three hours.
Are you excited for Magma Community Day? Let us know in the comments section.