'Pokémon Go' Update: Shiny Pidgey, Rattata, Start Time and Research Tasks
Pokémon Day 2019 is a celebration of the original Japanese release of the first Pokémon games, held every year on February 27. This time around, the popular mobile game Pokémon Go will get in on the festivities with its own event.
The Pokémon Day event will bring increased spawns of Kanto Region Pokémon. The official Pokémon Go events site says the Pokémon that appear more frequently are those trainers would normally encounter early on in their adventures.
Pokémon players know that means more Rattata, Pidgey and Spearow will likely spawn in the overworld. This Pokémon Day event will also bring new Shiny versions of the aforementioned Rattata and Pidgey to the game for the first time.
If you're looking for all the details on the Pokémon Go Pokémon Day event, including the start time and other in-game goodies here's everything you need to know.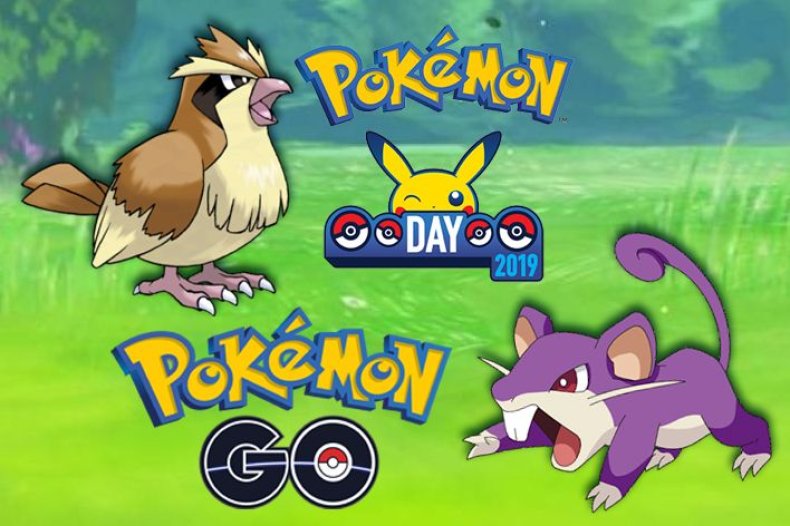 POKEMON DAY EVENT START AND END TIME
The special Pokémon Day event begins Tuesday, February 26 at 4 p.m. EST and ends Thursday February 28 at 4 p.m. EST.
SHINY PIDGEY AND RATTATA
Pokémon Go trainers may be tired of seeing Pidgey and Rattata in the overworld, but their Shiny forms can now be found in the game.
Shiny Pidgey and Shiny Rattata won't appear in their alternate colors in the overworld, so trainers will have to tap on them in the overworld and encounter them to see if they were lucky enough to find this rare variant.
Both Pokémon change into a more vivid green color, so they are hard to miss.
SPECIAL RESEARCH TASKS
Similar to the Clamperl event, Pokémon Day will bring new Research Tasks for trainers to collect and complete.
The reward for completing these tasks will be Pikachu and Eevee wearing flower crowns. But don't worry if you can't complete these tasks during the three-day event. These special Pikachu and Eevee will also appear in the wild to catch.
While Niantic and The Pokémon Company have yet to announce the Special Research Tasks that will appear during the Pokémon Day event, we'll update as soon as we learn more.
RAID CHANGES
The type of Pokémon that appear in Raids will also change during the Pokémon Day event. As you can probably guess, Kanto Region Pokémon will take over all various Raids.
It's not clear yet what Pokémon will appear, but we'll update this section as soon as we learn more. Currently, Latias is the Tier 5 Raid Boss, and that will likely not change as it's a special event that lasts until Friday, March 1.
Are you excited for the special Pokémon Go event? Is Shiny Pidgey or Rattata better? Let us know in the comments section below.