'Pokémon Go' Fest Returns to Chicago as Part of Game's Summer Tour
Niantic and The Pokémon Company announced its live event schedule for this summer, including the return of Pokémon Go Fest in Chicago.
The Pokémon Go Summer Tour will begin with Pokémon Go Fest: Chicago from June 13-16 and continue in Dortmund, Germany from July 4-7. The final event in the Summer Tour will be the Pokémon Go Fest in Asia with details on this event coming soon.
"Last year's Pokémon GO Summer Tour brought hundreds of thousands of Trainers together at real-world events around the world which left us with some truly unforgettable moments and stories," John Hanke, founder and CEO of Niantic, Inc. said in a press release. "This summer, we're looking to continue to build upon that success and create even more ways for Trainers to enjoy and interact with these incredible parks and cities and build lasting friendships throughout their journeys of encountering Pokémon in the 'real-world.'"
Tickets for Pokémon Go Fest: Chicago 2019 will go on sale through an all-new Niantic ticketing system built within the Pokémon Go app later this month. Trainers may also have noticed that Pokémon Go Fest: Chicago has been extended from two to four days, giving players more time to take advantage of rare Pokémon spawns and in-game bonuses. You can get more information on the event at the official site.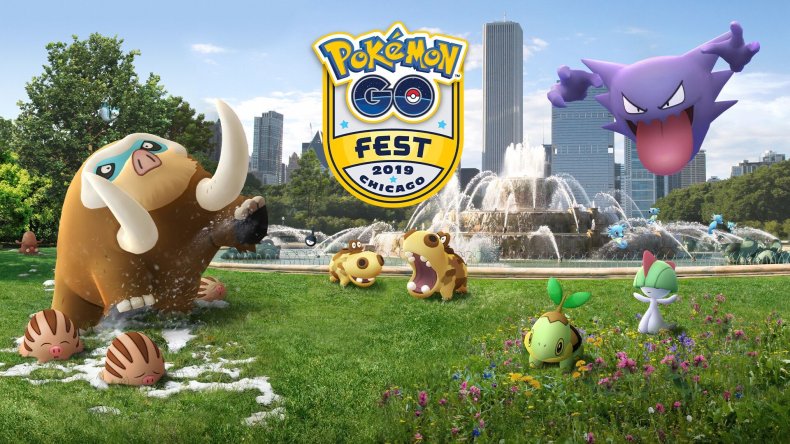 From the look of the official Pokémon Go Fest: Chicago 2019 image, the Ground-type Pokémon Hippopotas may make its debut at the event - if it doesn't appear before then. Hippopotas along with other Pokémon from the Sinnoh region have yet to be released.
The inclusion of Ralts in the image may signify that its Shiny variant could debut in Pokémon Go during the special weekend.
There's also Pachirisu in the corner, which is a Pokémon that can only be caught in Northern Canada, Russia and Alaska. This rare Pokémon may be a treat for those who attend Pokémon Go Fest: Chicago this year. Last year's Pokémon Go Fest gave attendees access to Torkoal, another region-locked Pokémon.
Trainers who are not attending the real-world events will still be able to participate in Pokémon Go special challenges to work towards a global goal of unlocking rewards for all Trainers. Details for these global challenges will be revealed closer to the respective events.
Are you interested in attending Pokémon Go Fest:Chicago this year? What do you think will be the special Pokémon obtained this year? Let us know your thoughts in the comments section below.
Correction: An earlier version of the story stated Gallade was not available in Pokémon Go, which it is when using 100 Candy and a Sinnoh Stone on a male Ralts.