'Pokémon Go' Update: Shiny Horsea and Global Challenges Go Live During Pokémon Go Fest
With Adventure Week complete, the next event coming to Pokémon Go is the annual Go Fest in Chicago.
Pokémon Go Fest 2019 will begin June 13 and feature new Shiny Pokémon, along with Global Challenges for trainers to complete for extra perks in the coming weeks.
If you're looking for all the information needed to take advantage of this latest event, read on below for the start time and all the in-game perks.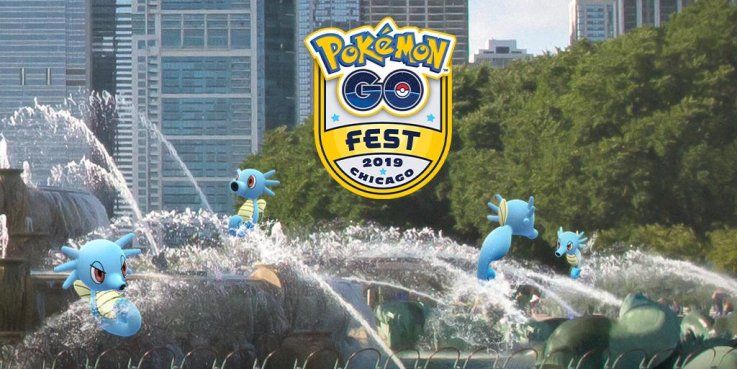 POKEMON GO FEST EVENT START TIME
The Pokémon Go Fest global event begins Thursday, June 13 at 12 p.m. EDT.
SHINY HORSEA
To celebrate the start of Pokémon Go Fest 2019, Horsea will appear more frequently in the wild. This will also be the first time Shiny Horsea will be available in Pokémon Go.
Shiny Horsea's color will change from light blue to a more dark blue. It progressively gets more purple as it evolves. During the start of Pokémon Go Fest, the chances of encountering a Shiny Horsea will be higher, so get out there and find as many Horsea as possible.
Horsea evolves into Seadra after 50 Candy and evolves again into Kingdra with 100 Candy and the Dragon Scale item.
GLOBAL CHALLENGES AND SHINY RAIKOU
When the Pokémon Go Fest begins, trainers will be able to work together to achieve certain milestones to unlock in-game bonuses and perks.
These challenges are broken into two categories, the ones done by those who are attending Pokémon Go Fest in Chicago, and Global Challenges completed by everyone else. This year, the Global Challenges are split into three to represent each team. Each will be tasked with completing its own mission to unlock a bonus.
Here are the research tasks that need to be completed:
Pokémon GO Fest Chicago event attendees—Complete 1 million research tasks to unlock 2× Catch Candy
Team Instinct—Complete 15 million research tasks globally to unlock guaranteed 1 Rare Candy per raid
Team Valor—Complete 15 million research tasks globally to unlock 1/2 Hatch Distance
Team Mystic—Complete 15 million research tasks globally to unlock 2× Hatch Candy
The unlocked bonuses will run from Tuesday, June 18 at 4 p.m. EDT to June 25 at 4 p.m. EDT.
If all four challenges are completed, Raikou will be available in a special Raid Day that will unlock the legendary Pokémon's shiny form.
There will be other challenges throughout the summer that coincide with the Pokémon Go Fest in Dortmund, Germany and Yokohama, Japan in July and August. Completing the tasks during those events will unlock Shiny Entei and Shiny Suicune.
What do you think of the upcoming Pokémon Go event? What Pokémon will you bring into battle with Raikou? Let us know in the comments section below.
'Pokémon Go' Update: Shiny Horsea and Global Challenges Go Live During Pokémon Go Fest | Gaming