'Pokémon Go' Adds Team Rocket's Jessie and James For a Limited Time
There are some strange newcomers to Pokémon Go Thursday, and fans of the Pokémon anime will be thrilled to see Jessie and James appear in the popular mobile game.
Team Go Rocket has already launched their plan to attack Pokémon Go trainers through the air via balloons, but the original balloon-riding villains have arrived and bring with them new battles and Pokémon to catch.
According to the official Niantic blog, Team Go Rocket have no idea where Jessie and James came from, but they have loaned Shadow Pokémon to them to help take you and other trainers out.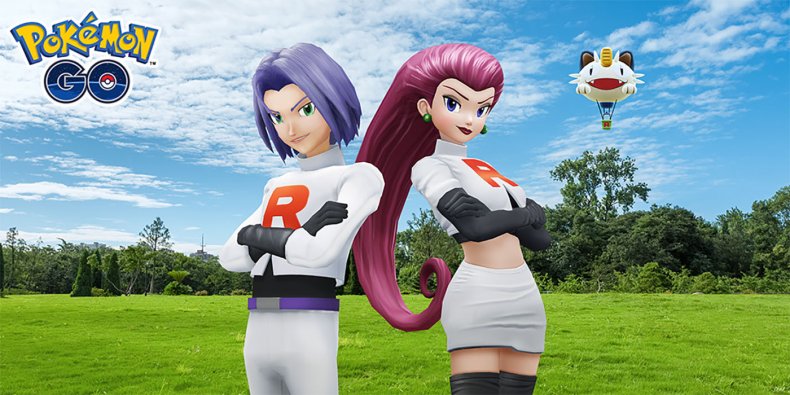 Trainers looking for Jessie and James will have to use the same strategy as the other Team Go Rocket grunts, waiting for a balloon to appear above them. However, Jessie and James arrive in their very own Meowth balloon, so you'll know you've found them when they appear. Tap on the balloon to initiate a battle with one of the villainous duo.
Jessie and James will appear randomly like other Team Go Rocket grunts, but they will only be around for a limited time so if you want to take on these classic anime villains now is the time to look for them.
If you defeat Jessie, you'll be rewarded with an encounter with Shadow Ekans. Defeat James, and you'll earn an encounter with Shadow Koffing. Both of these Shadow Pokémon have a chance to be Shiny.
Jessie has Ekans as her first Pokemon followed by Scyther then Bagon. James leads with Koffing followed by Sneasel and Beldum.
Trainers will also notice that they have a free outfit based on Jessie and James in their Pokémon Go wardrobe. Male avatars will get James' Team Rocket outfit while female avatars receive Jessie's Team Rocket outfit.
This is not the only Pokémon mobile game to feature Jessie and James from the Pokémon anime.
Pokémon Masters has an event that features both characters. In the Double Trouble event that runs from July 9 to September 17, players will team up with Jessie and her Arbok to take on Team Break.
Complete the event story to earn Jessie and Arbok sync pair to add to your collection. This sync pair is a three-star, Poison-type sync pair. Arbok attacks with physical and special attacks, and excels when it attacks Pokémon that have been poisoned.
This Pokémon Masters event is a tie-in to the upcoming Pokémon animated film, Coco, which was originally scheduled to release in Japan on July 10 but because of the COVID-19 pandemic has been pushed back to a late 2020 release.
Have you encountered Jessie and James in Pokémon Go yet? Which of Jessie and James' Pokémon from the anime is your favorite? Let us know in the comments section.