New 'Pokémon Go' Update Removing Venusaur From Mega Raids
Pokémon Go continues to tweak how Mega Evolution works in the popular mobile game with new ways to obtain Mega Energy.
The official Pokémon Go blog announced Monday that in early November, trainers will be able to earn Mega Energy by walking with a Buddy Pokémon whose species can Mega Evolve.
Currently, only Mega Venusaur, Charizard, Blastoise, Beedrill, Pidgeot and Houdoom—with Gengar arriving later this week—are in the game, so if you walk with a Pokémon whose evolutionary line can Mega Evolve, you'll earn Mega Energy by walking with it.
There is a caveat, though. This method of obtaining Mega Energy will only work if you have already Mega Evolved that Pokémon.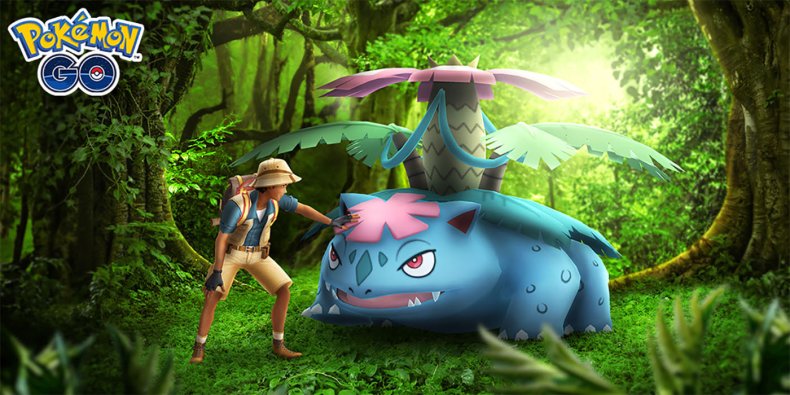 Niantic has also announced that extra candy will be earned if you have an active Mega Pokémon and you catch a Pokémon that shares the same type. If you catch a Pokémon from a Raid, you'll also earn extra candy regardless of its type.
Trainers will soon be able to determine if someone on their friends list has a Mega Evolved Pokémon. This will be helpful when trying to recruit people to fight Mega Raids with you.
The news of additional ways to obtain Mega Energy comes along with the announcement that Mega Venusaur will be leaving Mega Raids starting Friday, October 23, at 9 p.m. EDT with the debut of Mega Gengar.
To help trainers battle and obtain Mega Venusaur Energy faster, before the Grass and Poison-type Pokémon is gone, it will be appearing in Mega Raids more often all week. Niantic confirms that select Field Research tasks will also reward trainers with Mega Venusaur Energy. An event in November featuring Timed Research that will reward Mega Venusaur Energy was also announced.
If you want to be able to walk with your Venusaur to earn Mega Energy, we suggest you Mega Evolve the Pokémon once, before it's gone from Mega Raids.
Recently, Niantic confirmed other changes that were coming to the Mega Evolution mechanic in Pokémon Go.
Mega Evolution now lasts double the time, going from four hours to eight, and trainers can now hold more Mega Energy at one time. Originally, trainers could only hold 999 Mega Energy, but that has been increased to 2,000. The 2000 cap applies to each individual Mega Energy, which means trainers can hold up to 2,000 Mega Beedrill Energy, 2,000 Mega Charizard Energy etc.
What do you think of the new changes coming to Mega Evolution in Pokémon Go? Let us know in the comments section.