'Pokémon Go' New Year's Event: Start Time, Research and More
Thursday marks the start of the final Pokémon Go event of 2020,and trainers will want to ring in the New Year with new research tasks to complete, and special attire-wearing Pokémon to catch.
This year's New Year's Event will bring a slew of activities for Pokémon Go trainers, including catching festive Pokémon like a 2020-glasses-wearing Slowpoke—yes, they're a year late—and a Pikachu wearing a New Year's hat. Both Pokémon can evolve and retain their costumes.
Pichu will also hatch from 2km Eggs while wearing a New Year's hat. Wynaut will hatch as well, but trainers can hatch a Shiny Wynaut more frequently during the event, so be sure to get your steps in safely.
Raticate, Wobbuffet and Wurmple will be appearing in one-star Raids wearing party hats during the event, alongside Klink and Espurr.
There's plenty to do and catch during the Pokémon Go New Year's Event, and we've got more details below.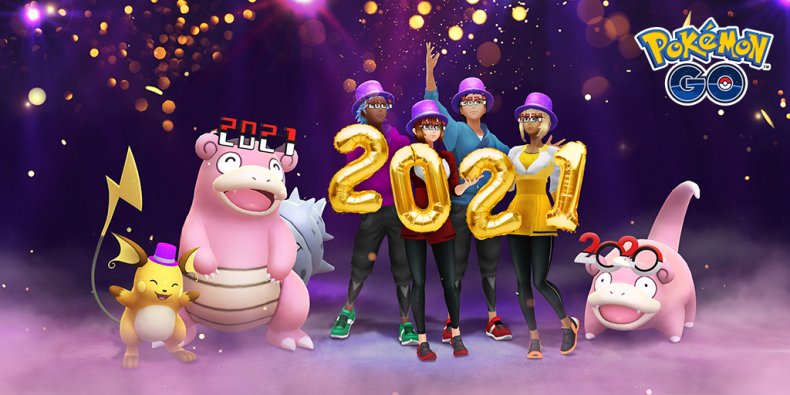 POKEMON GO NEW YEAR'S EVENT START TIME
The Pokémon Go New Year's event begins Thursday, December 31, at 10 p.m. and ends Monday, January 4, at 10 p.m. local time.
POKEMON GO NEW YEAR'S EVENT RESEARCH TASKS
While you're out trying to hatch your 2km Eggs, Pokémon Go trainers can receive event-exclusive Field Research by spinning PokéStops. While the contents of the Field Research are not yet known, the official Pokémon Go blog confirms that trainers can find New Year's Hat Pikachu and Party Hat Eevee as rewards for completing certain tasks.
Catch 5 Pokémon - Party Hat Pikachu
Catch 10 Pokémon - Party Hat Eevee
Catch 20 Pokémon - New Year's Slowpoke
IN-GAME BONUSES
During the four-day event, trainers will receive double the candy from hatching Pokémon from Eggs, as well as double the Stardust.
Also, Eggs placed in an Incubator during the New Year's Event will have the hatch distance cut in half. Be sure to wait until 10 p.m. local time on Thursday to put your 12, 10 or 7km Eggs in Incubators, or you won't get the benefits of this special bonus.
Special avatar items like 2021 Glasses and the New Year's Party Hat will be available in the in-app shop starting Wednesday, December 30, at 4 p.m. EST, so be sure to check them out before the event official begins.
There will also be special boxes containing different items during the event, and trainers can purchase them using the in-game currency.
Are you excited for the Pokémon Go New Year's event? What was your favorite Pokémon Go moment in 2020? Let us know in the comments section.