The coronavirus pandemic has affected a lot of businesses and industries, but Niantic's popular Pokémon Go mobile game didn't seem phased in 2020.
According to a new report from the mobile analyst firm Sensor Tower, Pokémon Go has earned more than $1 billion this year. That number beats out last year's record number of $902 million—and there are still two months left in the calendar year, making 2020 the single most profitable year in Pokémon Go's history.
Pokémon Go players have reportedly spent 11 percent more money in 2020 in the app than they did last year.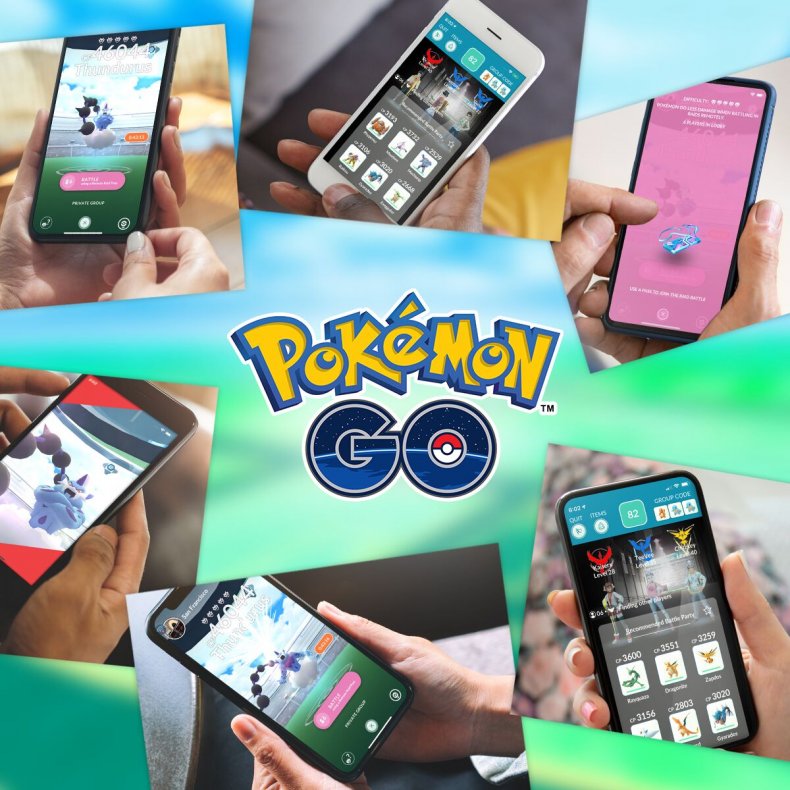 Sensor Tower explains that overall downloads and revenue on mobile apps have increased in 2020 due to the pandemic, as many people look for entertainment during this unprecedented time.
While Pokémon Go's revenue increase is in line with the overall mobile app market for this year, it's more impressive considering how the mechanics of the game work.
Pokémon Go incentivizes walking outside, and in a pandemic it's unsafe and more difficult to be outside, especially in crowded urban areas, for long periods of time. To combat this, Niantic implemented stay-at-home measures for its mobile game, which included shortened egg hatching distances and remote raid passes, to allow for a more enjoyable experience as players stayed in lockdown over the summer.
While many of the stay-at-home features are now gone, the permanent implementation of remote raid passes in the in-game shop are likely big sellers in Pokémon Go.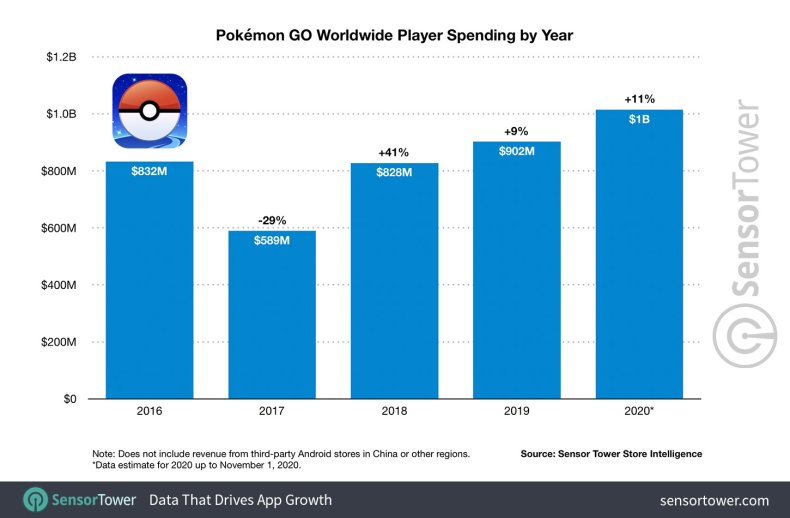 Among global players spending away from third-party Android stores in the first 10 months of 2020 thus far, Pokémon Go has ranked as the No. 3 mobile app. The No. 1 app in that respect is PUBG Mobile, and Honor of Kings is ranked as No. 2.
In its lifetime, Pokémon Go has amassed $4.2 billion in revenue since its introduction in 2016. The United States is the most lucrative market for Pokémon Go, as the mobile app raked in $1.5 billion of its total revenue from the country. That accounts for 36.3 percent.
And with two months left in 2020, Pokémon Go looks like it will continue to bring in the revenue with more events scheduled for November, including two Community Days, which are the game's most popular events.
December usually sees a special Holiday event with a massive Community Day weekend that allows trainers to capture all of the year's Community Day spotlight Pokémon and gain access to their exclusive moves. Niantic has yet to confirm December's activities, but fans can likely bet on those being announced at the end of November.