'Pokémon Go' Update: New Quests and Raid Celebrate the Release of 'Detective Pikachu'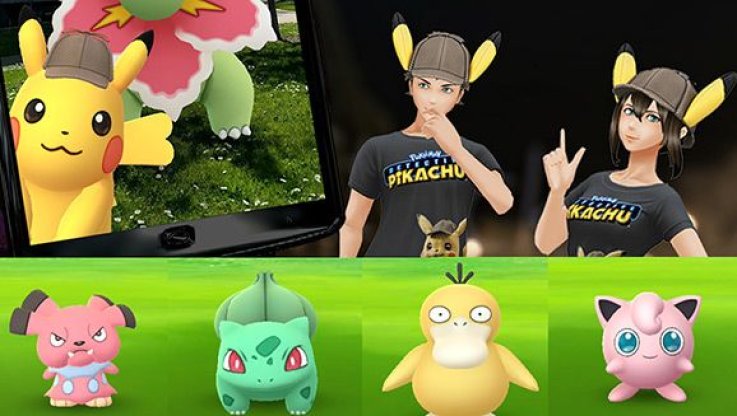 The Detective Pikachu event in Pokémon Go is now live bringing increased spawns of Pokémon featured in the live-action film as well as giving trainers the chance at catching a Shiny Aipom.
However, the increased Pokémon spawns aren't the only changes coming to Pokémon Go. Starting today until May 17 trainers will receive double experience for catching Pokémon, as well as new attire, for free.
Some of the biggest changes to Pokémon Go involves a slew of new research tasks and updated Raids that reflect the changes inspired by the Detective Pikachu film. Here's all the information you'll need on the new tasks and Raids.
POKEMON GO DETECTIVE PIKACHU RESEARCH TASKS
There are a few new research tasks in Pokémon Go and they revolve around catching certain Pokémon. Many trainers are reporting that there are four new tasks with various Pokémon encounters as rewards.
The most intriguing reward comes from the "catch 10 Jigglypuff, Aipom, or Snubbull" task that rewards trainers with a Zubat but is actually a Ditto in disguise.
If you are held up on a special task that wants you to catch a Ditto, this is your chance to complete it with a guaranteed Ditto encounter. Here's the list of new research tasks and their rewards.
Catch Seed Pokémon (Bulbasaur) - Treecko
Catch Water-Type in backpack (Psyduck) - Magikarp
Catch Fire-Type of Eevee (Flareon) - Arcanine
catch 10 Jigglypuff, Aipom, or Snubbull - Ditto disguised as Zubat
POKEMON GO DETECTIVE PIKACHU RAID BOSS UPDATE
When the event was announced, Niantic confirmed Raids will change when it begins. However, it seems the Raids have yet to be changed. Presumably, raids will have Pokémon from the film that can't be caught in the wild.
The Tier 5 Raids will likely still be occupied by the Legendary Lake Trio - Azelf, Mesprit and Uxie - but we'll update as soon as we learn more.
Tier 1
Psyduck
Cubone
Snubbull
Lotad
Shinx
Tier 2
Mawile
Lickitung
Alolan Exeggutor
Aipom
Octillery
Tier 3
Alolan Raichu
Arcanine
Machamp
Gengar
Flareon
Tier 4
Absol
Snorlax
Charizard
Alolan Marowak
Tyranitar
Tier 5
Mesprit
Uxie
Azelf
Deoxys - Defense Forme (EX Raid)
What do you think of the latest Raids during this new Pokémon Go event? Let us know in the comments section below.
'Pokémon Go' Update: New Quests and Raid Celebrate the Release of 'Detective Pikachu' | Gaming