'Pokémon Go' Community Day: Shiny Snivy, Start Time and Everything You Need to Know
Another Community Day event in Pokémon Go is about to begin, giving trainers the best chance at catching the spotlight Pokémon and its Shiny form.
In April, the Community Day event will spotlight Snivy, the Grass-type Starter Pokémon from the Unova region. Like other Community Days in the past, this event will give the spotlight Pokémon an exclusive, powerful attack, as well as increase the chance at finding and catching its Shiny form.
Here's everything you need to know about the Snivy Community Day event in Pokémon Go.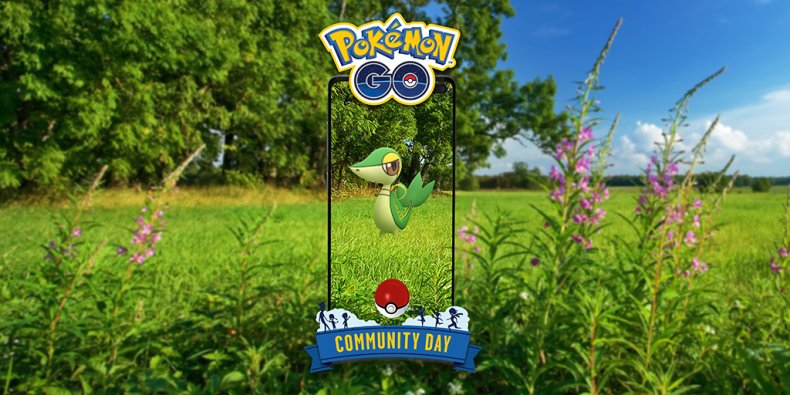 POKEMON GO SNIVY COMMUNITY DAY START TIME
The Snivy Community Day event happens on Sunday, April 11, and runs from 11 a.m. to 5 p.m. local time.
SHINY SNIVY
Sunday's Community Day will see the debut of Shiny Snivy and its evolutions in Pokémon Go.
The Grass-type Starter Pokémon will appear more frequently in the wild, and the odds of encountering its Shiny will be increased during the event window as well.
Shiny Snivy is very different from its original coloring. The rare Pokémon will have more of an evergreen color as opposed to its normal form, which has a regular green coloration.
FRENZY PLANT
The exclusive move for this weekend's Community Day is Frenzy Plant, which the other Grass-type Starters have received in their respective Community Days.
Trainers who evolve Servine (the evolution of Snivy) during the event or up to two hours afterward will get a Serperior that knows the attack Frenzy Plant. This powerful Grass-type Charged attack will give Serperior one of its best attacking options in battles.
Snivy or Servine caught before Community Day can still learn Frenzy Plant upon evolving into Serperior.
IN-GAME BONUSES
During the Snivy Community Day, trainers can enjoy the following in-game bonuses:
Three times the catch stardust
Three-hour Incense
Take a few snapshots during Community Day for a surprise! In the past, these snapshots gave trainers extra encounters with the spotlight Pokémon.
There'll be a special one-time-purchase Community Day Box available for 1,280 PokéCoins, featuring 50 Ultra Balls, four Star Pieces, four Mossy Lure Modules and an Elite Charged TM.
For $1, trainers can purchase a Special Research Story that will reward players with items and encounters. The contents of the Special Research Story is not yet known, but we'll update this section once the event goes live.
Are you excited for the Snivy Community Day event in Pokémon Go? Let us know in the comments section.